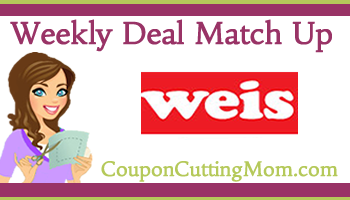 This Weis Matchup is good through March 2. All prices are based on prices at my local store and may vary at other locations. The Weis I shop, doubles coupons up to $1.00 and will double 4 like coupons per transaction. Please become familiar with your local Weis coupon policy before shopping.
Want your own customizable shopping list? Use the PrintFriendly button at the bottom of the post.
Weis Matchup February 24 – March 2
:: Produce
Baby Carrots, 16oz., $1
Bell Peppers, Red or Green, $1
Blueberries 6oz., $2.99
Cantaloupe, BOGO
Grape Tomatoes 10oz., BOGO
Moonlight Navel Oranges 4lb. Bag, BOGO
Strawberries 16oz., $2.99
:: Meat
Butterball Turkey Bacon 12oz., BOGO
$.55/1 Butterball Turkey Bacon (1/6 SS) * expires 2/28!
= Should be a great deal with two coupons that both double to $1 off!
Weis Quality Chicken Breast, 40% off (9 varieties to choose from)
:: Refrigerated
Bailey's Coffee Creamers 32oz., $3
$1/1 Bailey's Coffee Creamers (1/20 SS)
$1/2 Bailey's Coffee Creamer printable
= as low as $2

YoCrunch Yogurt Cups 6oz., $.60
$.25/1 YoCrunch printable
$.70/4 YoCrunch printable
= as low as $.10!
:: Freezer
Eggo Waffles, $2
Green Giant Frozen Vegetables 7-10oz., $1
$1/3 Green Giant Frozen Boxed Vegetables (2/10 SS)
= $.67 each wyb 3
Totino's Pizza Rolls, $1
$1/2 Totino's Pizza Rolls (1/27 SS)
= $.50 each wyb 2
:: Other Food
Barilla Pasta, $1
Knorr Sides, $1
$1/2 Knorr Rice or Pasta Sides (1/27 RP) *expires 2/24!
= $.50 each wyb 2
Progresso Vegetable Classics Soup, $1
$1/4 Progresso Soup (1/6, 1/20 SS)
= $.75 each wyb 4
:: Non-Food
Arm & Hammer Dryer Sheets 40ct., $1
$1/2 Arm & Hammer Laundry Products (2/10 SS)
= $.50 each wyb 2
Band-Aid Bandages, $2.50
$1/2 Band Aids printable
= $2 each wyb 2
Scotties Tissues 60-120ct., $1
$1/4 Scotties Tissues (2/10 RP)
= $.75 each wyb 4