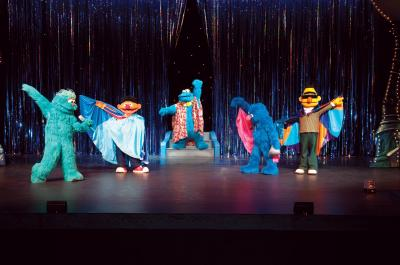 Sesame Street Live, "Elmo's Super Heroes" will be playing in Hershey, PA at the Hershey Theater, Friday, January 11 – Sunday, January 13! The Sesame Street Live is a larger-than-life, musical touring stage production featuring Big Bird, Elmo, Cookie Monster, Bert and Ernie, and more. Each performance is 90 minutes of singing, dancing and audience participation, including a 15-minute intermission. The perfect length for very young children!
Tickets for this delightful perfomance are on-sale NOW at the box office and all Ticketmaster locations. To charge by phone, call 800-745-3000. Sesame Street is offering a $3 off per ticket coupon.
Performance Schedule
Friday January 11 10:30 am & 7:00 pm
Saturday January 12 10:30 am & 2:00 pm & 5:30 pm
Sunday January 13 1:00 pm & 4:30 pm
Ticket prices: $15, $18, $22, $29 (Gold Circle) & $64 (Sunny Seats) and remember you can head over here and save $3 on every ticket you purchase. Also, Opening Night (Friday, January 11, 7:00 PM) all seats are $10 (excluding Gold Circle and Sunny Seats).
*The Sunny Seats Package includes a VIP Seat and a pre-show Meet & Greet photo opportunity with two Sesame Street Live friends.
Calling all super heroes! Super Grover has lost his super-ness! Never fear, the fabulous five Super Heroes are here — featuring Elmo as Captain Fuzzy! Elmo, Abby Cadabby, Zoe and all their furry friends are on a quest to put the "super" back in Super Grover. Singing and dancing their way through fun lessons on healthy habits, they discover how exercise, rest, nutritious food and good hygiene can save Super Grover — and turn your children into Super Heroes, too! You'll be feeling good when Elmo's Super Heroes! comes to town!