There are some great freebies available today, free quart of paint, free fries, and free kids event.
First off this morning we stopped at Royer's Flowers for their kids event. I was expecting to leave with a beautiful but small arrangement. As you can see from the pictures it was far from small.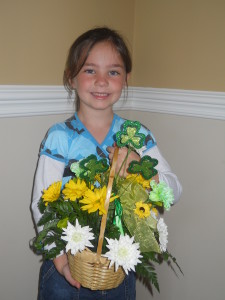 On Royer's site it stated it was for 5 – 12 year olds, so I was planning on only taking my older daughter as my youngest is only 3 years old. My husband had other plans and couldn't keep her so she ended up going along. I figured she could just watch her sister make a bouquet. Well it so happened that the ladies working there were super nice and made a bouquet for my younger daughter and gave it to her.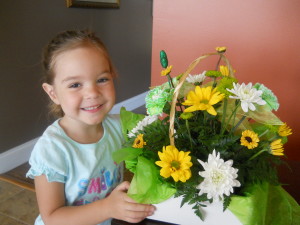 I can't say enough about how much I love Royer's Flowers. They always exceed my expectations. My daughter was the only kid there at the time and the lady did an excellent job of helping my daughter, even including interesting facts about the flowers they used in the arrangement. My daughters are already talking about the next Royer's kids event they want to attend.
And of course we had to stop in at Burger King for FREE fries and St Paddy's day sauce.