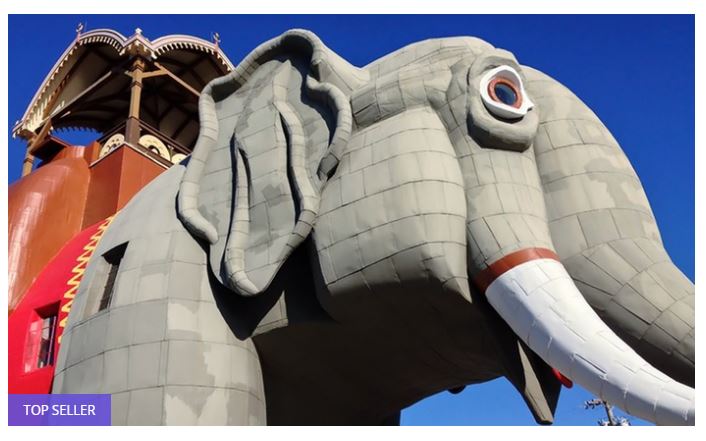 Lucy the Elephant Discount Admission Tickets 
Are you planning a visit to the beach in the Atlantic City area this Summer? Check out this offer for discount admission tickets to see Lucy the Elephant. Our family visited here the other summer, and it truly was a one of a kind attraction. The kids loved getting to climb the whole way up to the howdah and look all around.
Visitors take a tour of the six-story-high novelty building Lucy the Elephant. On the tour, they learn about the elephant-shaped building's history and unique architecture, as well as climb a spiral staircase up to the howdah on the elephant's back. There, visitors get a 360-degree glimpse of the shore.
In 1881, arriving by water or rail, visitors to the Jersey Shore met a rather startling sight: an elephant, trunk lowered in a feeding position, towering six stories high. The elephant–shaped building, nicknamed "Lucy," was designed to attract prospective real-estate buyers to Margate, New Jersey. The brainchild of the elephant, James V. Lafferty Jr., actually had designed three gigantic elephants, but by 1969, only a derelict Lucy was left. Thanks to the dedicated Save Lucy Committee, which formed in 1970, the landmark—now listed on the National Park Registry of Historical Landmarks—reopened in 1974.

Constructed from wood and metal, Lucy weighs 90 tons; her ears each weigh 2,000 pounds alone. Every 30 minutes, guided tours enter the spiral stairway in her hind legs, which climbs through her insides up to the howdah on her back. This perch affords a stunning 360-degree view of Josephine Harron Park and the surrounding shore, where beachgoers sunbathe, splash in the water, and struggle to pay the mortgage on their sandcastles.
Check out the two ticket options HERE and be sure to get your tickets while they are at this low price.
Promotional value expires 150 days after purchase. Amount paid never expires. Limit 1 per person, may buy 1 additional as gift. Limit 1 per visit. Valid only for option purchased. Merchant is solely responsible to purchasers for the care and quality of the advertised goods and services.