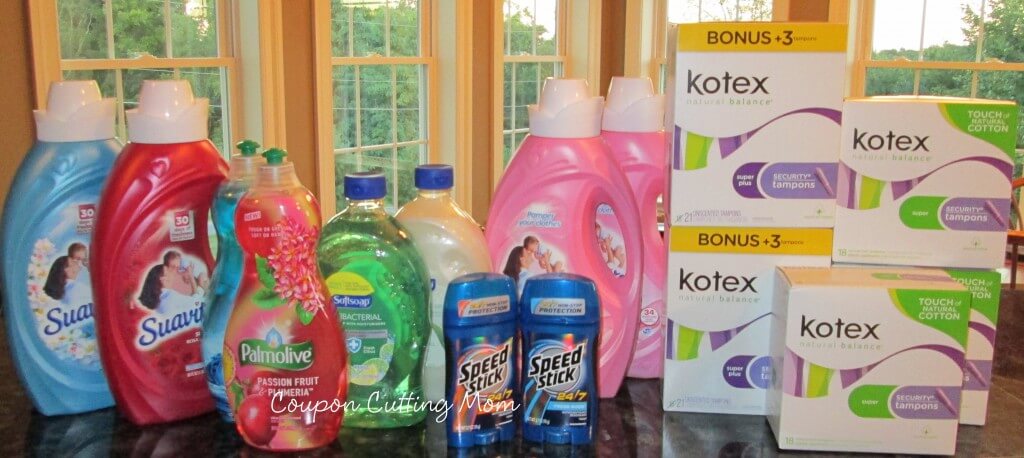 In case you haven't picked up on it, one of my most favorite places to shop it Giant. And the reason for that is, when I buy items like the ones pictured above I earn gas points and gas points mean FREE gas for the car. The items pictured are from my Giant shopping trip and have a shelf price of $56.11 but after sales, coupons, and catalinas I paid $33.50! I then earned 1200 gas reward points that on 30 gallons of fuel will get me $36 worth of FREE fuel. The way I look at this, this shopping trip was a moneymaker of $2.50!
Here is the breakdown of my transaction:
Bought 5 Kotex Natural Balance Tampons, Pads or Liners $3.00 each
Bought 2 Palmolive Dish Liquid 25 oz. $2.50 each
Bought 2 Mennen Speed Stick $2.50 each
Bought 2 Softsoap Hand Refill 28 – 32 oz. $3.50 each
Bought 4 Suavitel Fabric Softener $3.00 each
Used 2 $2/2 Kotex Natural Balance Product printable
Used $1/1 Kotex Natural Balance printable
Used $1/2 Palmolive coupon from the 9/22 SS
Used $1/2 Speed Stick coupon from the 9/22 SS
Used the $1/2 Softsoap coupon from the 9/22 SS
Paid $36.00
Received $2.50 Kotex catalina
Received 1200 gas points or $36 on a 30 gallon fill up
Final price FREE + $2.50 moneymaker!
Find the Giant Gas Deals for the week here. And this list includes the other deals that are good at Giant through September 28.