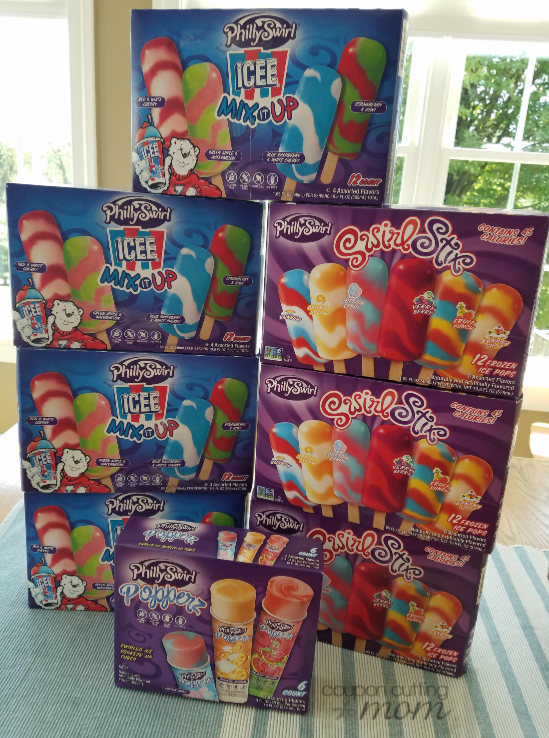 Giant Shopping Trip: $7.50 Moneymaker on PhillySwirl Ice Pops
I'm sorry, but it doesn't look like I'm going to get the weekly Giant deals posted for this week. I had full intentions of working at them and getting them posted, but we were on a family vacation and somehow, the beach and sunshine and family time won out. Then until we got home and I found time to think about posting them the week seemed too far gone to spend the time required to get them up. Instead, I'm going to highlight the one nice sized moneymaker I bought today and wanted to make sure I left my readers know about it too. I have full plans of getting the next week of sales posted as usual later this week. Thanks for your understanding.
The PhillySwirl items pictured above have a shelf price of $26.32, but after sale prices, I paid $20.00. I then earned $25.00 in gas rewards and $2.50 back from Ibotta. This means these Philly Swirl items were FREE plus a $7.50 moneymaker! When was the last time you got paid to buy ice pops?! Please note, that I did buy a few other small items to hit the $25.00 amount needed to earn the gas points.
PhillySwirl Giant deal: (prices good through 7/18)
Buy 8 PhillySwirl Stix, Popperz or Icee $2.50 each
Pay $20.00
Receive $12.50 in gas rewards on 25-gallon fill up x's 2
Receive $2.50 PhillySwirl Ibotta credit
Final price FREE + $7.50 moneymaker!