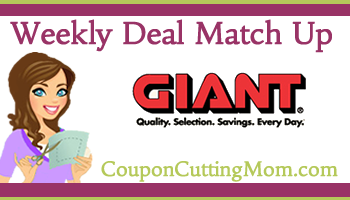 The Giant I shop, doubles coupons up to $1.00 and will only double one like coupon per transaction. This can vary from store to store, so please become familiar with your local stores policy.
Want your own customizable shopping list? Scroll to the bottom of the post and click on the PrintFriendly button on the far right hand side. Also use the Coupon Database to find additional coupons for items you are planning to purchase.
Head here to see all this weeks Gas Points deals. There are a lot of freebies and moneymakers, so make sure you don't miss them.
Giant Matchup for July 22 – July 28
— Produce ——
Driscoll Strawberries BOGO
Use the .50/1 Driscoll's printable (must register)
— Refrigerated ——
Yoplait Cups $0.50
Use the $0.40/6 Yoplait Yogurt printable
Dannon Oikos $1.00
Use the $0.50/2 Dannon Oikos Yogurts printable
Nathan's Beef Franks 14 oz BOGO
— Freezer ——
Mrs. Paul's Parchment Bake Tilapia $5.99 BOGO
Use 2 $1/1 Mrs. Paul's Seafood Product printable
Pay $1.99 each!
TGI Fridays Appetizers & Bagel Bites $3.00
Use the $1.50/1 T.G.I. Friday's Mid-Size Frozen Snack printable
Pay $1.50!
Turkey Hill Ice Cream $2.50
Use the $1/1 Turkey Hill coupon from contacting them here
Pay $1.50!
Birds Eye Voila $3.99
Use the $1/1 Birds Eye Voila printable

— Other Food ——
Buy 4 General Mills Cereals, Get $4.00 OFF instantly & FREE Gallon of Milk up to $4.50
Pictured are Cinnamon Toast Crunch and Honey Nut Cheerios
Use the $0.50/1 Honey Nut Cheerios Cereal printable
Also there is a $0.50/1 Cheerios Honey Nut Cereal (SavingStar.com)
Hopefully there will be a lot more kinds included. Head here to find additional coupons.
Coca-Cola 2 liters $1.00
Filippo Berio Olive Oil $3.99
Use $1/1 Filippo Berio Olive Oil printable use zip 19606
Pay $2.99
Maier's Italian Bread BOGO
Kool-Aid .13 – .23 oz pk Buy 10 Get 10 FREE
— Non Food ——
Stayfree Pads  $2.00
Use the $2/1 Stayfree coupon from the 7/22 SS
Pay $0.00!
All Detergent $3.99
Use the $0.75/1 All Laundry Detergent printable
Pay $2.99!
Snuggle Fabric Softener $3.50
Use the $1/1 Snuggle Product printable
Pay $2.50!
— Buy $25 Get a $10 Visa Gift Card with Mail In Rebate —–
Deal Idea:
Buy 1 Powerade 8 pk 20 oz bottles $3.99
Buy 3 Pop Tarts 14 – 15.2 oz $1.67 each
Buy 2 Kellogg's Cereals 8 – 18.7 oz $2.50 each
Buy 2 Sunshine Cheez-It Crackers $3.00 each
Buy 6 Fuze or Gold Peak 16.9 – 18.5 fl oz $1.00 each
Use the $1/3 Kellogg's Pop-Tarts Toaster Pastries and Mini Crisps printable
Use the $1/2 Kellogg's Cereals printable
Pay $23.99
Submit for $10 Visa Gift Card via mail in rebate which prints at checkout
Final price $13.99 or only $1.00 per item!