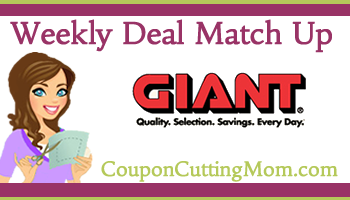 Here is the Giant Matchup 10/20 – 10/26/13. This list gives you the best coupon deals for all sales this week. Please comment below if you find any additional deals in your store to share with other readers!
You can view the entire Giant coupon policy here before shopping.
A couple things to note:
You do need to have a Giant store loyalty card to receive all sale prices. If you don't have one already, you can get one by signing up on the Giant Foods website or you can get one at the Customer Service Desk at any store.
Earn $0.10 Gas Reward Points for every $100 in groceries.
All final prices are based on up to $1.00 double (a $0.50 coupon would be $1 a $0.75 coupon would also be $1). If your store has a different doubling policy, you will need to adjust the final price. The deals are also figured doubling 1 like coupon per transaction.
Savingstar is also connected with Giant Food. Connect your Savingstar account with your Giant store loyalty card to get additional coupons and savings.
Use the Coupon Database to search for coupons for any other items on your shopping list.
Create your own customizable shopping list by using the PrintFriendly button at the bottom of the post
Don't miss the gas reward deals that are available this week.
Giant Matchup 10/20 – 10/26/13
Sara Lee 100% Whole Wheat Bread, 20 oz $2.00
Use the $1/1 Sara Lee Bread coupon from the 8/18 SS
Pay $1.00!
ThinkThin Bar 1.41 – 2.1 oz. $1.25
Use the $0.50/1 thinkThin Bar coupon from the 10/6 RP
Pay $0.25!
Ricola Cough Drops $1.50
Use the $1.50/2 Ricola Cough Drops coupon from the 10/13 SS
Pay $0.75!
Caress Body Wash 16.9 – 18 oz. $3.50
Use the $2/1 Caress coupon from the 10/13 RP
Pay $1.50!
Thanks, Moms Need To Know! Please visit her site to see a complete list of this week's Giant deals