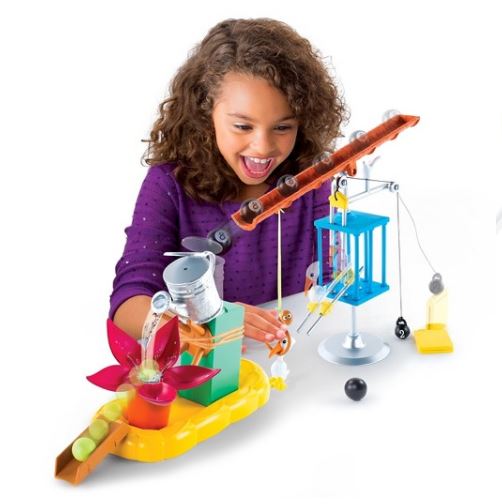 Rube Goldberg Playsets – 50% Off Regular Price (11/13 Only)
Target is here to save you money on all your toy purchases for Christmas. Through Thanksgiving, you can save up to 50% on a different toy each day with the Cartwheel app. Today's offer is for the Rube Goldberg Playsets. These high-value Target Cartwheel offers are available for in-store use only.
Can you use a sidewalk sign, a worm and a pool cue to water a plant? The Rube Goldberg playsets from Wonderology are inspired by the famous American cartoonist & inventor, best known for his hilarious and complex contraptions devised to perform simple tasks. The Rube Goldberg Garden Challenge playset lets kids discover and learn about STEM-based principles of buoyancy and pulley systems to make the flower grow! Build the contraption in just the right way, test it, and complete the challenge to trigger an amazing and hilarious chain reaction. Collect and connect all of the Rube Goldberg playsets to create bigger, funnier, and more complex inventions!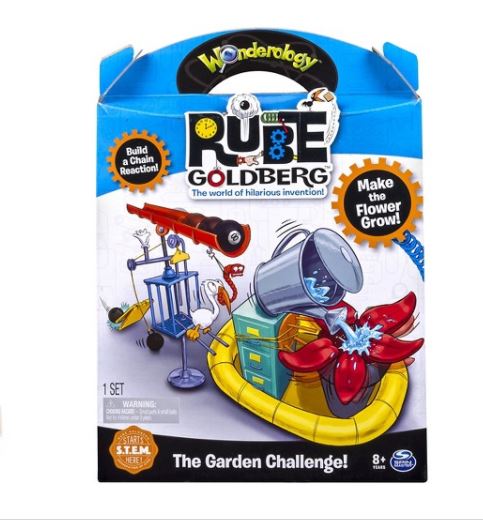 Rube Goldberg is the world of hilarious inventions where you build a wacky chain reaction of contraptions to complete a challenge!
Build it, test it, and complete The Garden Challenge. Use buoyancy and pulleys to water the flower and make it grow!
Collect and connect all of the Rube Goldberg challenges to invent and create larger and funnier contraptions! Each sold separately.
Rube Goldberg sets are for boys & girls age 8+. No batteries required.
Includes: 1 Cage, 1 Cage Stand, 1 Pole, 1 Cage Door/ Weight, 1 Gutter Pipe, 1 Helping Hand, 1 Bird, 1 Sidewalk Sign, 1 Watering Can, 1 Watering Can Lid, 1 Flower Pot, 1 Flower, 1 Life Boat, 1 Cabinet, 1 Pool Ball, 1 Basketball, 1 Tennis Ball, 1 Worm, 1 Ramp, 1 Instruction Guide
Here are the details on the Rube Goldberg playsets: (offer good 11/13 only)
Rube Goldberg Playsets, $14.99
Use the 50% off Rube Goldberg playsets Cartwheel Savings Offer
Pay $7.50 or use your RedCard and pay only $7.12!