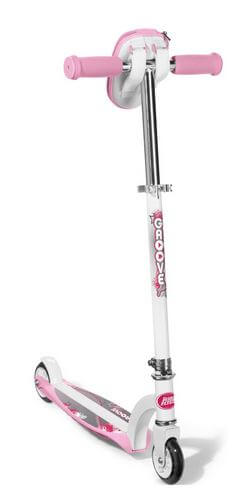 Here is a *HOT* deal on a Radio Flyer Groove Glider. This glider normally sells for $39.99 but today you can score one for only $10. Use code GROOVE13 and $29 will come off your total bringing it down to only $10 plus shipping.
The first ever music scooter. Attached to the adjustable height handle bar is a Safeguard™ Storage Case with built-in speaker. Unzip the case and plug any digital MP3 music player into the speaker. Now you are ready to rock as you roll. With the clear definition speaker, no headphones are necessary to listen to your tunes while you ride. The Groove Glider is also designed for durability with a solid steel frame for a no rattle ride and a wider deck for greater control.
Get your Radio Flyer Groove Glider here for only $10.00!
Thanks, My Litter!