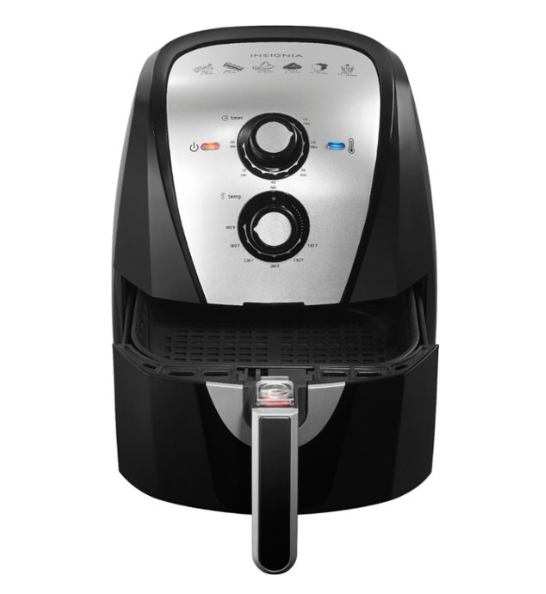 Insignia Digital Air Fryer Only $49.99 (Regular Price $119.99) + FREE Shipping
If you have been thinking about getting an air fryer today is the day to purchase one. Best Buy is offering this Insignia Air Fryer for just $39.99 (regular price $99.99). Shipping is free! I think the thing of number one importance when purchasing an air fryer is one with a big basket size, and this one meets the ticket as it has a 5.3-quart basket.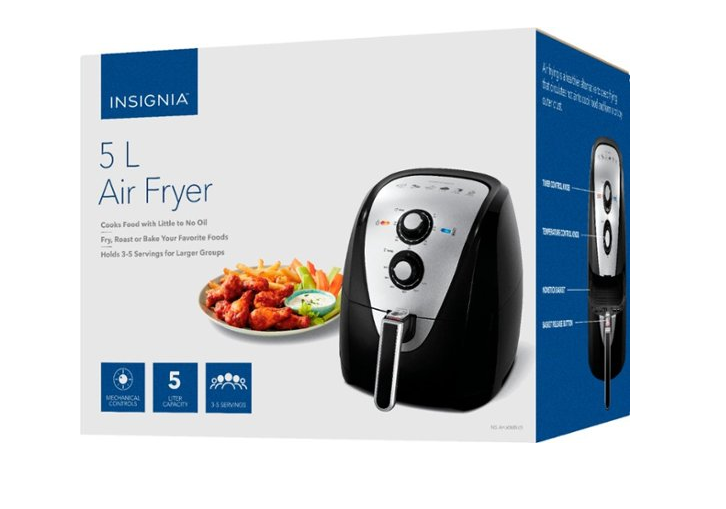 I have this exact air fryer, and it is a very used appliance in my kitchen. In the morning, the kids use this air fryer for heating hash browns for breakfast. After school, the fryer works perfectly for heating leftover pizza, and I think pizza reheated in air fryer tastes just as good or better than it did when it was hot out of the box from the pizza shop. Then at dinner, the fryer has many uses too like last night we used it to bake our chicken for alfredo. And my family loves french fries, but I got tired of the mess of a deep fryer. Now we use the air fryer and eat yummy fries all without the mess and cost of oil for the deep fryer.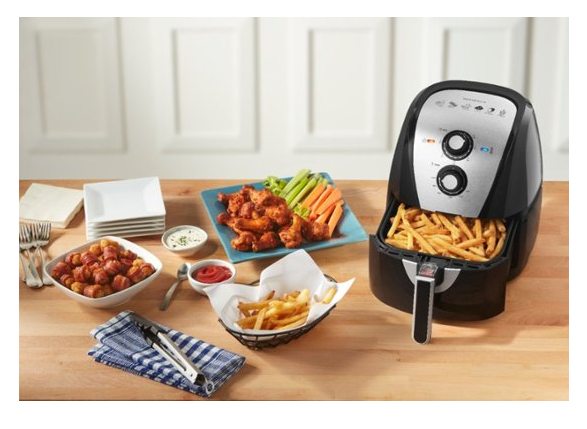 Want to eat healthier without giving up the decadence of fried foods? The Insignia Air Fryer is your solution. By circulating hot air, this air fryer creates a crispy outer layer that locks in moisture. The technology cooks your food using little to no oil, resulting in a tasty, healthier alternative to deep frying. With its intuitive mechanical controls, the Insignia Air Fryer makes it easy to prepare all your favorites. And, cleanup is easy with the dishwasher-safe basket and pan – no need to discard leftover oil ever again.
Insignia Air Fryer Features:
A healthier alternative the Insignia Air Fryer circulates hot air to cook food with little to no oil, resulting in less fat than traditional fryers.
Fry, roast, and bake with one appliance with a temperature range from 180-400°F (82.2-204.4°C), the air fryer is a versatile appliance that can cook anything ranging from poultry to pastry.
Food for the whole family the 5L (5.3qt) basket holds 3-5 servings of food so you can cook for the whole family.
Simple mechanical controls easily and intuitively adjust your air fryer's time and temperature without navigating menus.
Auto-shutoff timer running from 0-60 minutes, the timer automatically turns off your air fryer to give you peace of mind that your food won't overcook.
Dishwasher-safe simply place the non-stick basket and pan into your dishwasher – no need to discard oil or scrub clean.

What are you waiting for? Hurry over to Best Buy and get your Insignia Air Fryer today.