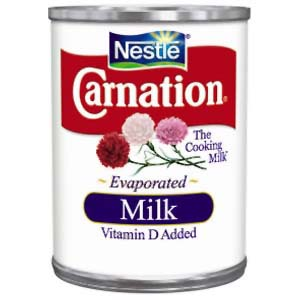 As I was mixing up dinner, I realized I needed a can of evaporated milk. I didn't feel like loading the kids in the car to head to the grocery store for one small item. What do you do when you need a substitute for a recipe? Well, in my case I headed to trusty Google.
And that is how I made a discovery. I discovered how to quickly and inexpensively make evaporated milk at home and save money in the process. Did you know that evaporated milk is simply milk that has had about 60% of the water removed?
How To Make Evaporated Milk
Put 2 cups of fresh milk in a saucepan and let it simmer slowly on very low heat. After approximately 20 – 30 minutes you will have 1 1/2 cups or 12 oz. of evaporated milk. And that is all there is to it. How is that for super easy?
At my local grocery store, a 12 oz. can of Carnation Evaporated Milk is $1.39 or $0.12 an oz. I pay $3.65 for a gallon of whole milk which is 128 oz. or $0.03 an oz. The 2 cups of milk that I used cost me $0.48, and when I was finished simmering it, I was left with 12 oz. of evaporated milk that would have cost me $1.39 at the grocery store. How is that for saving $0.91 on a can of evaporated milk?