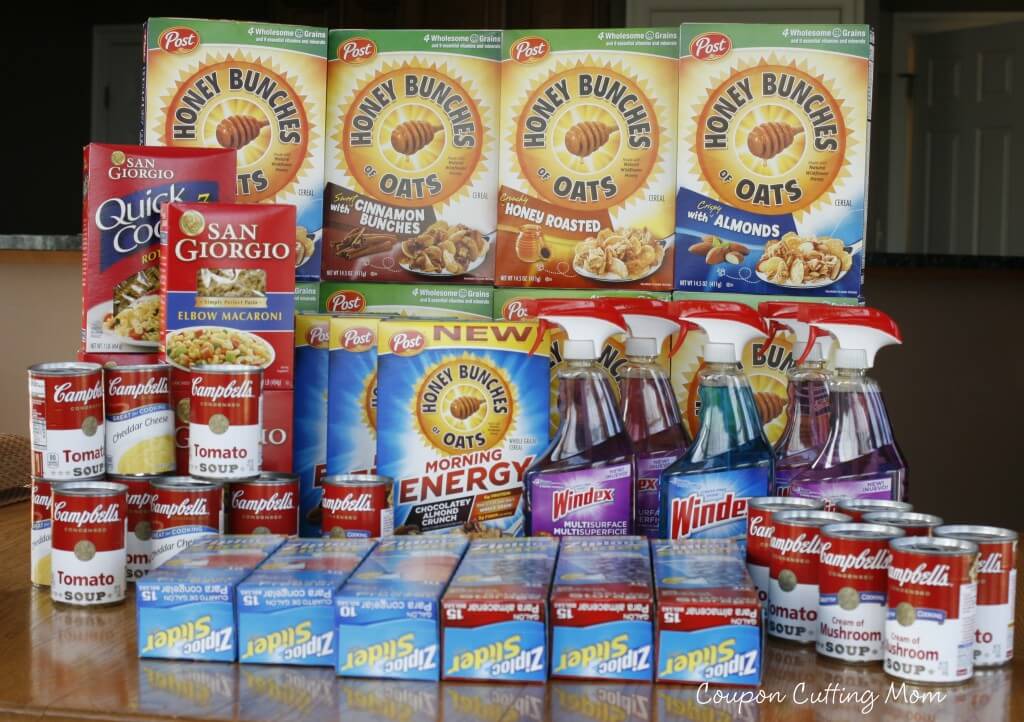 I am excited about the deals available at Giant this week. In case I have not mentioned it recently, I totally love buying groceries and getting awesome gas reward points. On a week like this I can turn my regular grocery purchases into a moneymaking deal when I get my next fill up of fuel!
The items in this picture have a shelf price of $106.21. Four boxes of Ziploc bags didn't make it to the picture so you will just have to imagine they are there. After sales and coupons I paid $61.25. I then received a $1.50 Catalina and $5 from SavingStar which brings my total cost down to $54.75. I then earned a total of 2700 gas points which will be $81 worth of fuel at my next fill up. This makes this grocery purchase a moneymaker of $26.25!!
Here is how you can score the same deals at Giant: (through 3/22)
Buy 16 Campbell's Cooking Cream or Condensed Soups $1.00 each
Buy 12 Post Honey Bunches of Oats Cereal $2.00 each
Buy 4 San Giorgio Pasta $1.00 each
Buy 10 Ziploc Easy Zipper Freezer or Storage Bags $2.00 each
Buy 5 Windex Glass Cleaner $2.79 each
Use $0.40/3 Campbell's printable (zip 90210)
Use $0.40/3 Campbell's Great For Cooking (printable zip 90210)
Use 2 $1/5 Campbell's Condensed Soups printable
Use 4 $1/2 Honey Bunches of Oats coupon from the 2/9 SS
Use 4 $1/1 Post Honey Bunches of Oats Morning Energy printable
Use 3 $0.75/3 Ziploc coupon from the 3/16 SS
Use $2/3 Windex Product printable
Use $1/2 Windex Product coupon from the 3/16 SS
Paid $61.25
Received $5/$20 Ziploc Brand Bags or Containers (SavingStar Deposit)
Received $1.50 Windex Catalina
Received 2700 gas reward points or $81.00
Final price FREE + $26.25 moneymaker!
See all this week's Giant deals here and be sure to enter for a chance to win the $25 Giant gift card I'm giving away.