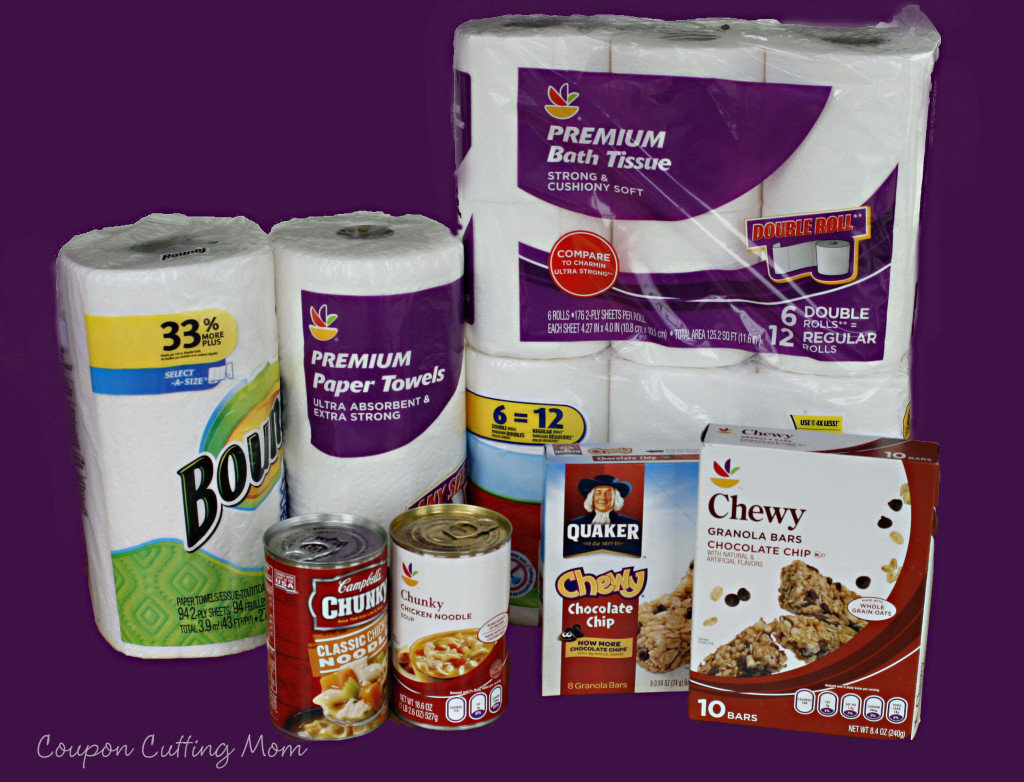 Are you brand loyal and buy only name brand items and pass up store brand products? I love to save money at the grocery store and for me that that means cutting coupons whenever possible. There are times though when coupons or sales are not available on name brand items. In those cases I know I can still save grocery money by purchasing store brand items. Not only am I saving money when I purchase the store brand but I'm getting a product that is just as good or even better for less money than a leading brand. My favorite store brand items come from GIANT so I was excited to find out about the Make GIANT Own Brands Your Brands!
The GIANT Buy Theirs, Get Our Free Challenge is an event you don't want to miss. GIANT is challenging customers who have not tried the GIANT brands to put them to the test during this event. During the weeks of March 16 and March 23, whenever you purchase select national brands, you will receive a GIANT brand equivalent item free!
The GIANT brand items are subjected to rigorous testing. This testing includes customer feedback and if the product doesn't pass, it doesn't go on the shelf. Knowing that other consumers just like yourself have had a say in what they like and love, should give you the assurance that you are getting quality items.
March 16-22, 2014
Buy this national brand product… receive this GIANT Brand for free.
Ballpark Beef Franks (15 oz.)        Own Brands Beef Franks (16 oz.)
Coke (2 liter)                                     Own Brands Cola (2 liter)
Charmin Bath Tissue (6 pack)      Own Brands Bath Tissue (6 pack)
Claritin (Allergy)                              Own Brands Allergy
March 23-29, 2014
Buy this national brand product… receive this GIANT Brand for free.
Bounty Paper Towels (single roll)    Own Brands Premium Paper Towels
Quaker Chewy Bars (8 pack)             Own Brands Chewy Bars (10 pack)
Campbell's Chunky Soup (1 can)       Own Brands Chunky Soup (1 can)
Ben & Jerry's Pints (1 Pint)                 Own Brands Ice Cream Pints (1 pint)
On March 16 you can get free samples of GIANT cola in-store and on March 23 there will be free samples of GIANT ice cream. This sampling is in all GIANT stores from late morning to early afternoon both days.
Thanks to GIANT, my family and I were able to sample and compare several name brand with the GIANT brand items. My daughter is a huge fan of granola bars and was all ready for a taste test. And the Chewy Granola Bars passed the test with flying colors. Besides the great flavor and texture, I love the GIANT brand has 10 bars per pack versus the 8 bars in the Quaker box. A GIANT brand box is 8.4 oz and the Quaker is only 6.7 oz.
The paper towels from both GIANT and Brawny were 2-ply and I really couldn't see or feel a difference. But again there is a difference in the amount per roll with Bounty having 94 sheets and 43 sq. ft. versus GIANT at 121 sheets and 55.4 sq. ft. Are you getting the picture here? Every time the GIANT brand has more product for less money.
Anyone who knows me well knows that when I buy bath tissue I don't go by the roll price but rather but the square foot price. Of course I had to run the numbers on the Charmin' and the GIANT brand. Both packs come with 6 double rolls. Charmin has 165 2-ply sheets per roll and 107 sq. ft. total and GIANT has 176 2-ply sheets per roll with 125.2 sq. ft. total. The Charmin is priced at $5.39 per pack or $0.05 per sq. ft. The GIANT brand is $4.99 or $0.039 per sq. ft.
Is this enough to convince you to accept the challenge and join more than 250,000 other GIANT shoppers who love the quality and savings of the GIANT brand? To help kick off this challenge, GIANT Food Stores is giving a lucky Coupon Cutting Mom reader a $25 GIANT Food Store gift card. This giveaway is open to US residents ages 18+ and ends at 12 midnight ET on March 20, 2014.
Good Luck!
Coupon Cutting Mom received one or more of the products mentioned above free for evaluation purposes. Regardless, all opinions expressed are still 100% my own.