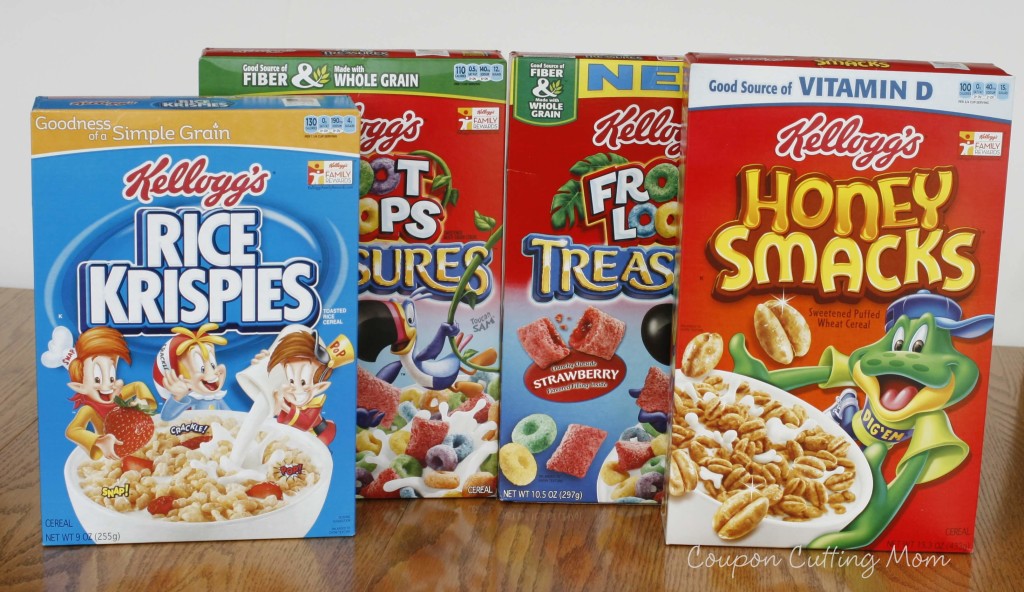 This week at Giant, when you buy any 4 Kellogg's cereals you will receive $6 off instantly. In addition to the instants savings there is also a $3 Catalina that will print when you buy any 4 or more Kellogg's cereals (8.7 oz. or larger).
Kellogg's Family Rewards has a $1.50/1 Kellogg's cereal printable that will make this cereal deal even better. If you are new to Kellogg's Family Rewards, register here for your free account. The coupon costs 1,000 points and you can earn points by entering the codes on any Kellogg's items that you have around the house. See the end of this post for a list of FREE codes that will also add points to your account.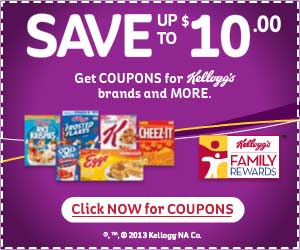 The cereal in the above picture has a shelf price of $13.36 but after coupons, instant savings, Catalina and Checkout 51 offer this purchase was FREE plus a $1.14 moneymaker! The cereal prices vary some so depending on the kinds you purchase, you could end up with an even greater moneymaker.
Here is the Giant Kellogg's' deal: (good through 3/22)
Bought 1 Kellogg's Rice Krispy $3.19
Bought 1 Kellogg's Honey Smacks $3.59
Bought 2 Kellogg's Fruit Loops $3.29 each
– $6 Instant Savings
– 3 $1.50/1 Kellogg's printable coupons
Paid $2.86
Received $3 Catalina
Received $1 from Fruit Loop purchase from Checkout 51
Final price FREE + $0.14 moneymaker!
Here is a list of codes that will earn you free points in your Kellogg's Family Reward account:
EARNSWEETREWARDS (50 points)
GRAINSDAIRYFRUIT (50 points)
KELLOGGSFREEBOOK (50 points)
SPECIALK5BONUS4U (50 points)
HOLLYJOLLYCOSTCO (50 points)
FOURLEAFCLOVER25 (25 points)
KFRSHARETHANKS20 (20 points)
EARNGREATREWARDS (20 points)
GIFTOFMUSICBONUS (20 points)
GREATSTARTSBONUS (20 points)
Like Kellogg's Family Reward on Facebook and earn 100 points.
Be sure to see all this week's Giant deals here.