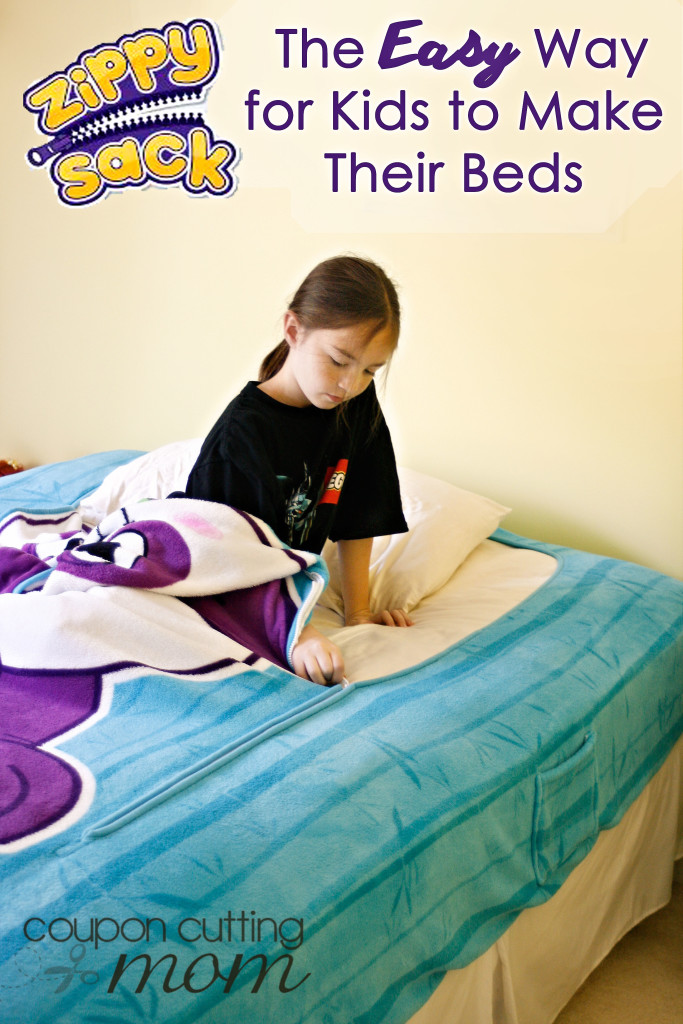 Do your kids struggle to get their bed made neatly every morning? On school mornings, my kids need to be up and out the door before 7:30 AM.. To save some time on busy school mornings, I usually help them out and make their beds after they leave for school. Now that it is summer vacation, one of their daily chores is having their rooms clean, and the bed made neatly. Thanks to
Zippy Sack
the job of
making their beds is no longer a chore but rather it has become so easy that it is fun for them
!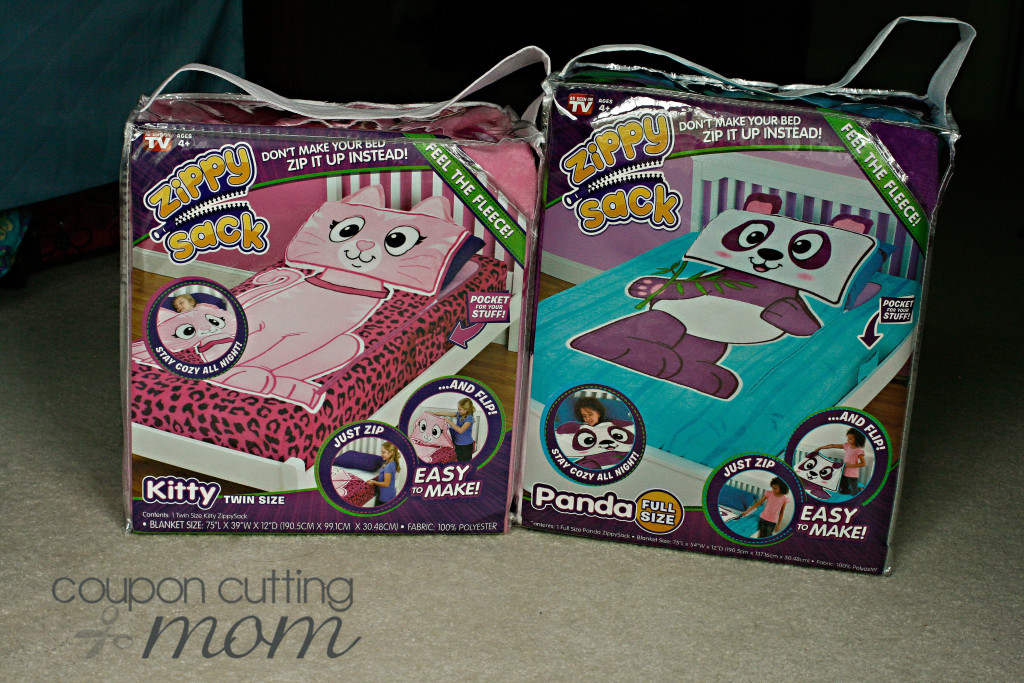 Zippy Sack
is a fun new way to help kids make their beds with just a quick zip and a flip! When our Zippy Sacks arrived, my kids couldn't wait to get the package open and try out this new bedding. All I needed to do was place the soft and cuddly fleece Zippy Sack over the fitted sheet that was already on the mattress and their new bedding was ready to use. There is elastic the entire way around the edge of the sack. This elastic not only makes it very easy to "install" the bedding, but it also gives it a tight fit over the mattress. There is nothing worse than bedding that wants to ride up on the mattress.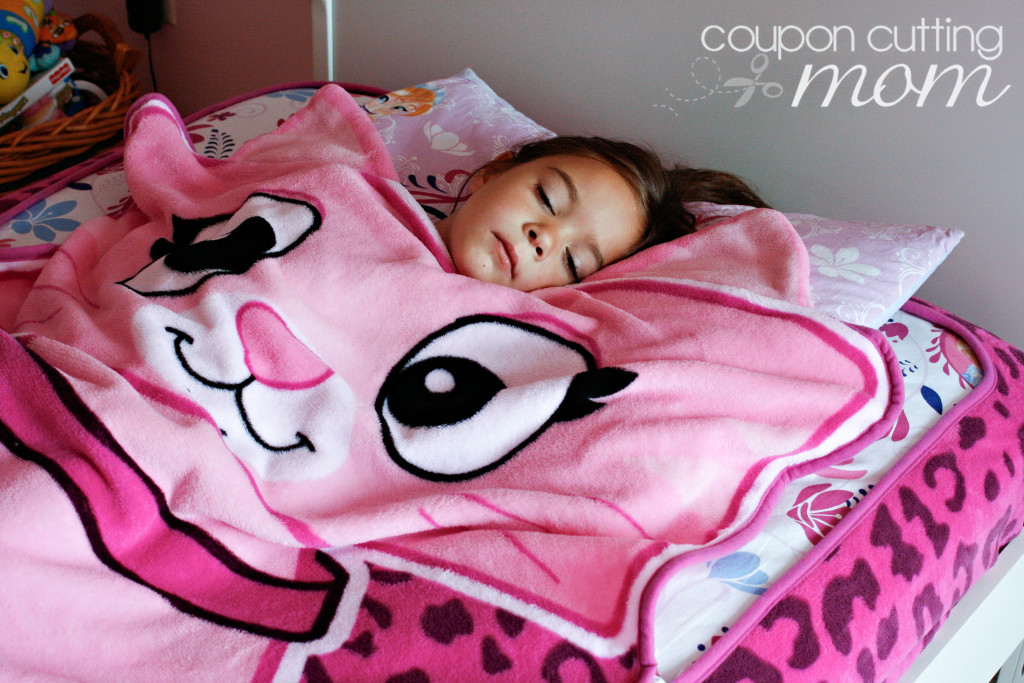 Now every night when my kiddos are ready for bed they simply zip inside this cozy sack for a night of sweet dreams.
Zippy Sack helps kids feel snug and secure and takes away all worries about covers sliding off while they are sleeping
. In the morning when the kids hop out of bed all they need to do is zip the sack back up, and the bed is neatly made and transformed into a super cute and cuddly character. Shhh! Don't tell my kids yet but this means when school starts up again in the fall they can continue making their own beds since the whole process just got a whole lot faster and easier with
Zippy Sack
.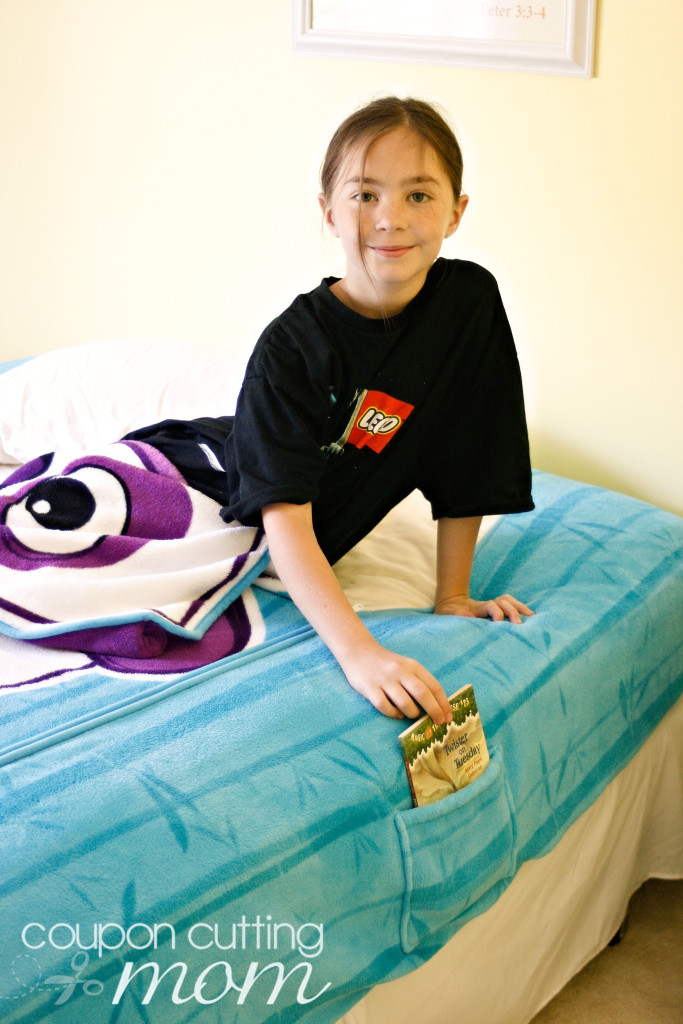 Zippy Sack also includes a nice sized pocket that is the perfect storage space for all the kids favorite things. My 9-year old daughter who is a bookworm loves using her pocket for whatever book she is reading at the moment. My other daughter who is 6-years old finds that her bed pocket is a great place to keep her
LightHeaded Bed
remote or her MP3 player.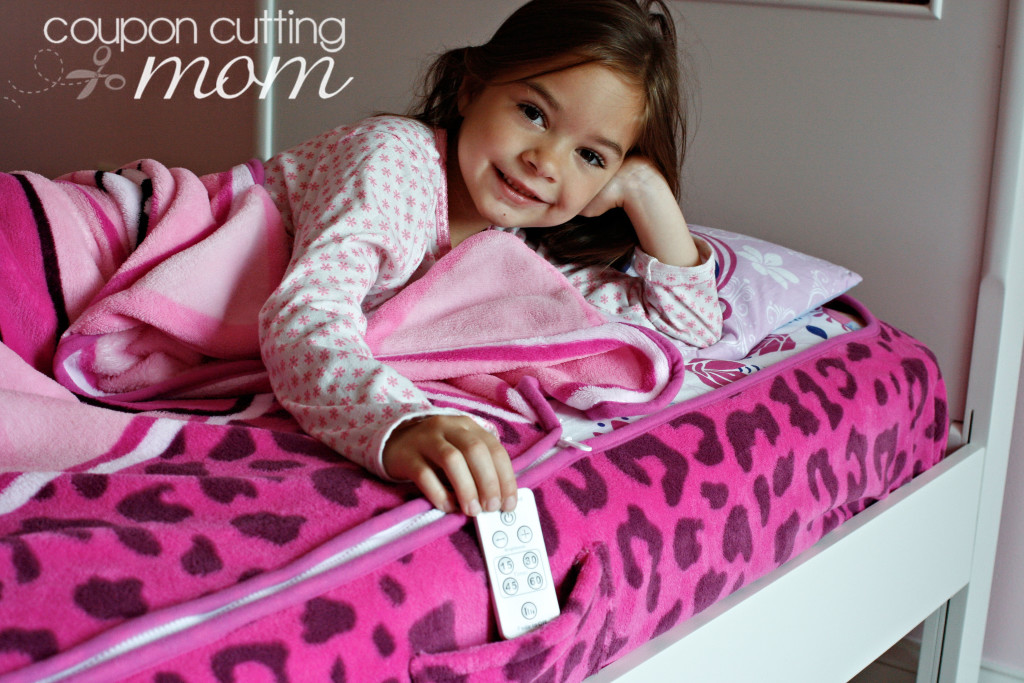 Another great feature of the Zippy Sack is that this fleece bedding is
machine washable
and can very easily be removed and laundered and then returned right back to the bed.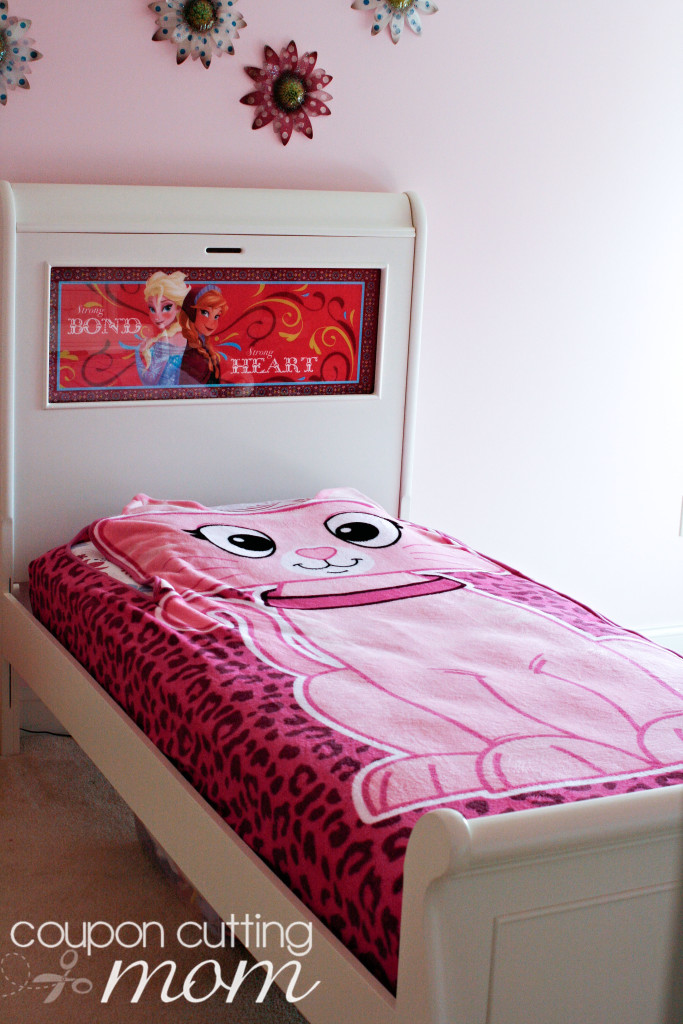 Do your kids have bunk beds? We don't have them at our house, but my kids have already slept in them, and goodness what difficulty to get the bed on the top made properly. The
Zippy Sack would be the PERFECT bedding for any bunk bed owner
as there would never be a struggle to get the bed made neatly.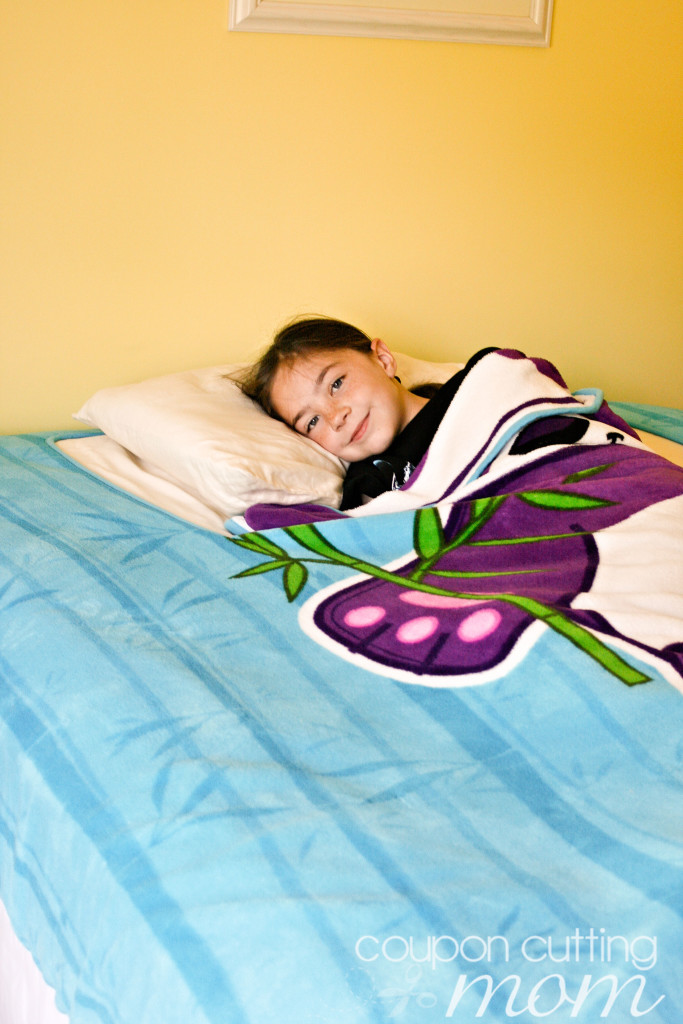 Thanks to Zippy Sack
even young kids can learn independence and feel the accomplishment of a perfectly made bed every morning
. Purchase your
Zippy Sack
today and not only will your kid be all snug and cozy in this adorable bedding but messy beds will become a thing of the past. Zippy Sacks are available in both twin or full size and come in fun characters such as a pony, dog, kitty, panda or dino.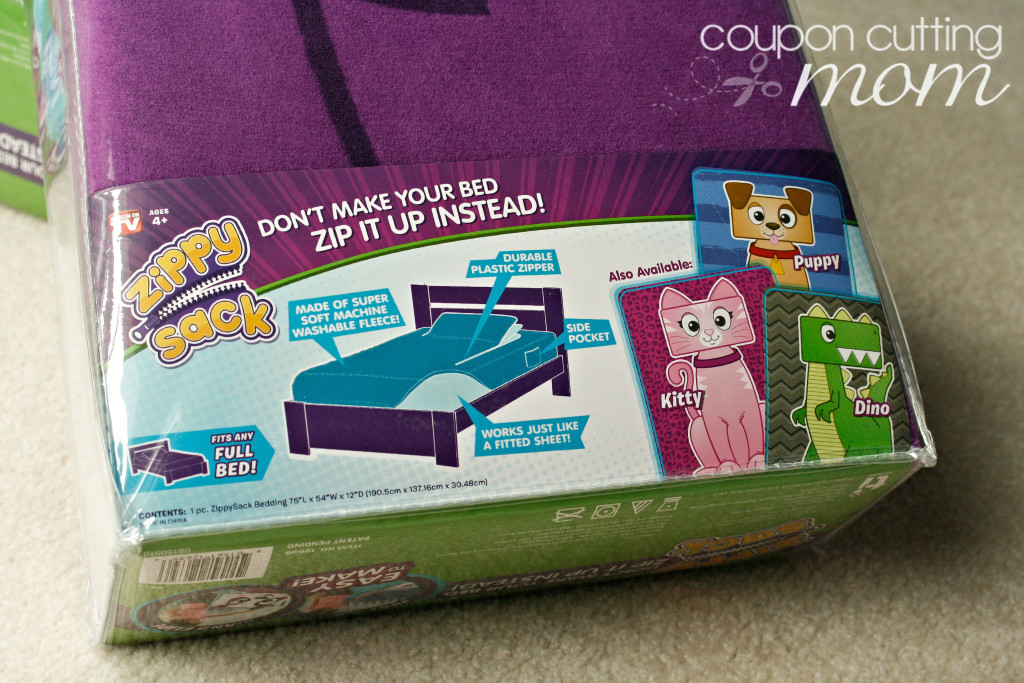 Watch the following video to see the Zippy Sack in action.
Follow Zippy Sack on Facebook, Twitter, Instagram and YouTube to stay up to date on all the latest promotions and newest offers.
How would you like to win a Zippy Sack for your child's bedroom?
Thanks to Zippy Sack one lucky Coupon Cutting Mom is going to win their choice of a twin sized Kitty, Dog or Dino Zippy Sack! This giveaway is open to US residents ages 18+ and ends at 12 midnight ET on June 30, 2015.
Good Luck! 
Coupon Cutting Mom received one or more of the products mentioned above free for evaluation purposes. Regardless, all opinions expressed are still 100% my own.