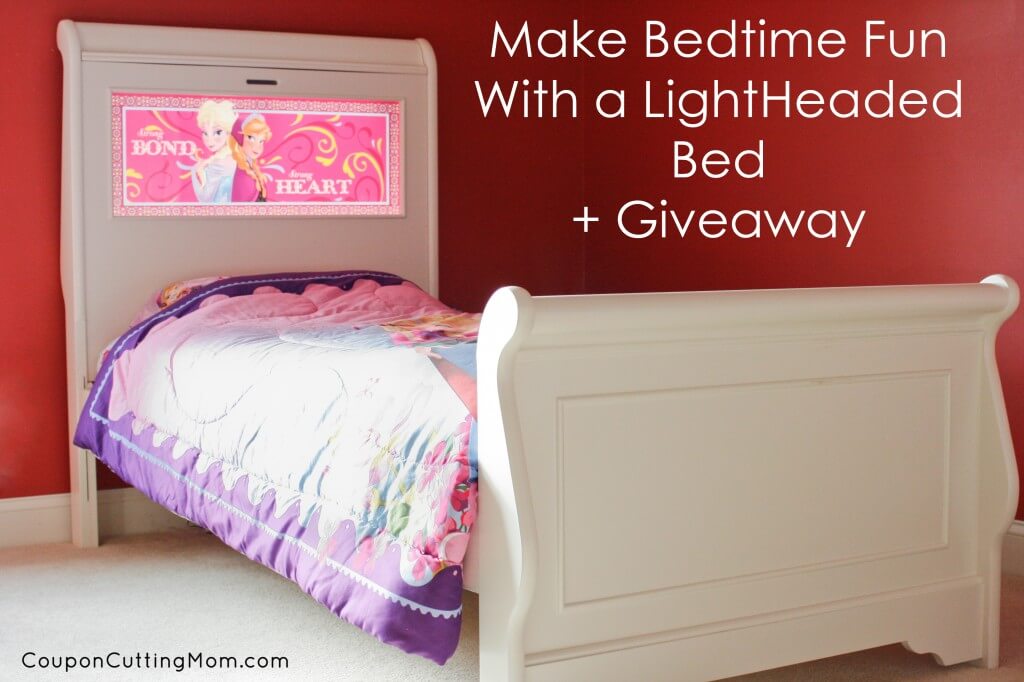 This mommy is having a hard time believing her daughter is having a birthday in less than a week and that this birthday will be the one that makes her baby girl six years old. Where has the time gone?
My daughter is one of these kids who does not like change at all. Up to this point, she was still sleeping in her toddler bed. Whenever we would suggest getting her a big girl bed, she always insisted she wasn't ready to give up her little girl bed. Even though her piggy toes were touching the end of the bed, she still thought she needed her little bed for a good night's sleep. Everything changed though the day that a LightHeaded Bed showed up at our door. This new bed is so amazing and like no other bed she has ever seen that she never once fussed about giving up her toddler bed.
LightHeaded Beds are high-quality, stylish beds that feature a soothing, warm glow from the backlit headboard that will keep your kid from ever outgrowing their dreams. The interchangeable HeadLight Image offers countless options to match any child's dreams and imaginations.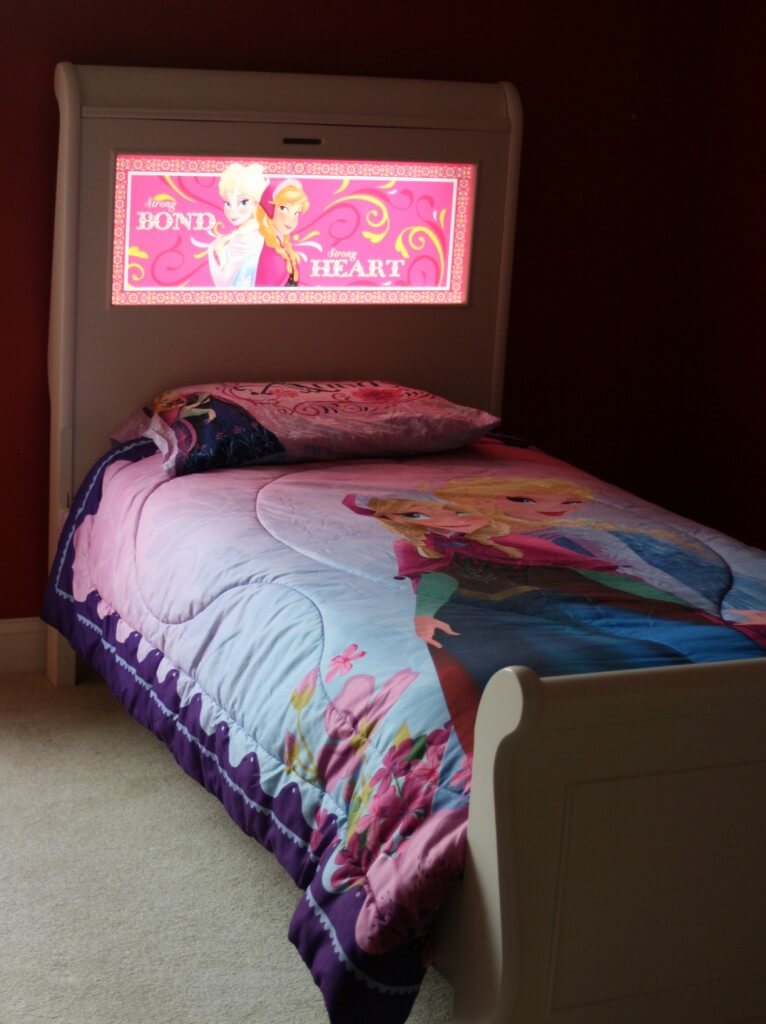 Assembly of the Edgewood bed is super easy thanks to the included directions. My husband spent roughly only 30 minutes on the construction of this bed. My husband is all about quality and was thoroughly impressed to discover that this sleigh bed consists of solid wood. The dual height hook on the wooden side rails is a nice feature that makes it very easy to raise or lower the bed to a comfortable height for your growing child. LightHeaded Beds also come with a slat-roll foundation which means the bed can be used either with or without a box spring.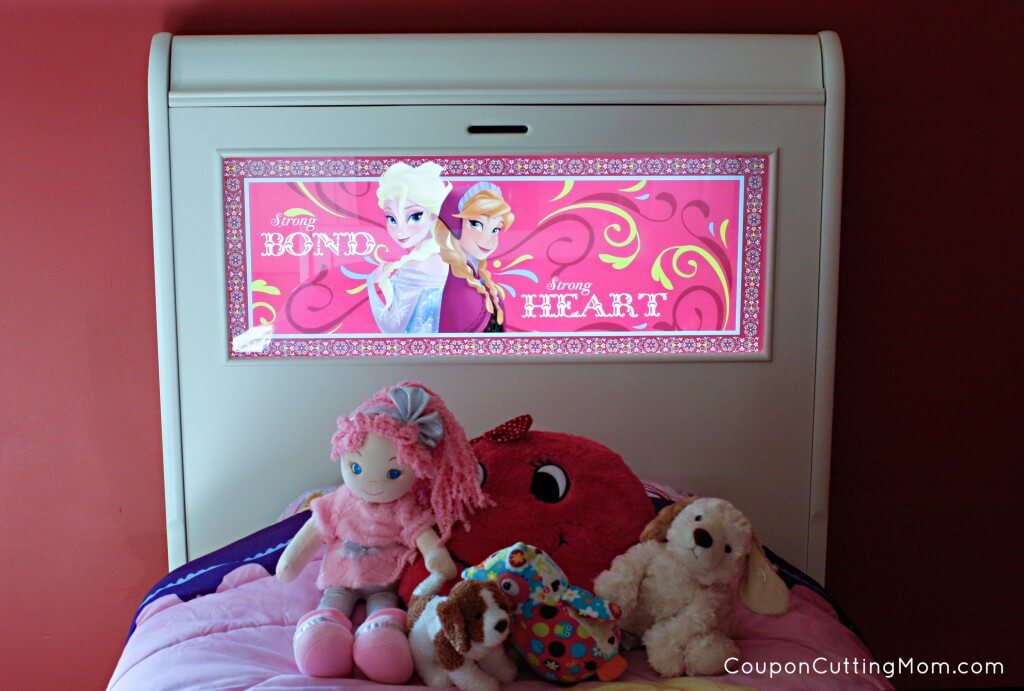 The headboard part of the bed contains the LightPanel and comes already installed. All LightHeaded Beds arrive with a starter HeadLightz Image and a redeemable coupon for $20 off your nextHeadLight Image purchase. LightHeaded Beds offers over 1000 HeadLightz Images to choose from, and the selection includes everything from Disney to Marvel, animals to sports, scenic to transportation and so much more. You can also design your own images for use in your bed. My daughter is a Frozen fan, so she selected a cute Frozen image for her bed. HeadLightz makes it fun and easy to match the decor and also the age and interests of your child.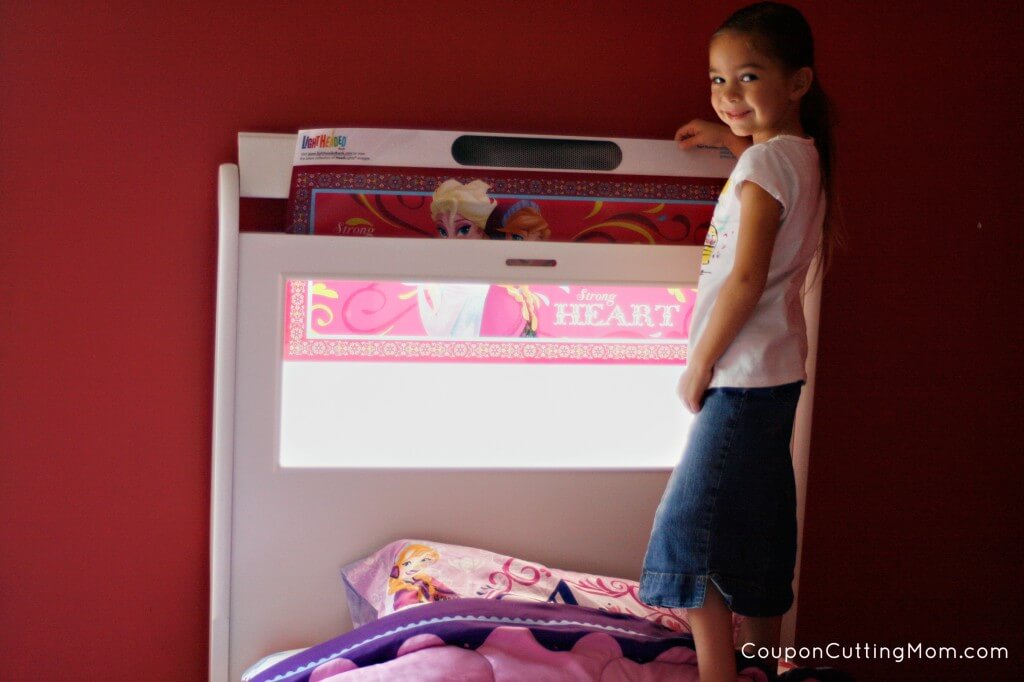 I love how easy it is to change the HeadLightz Images in the headboard. With the hinged part of the headboard open, any HeadLitghtz image can be inserted into the headboard. All extra images can be stored safely out of the way in the concealed storage area on the footboard of the bed. How neat is that?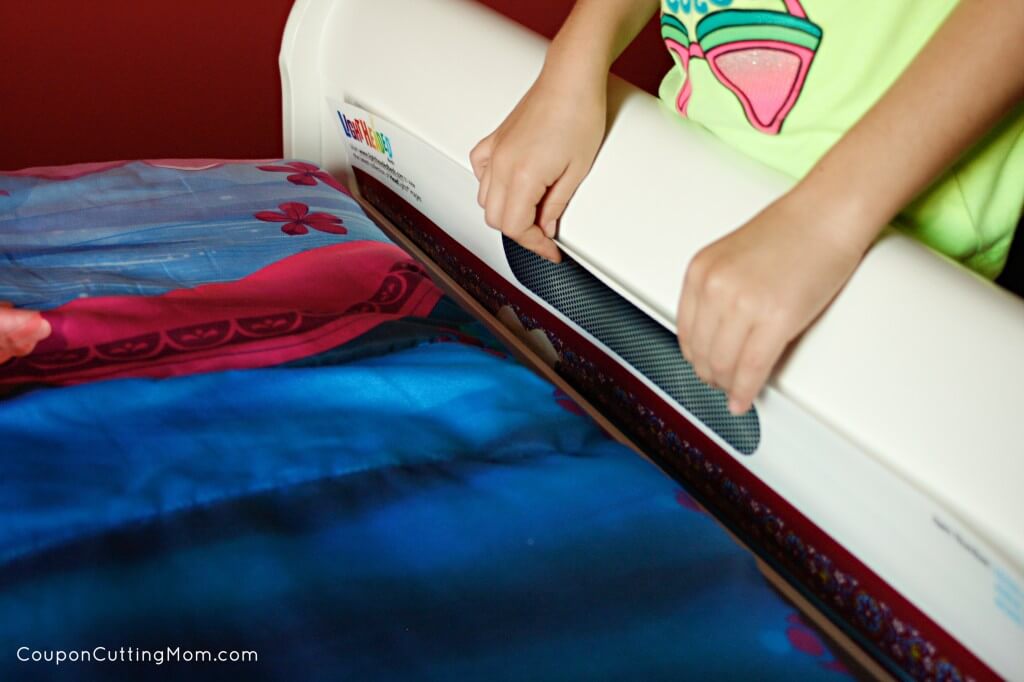 My daughter is also one of these kiddos who thinks she needs two or three nightlights to sleep. The LightHeaded Bed is like having a built-in nightlight right in her bed.
The feature that I love most about the HeadLightz part of this bed is that it also comes with a remote. Options on the remote include an on and off switch, a "Lights Out" timer, and a brightness control. There is also a "Fade to Off" timer that allows the light to fade from its current setting to off over a set amount of time. The "Fade to Off" is a favorite feature of mine. This fade feature means at bedtime we can start out with the light in the brightest setting. On the brightest setting, I have plenty of light to read my daughter her bedtime story. After I have her tucked in the light keeps dimming down and finally turns off after she is asleep.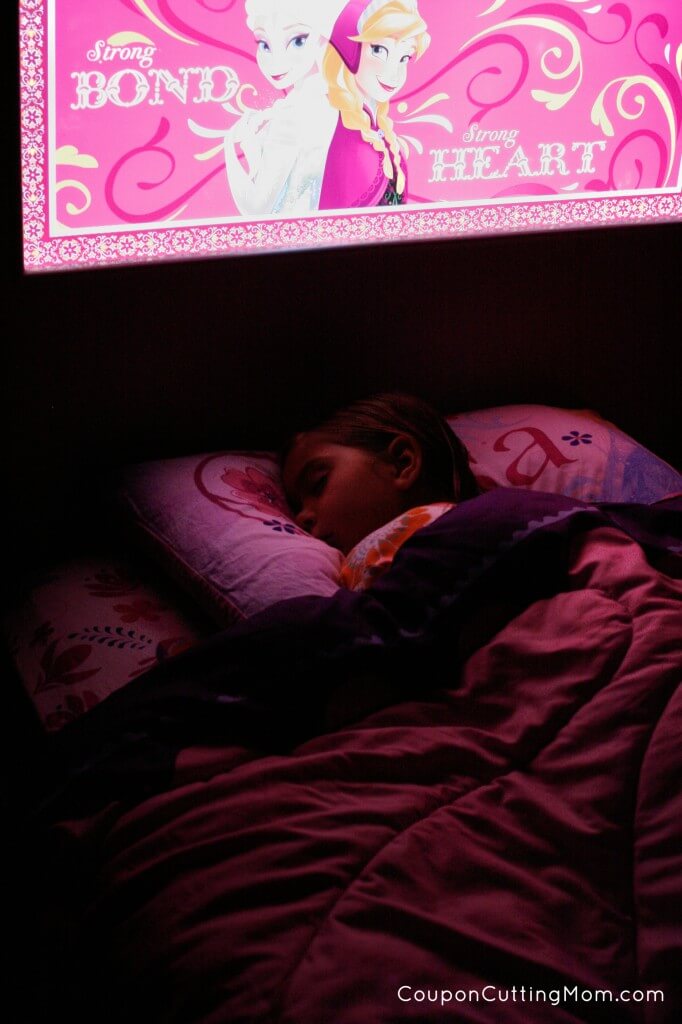 Learn more about LightHeaded Beds:
If you are looking for the perfect bed for any child, consider a lovely bed from LightHeaded Beds. This bed makes bedtime fun and come with endless possibilities that will grow along with your child's dreams and interests. Follow LightHeaded Beds on Facebook, Twitter, and Instagram to stay up to date on all new products and promotions.
Shop the complete line of LightHeaded Beds and use code LHB1014CCM to save 20% off your total purchase!
Receive 20% OFF your next LightHeaded Bed purchase
with code LHB1014CCM. This coupon code is good
through November 22, 2014.

Win a Lightheaded Bed!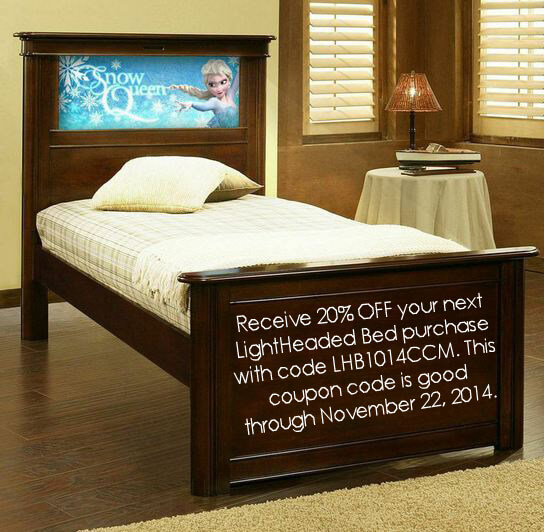 A lucky Coupon Cutting Mom reader is going to be winning a Riviera Twin Cheshire Cherry bed. This giveaway is open to US residents ages 18+ and ends at 12 midnight EST on November 11, 2014.
Good Luck!
.
Coupon Cutting Mom received a LightHeaded Bed free for evaluation purposes. Regardless, all opinions expressed are still 100% my own.