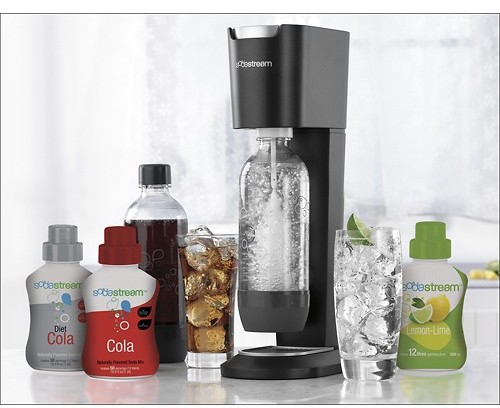 *HOT* SodaStream Home Soda Maker Only $26.99 
If you are in the market for a SodaStream Home Soda Maker, then here is a deal you don't want to miss! Best Buy has the SodaStream – Genesis Home Soda Maker on clearance for ONLY $26.99 (reg. $89.99)!
We have a SodaStream and totally love it. Not only does it keep us from having half empty fizz-less 2 liters in the refrigerator but the soda we make at home with the SodaStream is much healthier than store bought soda. You can read all about our SodaStream home soda maker here.
This SodaStream offer includes a SodaStream Genesis Home Soda Maker, 60-liter carbonator, 1-liter carbonating bottle and a variety pack of soda mix.
Get your SodaStream here while it is at this insanely low price.