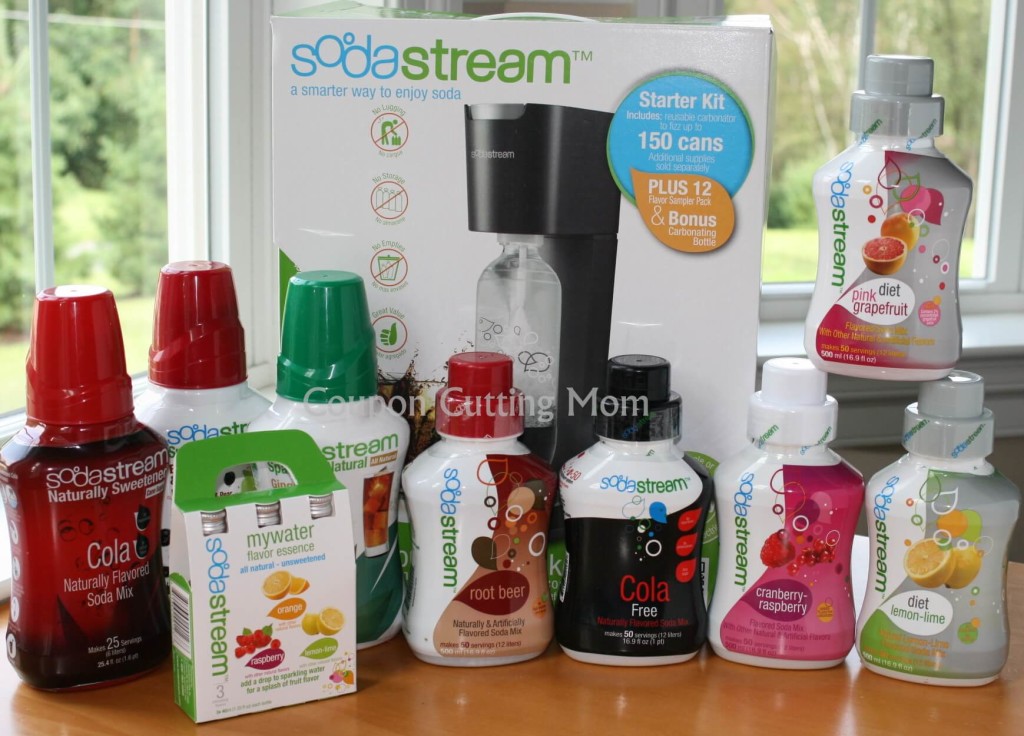 Would you believe me if I told you that you can turn tap water into soda? If you're like me you might be somewhat skeptical, wondering if that is really possible. Well, I found out it can be done very easily with something called the SodaStream.
Around here we drink plenty of soda. We eat pizza and we have soda to drink, whenever we have friends over and there is food involved we open soda, and then there are times we are just thirsty and pop open a can of soda. Yes, I admitted it – we drink more than enough soda. Besides the fact that soda isn't a healthy drink comes lots of empty cans and bottles that need to be recycled or even worse fill our landfills. And I didn't even begin to mention the cost of buying soda especially if it isn't bought when on sale.
I was so excited when I found out we were receiving a SodaStream to review. Could this machine really take tap water and turn it into great-tasting, fresh, fizzy drink that was healthier for us than regular soda?
As soon as the UPS man delivered the box containing our SodaStream, we had to try it out. Setup and assembly were very easy with the included instructions. All we really needed to do was insert the carbonator tank and we were ready to try this baby out.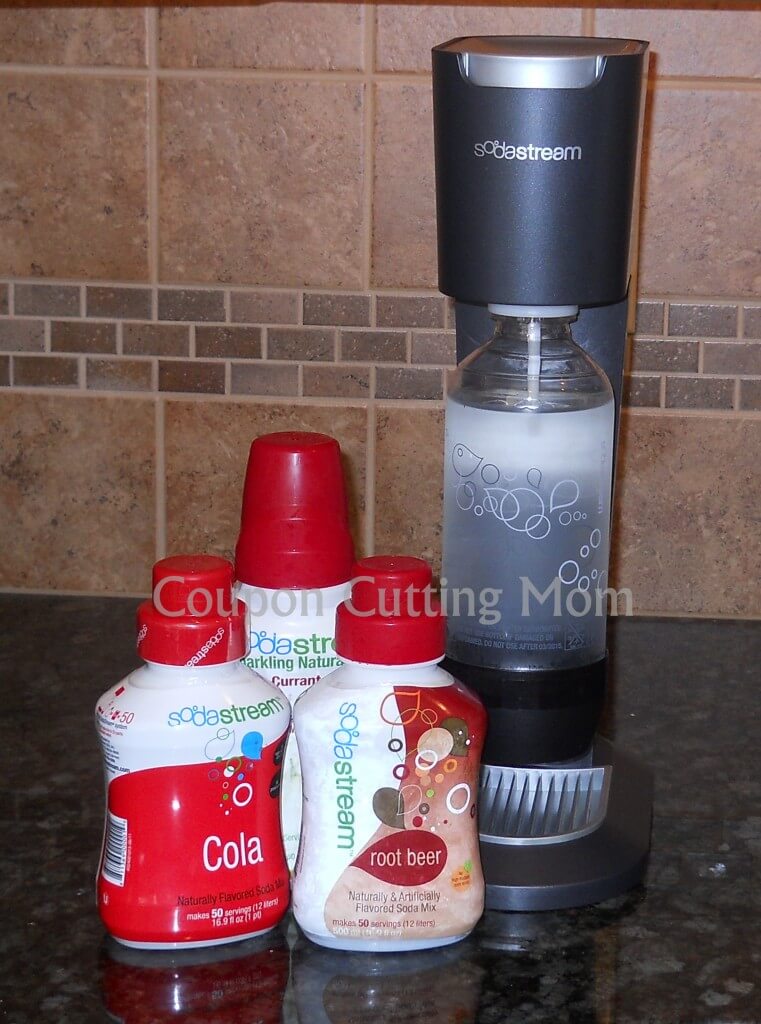 The instructions say to use cold water. Thankfully I had a pitcher of water in the refrigerator just waiting for the day the SodaStream arrived. There is a handy fill line on the bottle showing you how much water to add. I liked the fact that there were two reusable liter bottles included. I now keep them filled with water in the refrigerator, that way whenever we want to mix up some soda the water is in the bottle and ready to use.
The next step is to take the filled bottle and screw it onto the SodaStream. Then press the black button on top of the machine firmly three times until you hear a loud buzz. Just so you are warned this does emit a rather loud noise but not worries that is just the machine doing its thing of adding carbon to your water. The reccomend amount of times to press the button is three but you can do more or less times depending on the amount of fizzy you like. We have found three to be the perfect amount of fizz for us.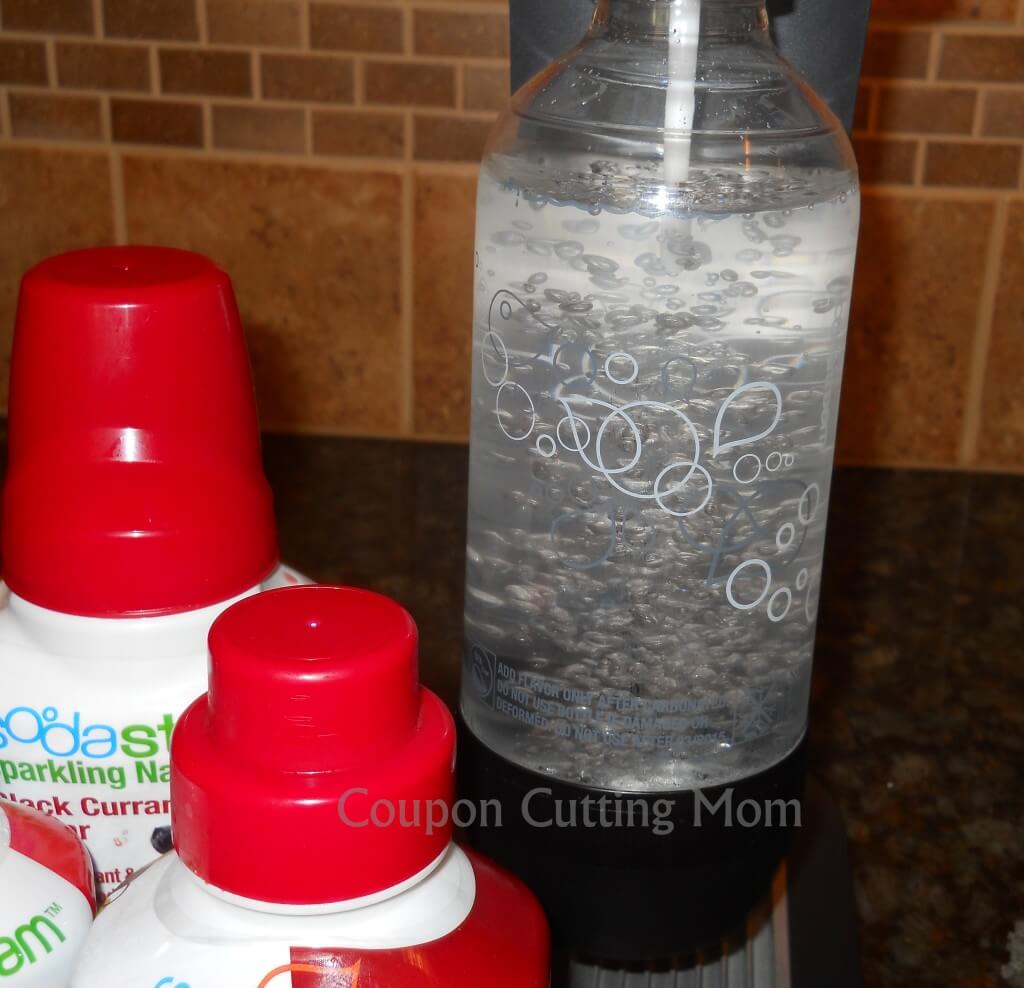 Next comes the exciting part of deciding which flavoring to add. SodaStream offers over 60 flavors chose from. With that many flavors everyone is guaranteed to find one they love. There are traditional favorites such as Cola, Lemon-Lime, Orange, Root Beer, and Ginger Ale or delicious fruit creations, including Orange Mango, Diet Pink Grapefruit or Cranberry-Raspberry. You will also find energy drink, sparkling teas, flavored waters, Crystal Light and Country Time products.
I love the Sparkling Naturals flavors! This line of flavors make great-tasting "better for you" sodas. Sparkling Naturals contain no artificial flavors, no artificial colors and no artificial sweeteners, and do not contain any preservatives. In this line of flavors we tried the Ginger Ale and the Black Currant & Pear and loved both of them. There are many more flavors on my list that I want to try and judging from the ones we have already tasted, I already know we will like any product in this line.
Each 750ml bottle of Sparkling Natural concentrate will make 6 liters. I priced these out at my local Bed Bath & Beyond and they were priced at $9.99. If you use the 20% coupons that they mail out frequently you will pay only $7.99 or $1.33 per liter. Considering how much healthy this line is, I definitely feel it is worth the money.
In the Regular sodamix there is a large selection of flavors. Our favorite flavor was the Orange. It tasted just like the namebrand Orange soda. Again there are quiet a few flavors in this line that we want to try. These flavors contain less sugar, calories, carbohydrates and sodium than national drink brands, and they contain no high-fructose corn syrup. Each bottle of concentrated sodamix makes the equivalent of 12 liters of soda! The price for one of these bottles of flavor was $4.99 at Bed Bath & Beyond or with a 20% coupon only $3.99 or only $0.33 a liter.
There is also a selection of Diet flavors. Now we are not big diet soda drinkers but we did try some of them and weren't super impressed. It seemed the diet flavors left an aftertaste in your mouth. It may have had something to do with the fact that they are sweetened with Splenda, another item no one in my family is a fan of.
After you add the flavor to the bottle of carbonated water and place the lid back on, give it a few gently shakes to get the flavor and water mixed. And there you have it, you turned water into soda. The good news is that the homemade sodas made by the Sodastream machine won't go flat- like regular sodas, this is thanks to a special hermetic seal in the carbonating bottle caps which keeps your sodas fizzy. So no more throwing out that 2 liter that still has a bunch of soda in but it has gone flat and no one wants to drink it.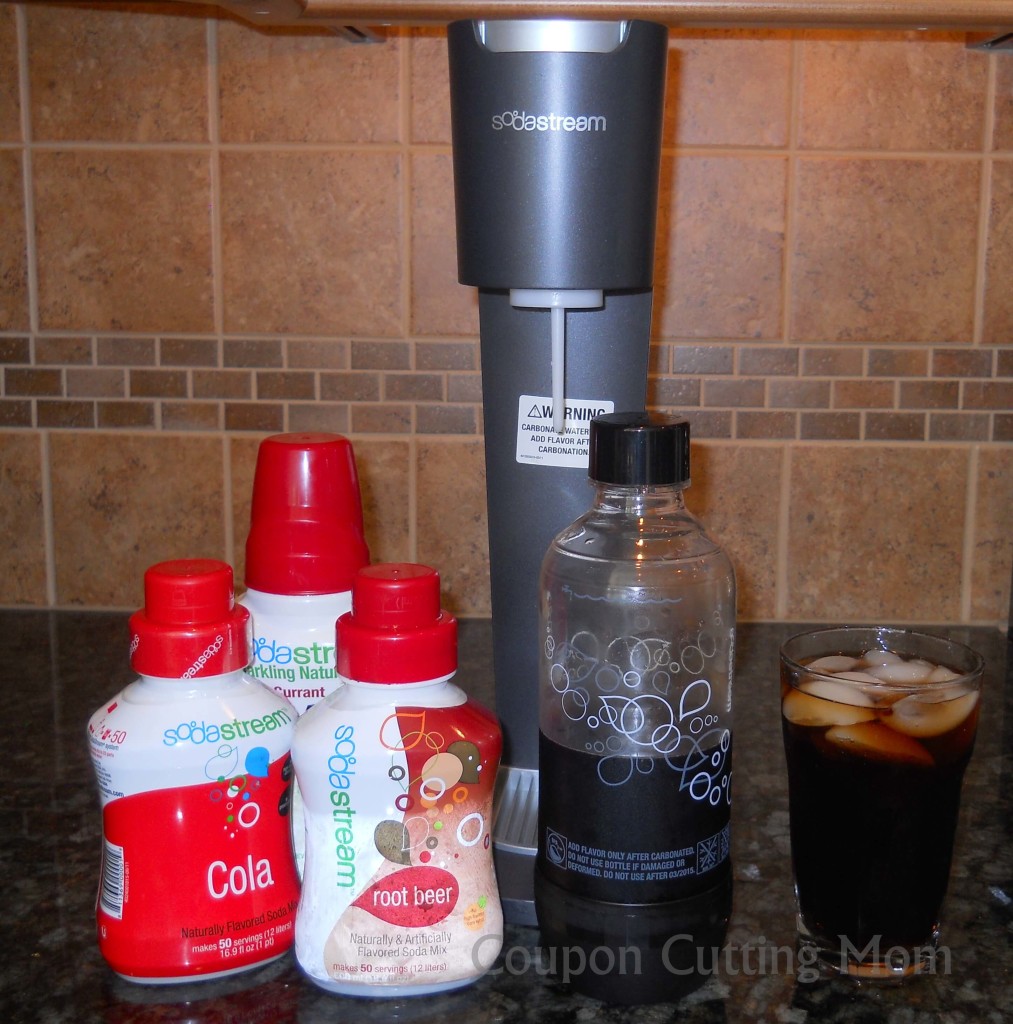 I absolutely love how easy and convienent it is to mix up your own soda. I have several recipes that use soda. Now as long as I have the correct flavor on hand I can mix up soda at home and not make an extra trip to the store. Or the next time the kids get the stomach bug, no more running to the convenience store for some Ginger Ale at 3 am, I'll just mix some up for them without leaving the house.
The unit itself is an easy size to take away. We have taken our SodaStream along to several parties. Since there are no batteries or electric involved it is also perfect to use at your next picnic or really anywhere you go. Approximately every 60 uses you will need to get a CO2 refill. When empty, SodaStream takes back the cylinder to be cleaned, inspected, refilled and reused. Carbonators may be exchanged online, or at select SodaStream authorized retailers. Again, Bed Bath & Beyond Stores will exchange your cylinder for a new for only $14.99.
We are looking forward to continuing to use our SodaStream and try out many of the other flavors. If you love soda or seltzer and want a way to make it at home, I'm sure that you'll love the SodaStream Soda Maker Kit as much as I do. It is easy to use and makes an excellent gift for just about any occasion you can think of. Head here to find a local retailer for SodaStream in your area.
Disclaimer: I received a SodaStream and an assortment of flavors for review purposes. Regardless, all opinions expressed are still 100% my own.