This post is sponsored by GIANT Food Stores and Build Your Influence Summit.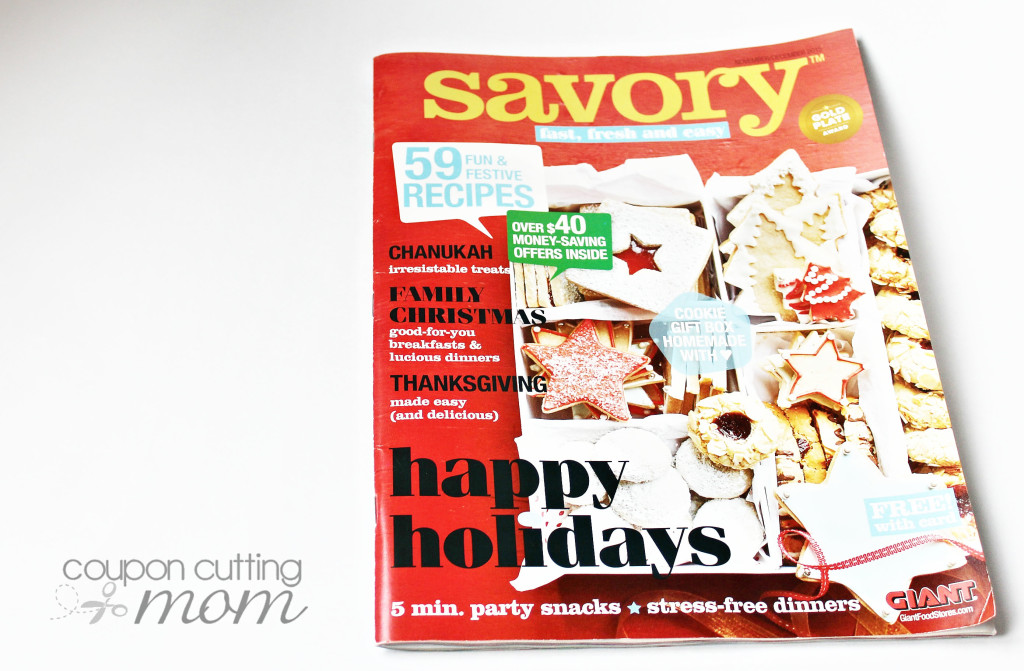 It is no secret that GIANT Food Stores is my favorite grocery store. I love shopping at GIANT as they make it easy for me to stick to my grocery budget and also save money by offering double coupons, Gas Reward Points and their own tasty brand of products. And now GIANT recently launched a brand new magazine –
Savory
!
The tagline on the Savory magazine is fast, fresh and easy! You will find this magazine filled with yummy recipes, mouthwatering food pictures, meal planning tips, tutorials and more all designed to help you find fast and easy recipes that your entire family will love. You will find the recipes for Holiday Fruit Smoothie, Beef Wellington, Apple & Bacon Stuffing Muffins, Pears with Red Wine Reduction and many more recipes. And did I mention that there are also coupons in this publication – there are actually over $40 worth of coupons in the November/December issue.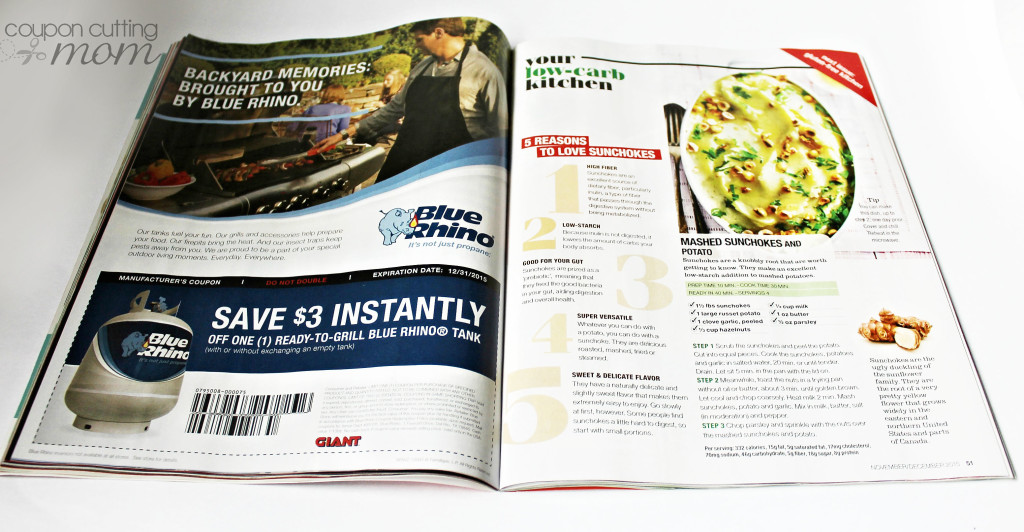 The
Savory magazine is free
at any GIANT store with your GIANT bonus card. These magazines can be found displayed throughout the store and also at the checkout area. You can also download a
free Savory magazine app
for your tablet which will allow you to read this magazine digitally and access previous issues.
Be sure to take some time and check out the video library of recipes and tutorials on the Savory website. You will be able to find videos with recipe instructions on everything from Cauliflower and Mushroom Lasagna to instructions for creating tomato tulips.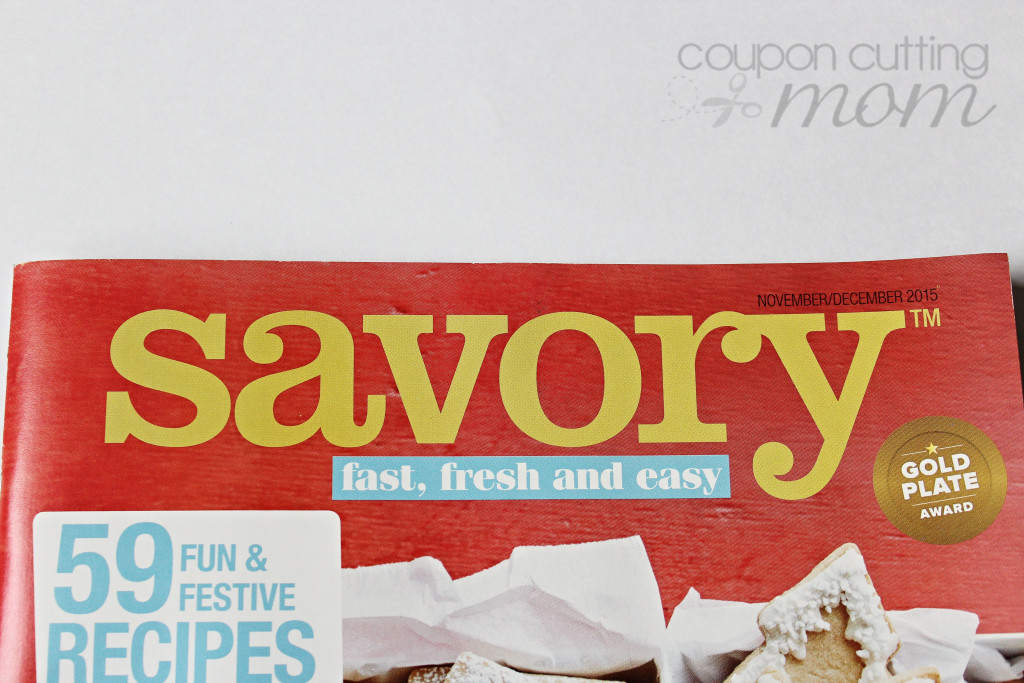 Don't forget to pick up your FREE copy of this
Savory magazine
the next time you are shopping at GIANT and be sure to check the following tips for ways I use to save money on my grocery bill while I'm shopping at GIANT.
SAVE MONEY WHILE SHOPPING AT GIANT

BE SURE TO USE A BONUSCARD
A free BONUSCARD is your key to Giant's weekly sale price, free offers, Gas Rewards, exclusive savings, even ways to help your community by cash back for schools and more. You can pick up your free BONUSCARD at either the customer service desk or sign up online.
CREATE AN ONLINE ACCOUNT
Once you have your BONUSCARD, you will want to be sure to set up a GIANT online account as this is your way to quickly view your points and savings. I love numbers, and I get a thrill just by logging on to my account now and then and watching my Year to Date Savings number rise higher and higher. An online account is also the way to view the weekly circular online, track Gas Reward points, create shopping lists and load exclusive coupons to your card! Be sure to check these Exclusive Coupons on a regular basis. It seems that these coupons are based on previous purchases which means the coupons in your account will likely be for items you buy on a regular basis. Recently I have had coupons for everything from potatoes to ice cream in my account. These coupons are linked right to your store card, so when you scan your card at the register and purchase the items, the coupons will come off automatically at checkout.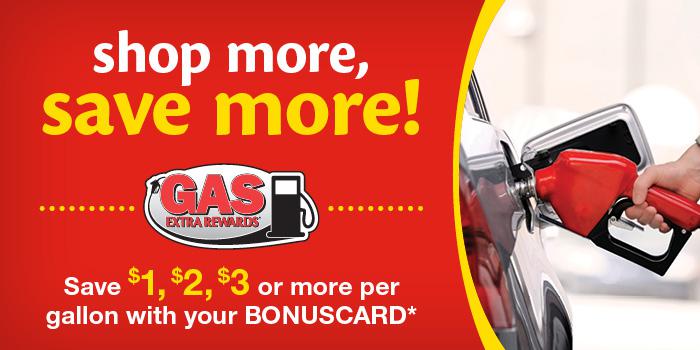 SHOP THE GAS REWARD CATEGORIES
Hands down this is my very most favorite way to save money while shopping at GIANT. Every week there are participating items that will earn you Gas Reward points. These points can then be redeemed at the gas pump for FREE fuel. By shopping these deals weekly, I'm able to get groceries for my family and then, in turn, earn enough of points that I'm able to get free fill-ups at the pump. Check out my weekly Giant Matchups for more info and also for the items included in the Gas Reward Category.
USE COUPONS
Giant doubles coupons, and this makes for even greater savings on your weekly shopping bill. Be sure to check their website for the coupon policy for your local store. Don't miss the coupons included in each week's circular. Also, be sure to use the Coupon Database to check for coupons for all the items on your shopping list.
DON'T OVERLOOK GIANT BRAND PRODUCTS
My family and I have found the GIANT brand products to have great taste and quality and usually cost less than the comparable name brand product. Periodically throughout the year, GIANT will run weekly sales where you buy a brand name item and get the GIANT brand for FREE!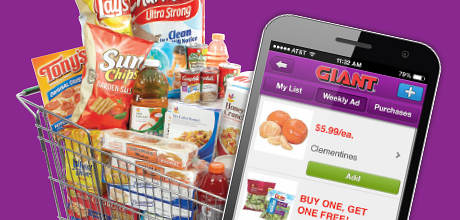 USE MONEY SAVING APPS
I love being able to use apps and receive cash back on items that I'm already buying. Check out this post for a complete list of my favorite apps that save me money while I'm shopping.
What is your favorite money saving tip to use while grocery shopping?