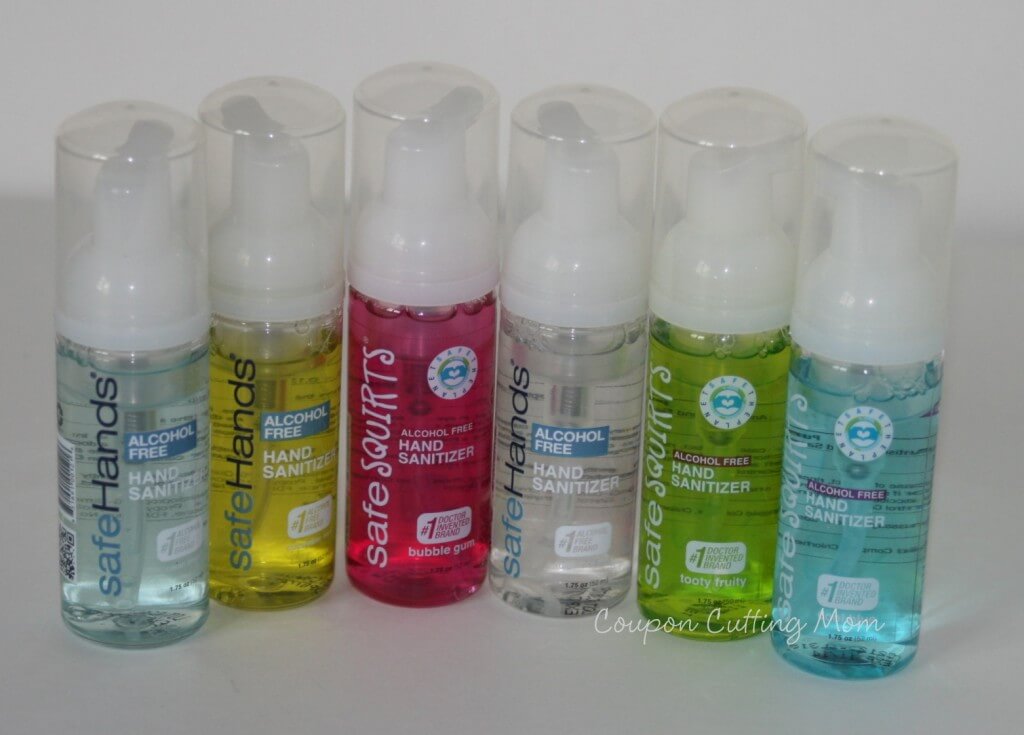 If you are like me, you like to keep a bottle of hand sanitizer in your purse or bag. Being out and about the kids are usually busy touching things like the swing at the park, the shopping cart, door handles, the indoor slide at the play land or a host of other places where germs live. I like to have a quick and easy way to get rid of those germs and that is why I love hand sanitizer, there is no water needed just squirt some sanitizer on your hands and rub clean. I recently got a chance to try safeHands Hand Sanitizer.
After one squirt of safeHands product I was sold. This sanitizer is alcohol free and kills more than 99.99% of germs. Did you know that alcohol causes your skin to become dry and also strips your skin of its natural oils? If your hands have every gotten red or itchy after using sanitizer it was most likely due to the alcohol. I love that safeHands comes in a rich formula that not only sanitizes but also moisturizes the skin leaving it feeling silky smooth. So no feeling of sticky, or irritated dry skin after cleaning your hands with this product.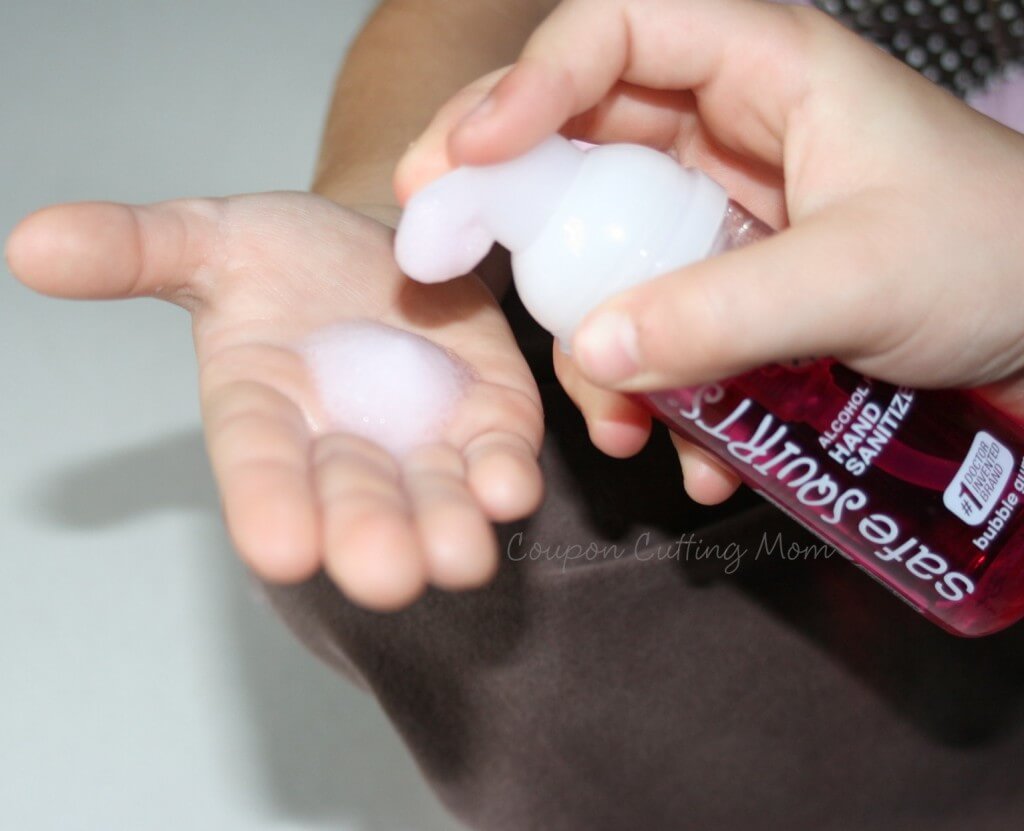 The other great feature of safeHands sanitizer is that it comes in a foam dispensing bottle. One squirt of the pump and you have the perfect amount of sanitizer. What surprised me most was how different this felt than other products I have previously used. As the sanitizer is rubbed around on your hand it feels almost like water and dries quickly leaving your hands feeling not only clean but also soft.
These sanitizers come in fun scents that are just perfect. They leave enough of a scent behind that your hands smell good but it isn't so strong that it is overpowering. I received Bubble Gum, Cool Blue, Tooty Fruity, Fragrance Free, Cucumber Mint, and Clean Linen. As you may have noticed from the picture some of the bottles say safeSquirts and these bottles contain the same sanitizer as the regular bottles. The only difference is that the Squirts are more appealing to kids in that they come in fun colors, names and scents. My favorite scent is the Clean Linen and the Bubble Gum scented sanitizer was a favorite with my daughters.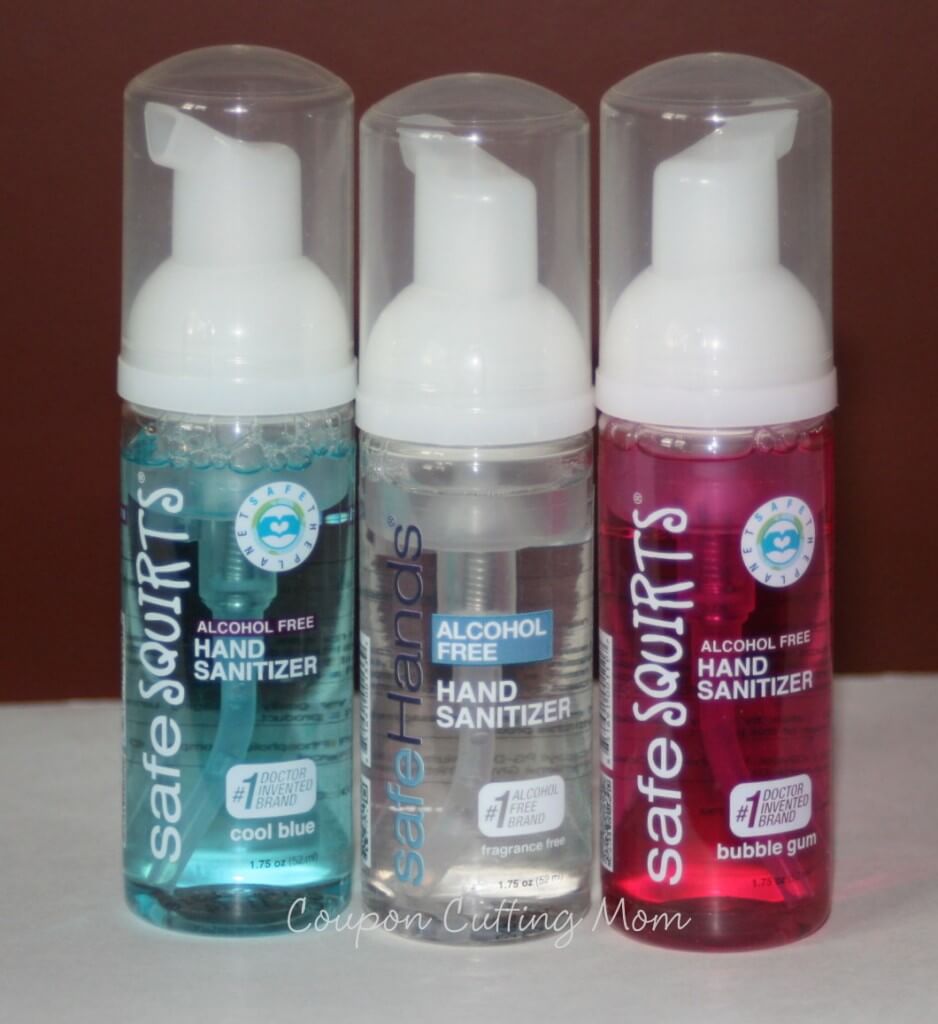 So the next time you are ready to make a hand sanitizer purchase, let me highly recommend safeHands to you. This product is Alcohol Free, Non-Toxic, Non-Flammable, kills 99.99% of germs and leaves your hands feeling smooth and soft. The sanitizer comes in a 1.75 oz. bottle and is the perfect size for backpacks, diaper bag, purses and more. The price is only $2.50 per bottle.
Follow safeHands on Facebook, Twitter, Pintrest, or Google+ stay up to date on all the latest products and promotions.
Thanks to safeHands, a lucky Coupon Cutting Mom reader will win a safeHands prize package. The prize includes 3 bottles from the Squirts and 3 bottles from the Classic line. This giveaway is open to US residents only and will end on October 4, 2013.
How do you enter to win?
On the Giveaway Tool form below, simply complete as many entries as you would like. Please note that ALL entries are validated prior to winner selection, so do make sure that you fully complete each entry.
.
Coupon Cutting Mom received one or more of the products mentioned above free for evaluation purposes. Regardless, all opinions expressed are still 100% my own.