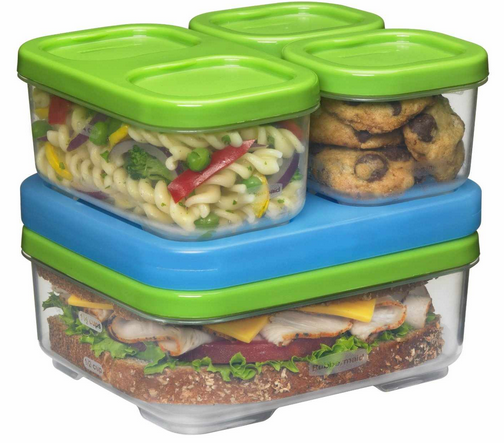 Rubbermaid Lunch Blox Sandwich Kit
The Rubbermaid Lunch Blox – Sandwich Kit is on sale for $7.97 (reg. $15.99). This item qualifies for free shipping with Super Saver or Amazon Prime. We have this Lunch Blox and it really does make for easy and organized lunch packing. Read more about our Lunch Blox experience here.
This Lunch Blox Sandwich Kit is designed to make taking lunch to school or work more convenient and organized. The Sandwich kit comes with a sandwich container that is designed to fit sandwiches made with either regular or rectangular bread and provides a smaller foot print than traditional food storage, which makes it easier to fit inside a lunch bag. The kit also comes with two sauce containers that are pefect for small side items and one Side container that is great for small portions of items like pasta or potato salad. The kit all snaps together around a medium blue ice block that keeps all of your items cool and fresh for up to four hours. The Lunch Blox system is space efficient and is designed to work together to save space and stay organized in a lunch bag. The pieces of the lunch blox can be configured to fit any lunch bag and work in conjunction with the lunch blox blue ice to keep your lunch chilled for up to four hours. The lunch blox containers are perfectly sized for common foods taken on the go. All Lunch blox containers are Durable and Leak-Proof, as well as Microwave, Dishwasher and Freezer Safe, BPA Free.
Get your Rubbermaid Lunch Blox Sandwich Kit while it is at this sale price. Please double check the price before purchasing, as prices can change quickly on Amazon.