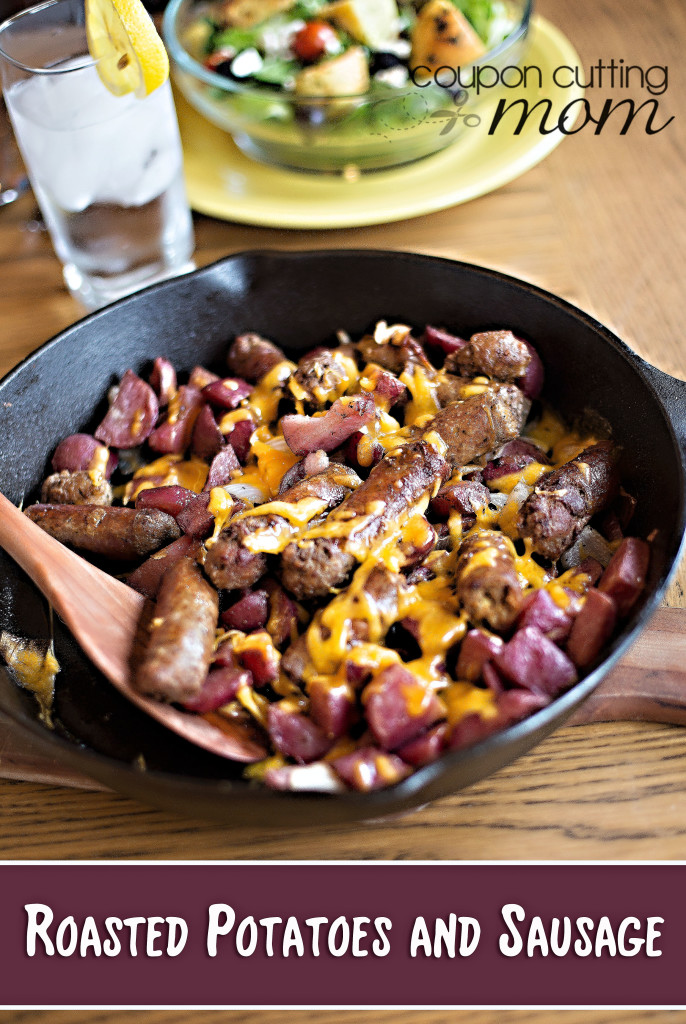 My kids are back to school now and it somehow feels like our weeknights got more hectic. Everything from homework to sports can quickly fill up any families weekly calendar and it feels like there is little time left for cooking and enjoying a sit-down family dinner. I love recipes that are one pan dishes and are also ones that my whole family enjoys eating. This Roasted Potatoes and Sausage recipe totally fits that bill.
This recipe isn't one that has set measurements but is more one of  those that I dump together the things I have on hand. My husband loves to grill sausage and make sausage sandwiches. There are usually a least a sausage or two left over after he grills, and I will use them in this recipe. Or sometimes I'll just use breakfast sausages in this recipe. I have already used rope sausage as well for this recipe and just bake or grill it ahead of time. And for the potatoes it can be the purple ones or red or white ones. Are you getting the idea? This recipe is extremely flexible as you can use whatever ingredients you have on hand at the moment.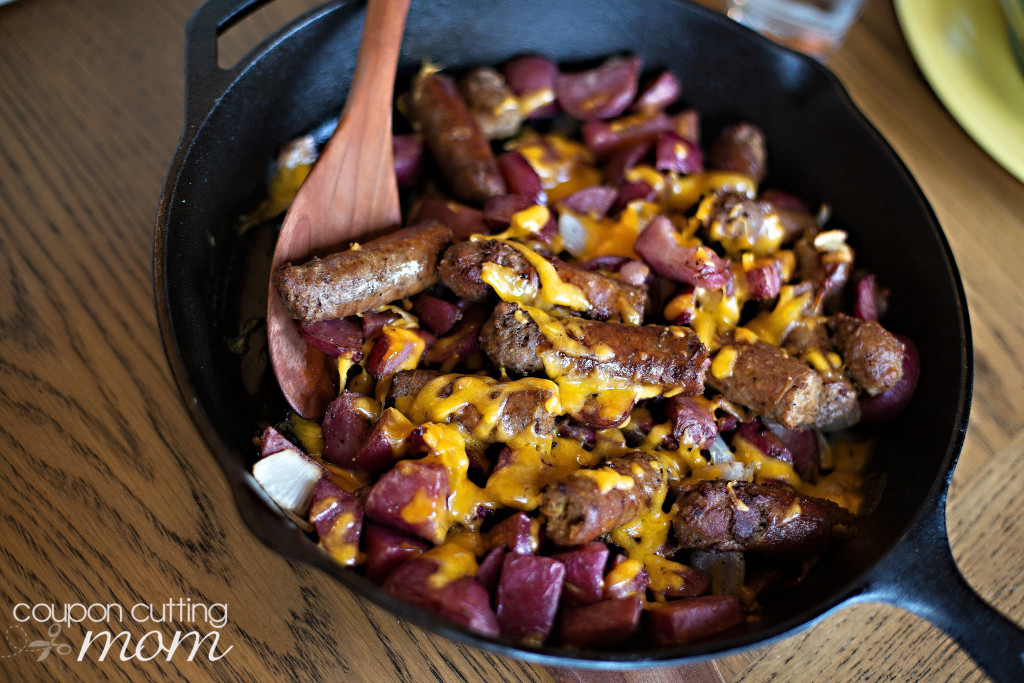 I always get big cheers when the kids ask what is for dinner and I tell them that it is going to be this potato sausage recipe. Easy to whip up, uses staple pantry ingredients, very economical, tastes delicious, the kids love it and cleanup couldn't be easier. Add up all these facts and this dish will be a winner with any busy parent.
Remember how I said cleanup is a total breeze with this recipe? Here is a handy little tip that will leave you with one less dish to wash when dinner is over. I simply line my USA Pan Jelly Roll Sheet Pan with several sheets of foil, and when dinner is over I throw the foil in the trash and I'm left with an entirely clean pan!
I hope you and your family enjoy this easy Roasted Potatoes and Sausage dinner as much as my family and I enjoy it.

Roasted Potatoes and Sausage
This potato and sausage recipe very easy to mix up and is one that your whole family will love.
Ingredients
Sausage approx. 12 oz. (Peel if necessary and cut into rounds) *
1 large onion, peeled and chopped
4 large potatoes, peeled and cubed
3 Tablespoons olive oil
1 teaspoon fine sea salt
½ teaspoon freshly ground black pepper
¼ teaspoon sweet paprika
½ cup shredded cheddar cheese
*You can use smoked sausage, grilled sausage, breakfast sausage links or any kind of sausage you can think of. Just be sure the sausage is grilled or cooked before adding to this dish.
Instructions
Preheat the oven to 375°
Use a jelly roll pan or skillet for this recipe.
If using a pan, line with several sheets of foil to make cleanup easier.
Drizzle 1 Tablespoon olive oil in pan or skillet.
Mix the potatoes and onions and seasonings in a large bowl and toss with remaining 2 Tablespoons oil.
Pour onto foil lined baking sheet or skillet and spread out evenly.
Place in heated oven and roast for 30 minutes.
Stir approximately every 15 minutes.
When 30 minutes are up add in pre-cooked sausage and cook for another 15 - 20 minutes or until sausage is heated through, and potatoes are golden brown and tender.
Turn off oven.
Sprinkle the shredded cheese on top of the potato/meat mixture and put back in the oven for a few minutes until cheese is melted.
Serve immediately.
What meals are your favorite for busy weeknight dinners?