I enjoy cooking and baking and love any items that will make spending time in the kitchen easier and also more fun. Until recently I didn't own a jelly roll pan and really what more versatile pan can you have in your kitchen? A jelly roll pan can be used for everything from baking cookies to roasting vegetables. I had heard that products from USA Pan are the best bakeware items a cook can own, so I was excited for the chance to review their Jelly Roll Pan.
USA Pan has been developed by the world's largest manufacturer of industrial bakeware and has been providing the world's leading commercial bakeries with the highest quality baking pans for over 50 years. Put simply, bakeware from USA Pan is the best available and these pans are proudly produced in the United States of America. In fact, I think it is pretty cool that USA Pan is located in the state of Pennsylvania, the same state where I live.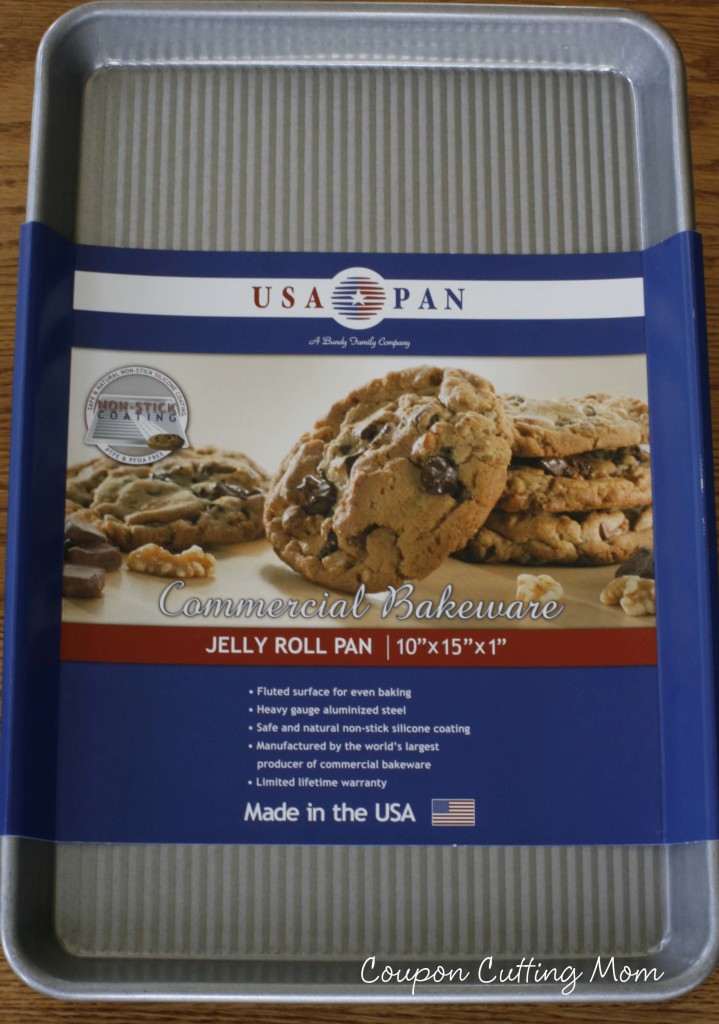 The Jelly Roll Pan I received is 10″x15″x1″ and like all other bakeware items from USA Pan is constructed from heavy gauge aluminized steel and features a unique corrugated surface that adds strength and facilitates air circulation for more even baking. The pans have a smooth rim that is rolled over a bent wire. That means there is nothing sharp and also that the wire piece is giving the pan extra strength so there is no warping. I really like that this pan feels so much more durable than pans found at most big box stores.
With the clear non-stick AMERICOAT Plus silicone coating, nothing will be sticking to you pan. Even oils and sprays just bead and are easily wiped off. This coating does not contain any PTFE's or PFOA's. With this silicone surface it is recommended that you use wooden, nylon or silicone utensils as metal could scratch the coating of the pan. Also with this coating the pan should only be hand washed not placed in the dishwasher.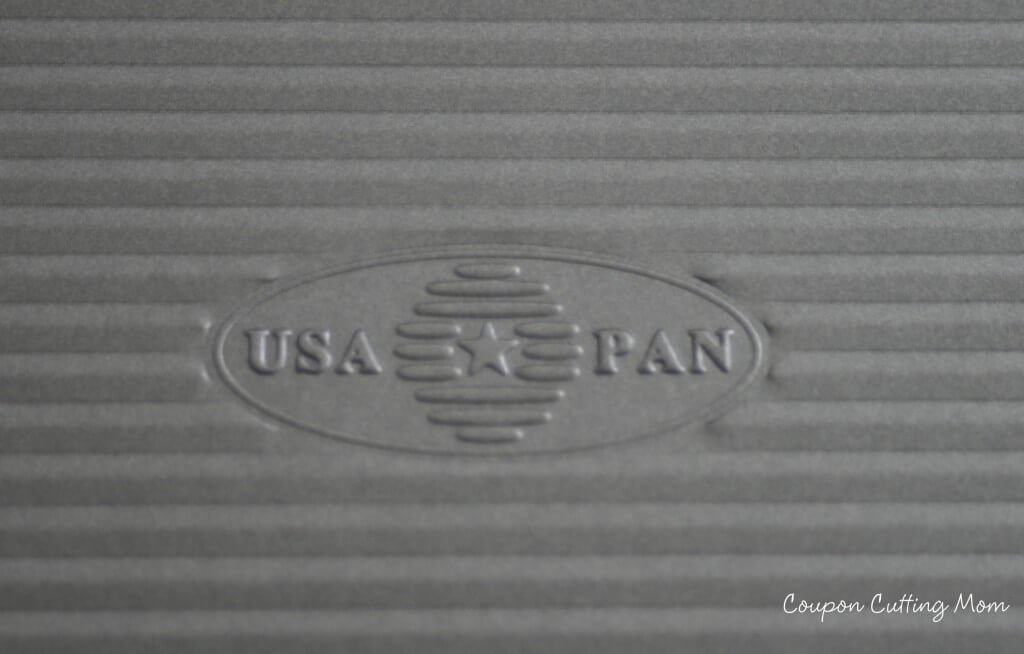 I am really enjoying owning a jelly roll pan with the feel of professional bakeware. And my pan has been used for everything from baking cookies to holding just dipped caramel apples. Now that I have a jelly roll pan, it is easy to make Rice Krispy Roll Ups. If you are looking for a use for your jelly roll pan, here is the recipe I use to make this yummy treat.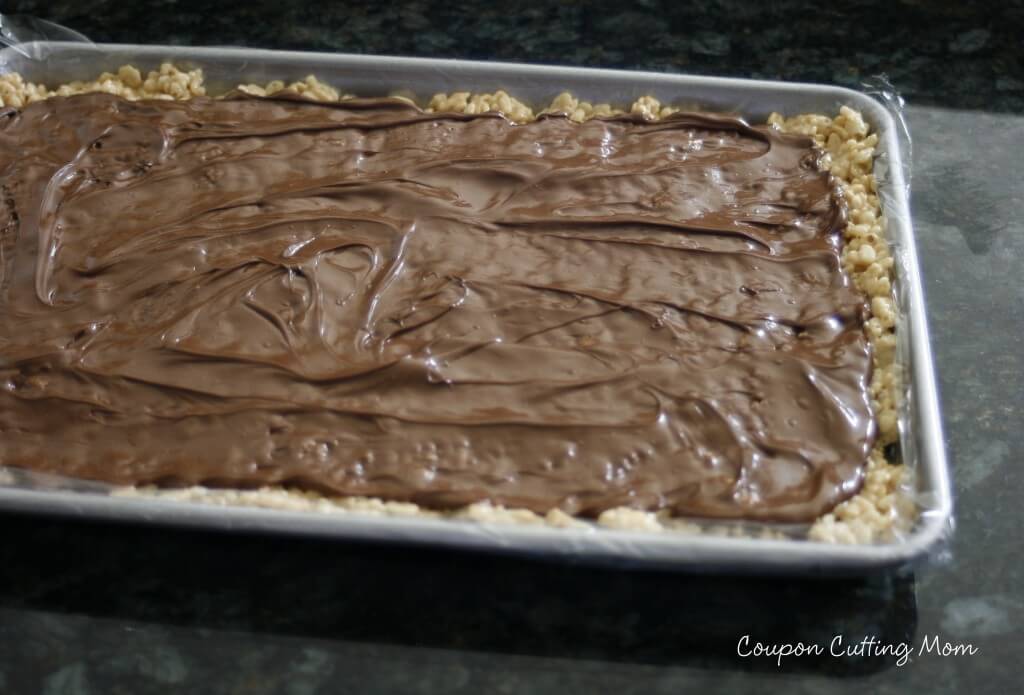 Chocolate Peanut Butter Rice Krispie Roll
¼ cup butter
10.5 ounces mini marshmallows
1/4 cup peanut butter
5½ cups Rice Krispies
Microwave the first 3 ingredients for 2 minutes. Mix in the Rice Krispie cereal until coated. Line a jelly roll pan with wax paper and spray generously spray with non-stick spray. Then evenly press the Rice Krispie mixture onto the
wax paper lined pan.
Melt together in microwave, in 20 second intervals:
1 1/2 cup milk chocolate chips
1/2 cup peanut butter
Be careful not to over melt as this can easily burn. Spread the melted chocolate and peanut butter on top of the Rice Krispie mixture. Lift the wax paper at one end and roll horizontally into a log shape. Refrigerate for at least 30 minutes before slicing.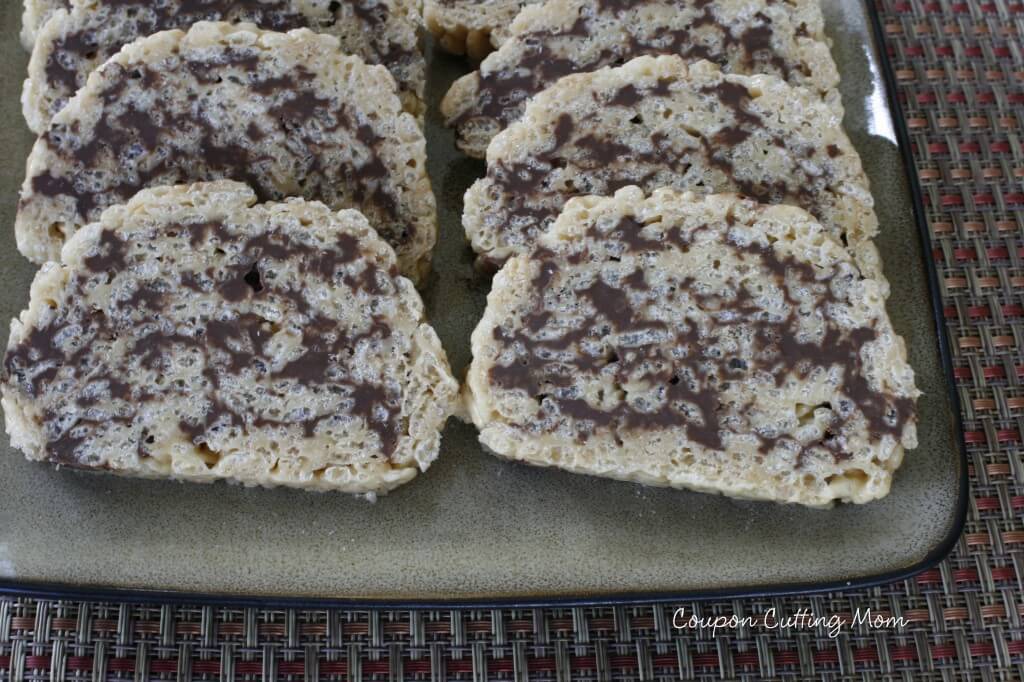 Products from USA Pan are a great professional quality addition to any kitchen and will take any items you are cooking or baking to the next level. USA Pan products can be purchased online at Amazon or use the Where To Buy option and find retailers in your local area. Be sure to follow USA Pan on Facebook to stay up to date on all the latest products and promotions.
Thanks to USA Pan, a lucky Coupon Cutting Mom reader will win a 3-piece USA Pan set that includes a Large Cookie Sheet, Half Sheet Pan and a Quarter Sheet Pan. This giveaway is open to US residents only and will end on August 14, 2013.
How do you enter to win?
On the Giveaway Tool form below, simply complete as many entries as you would like. Please note that ALL entries are validated prior to winner selection, so do make sure that you fully complete each entry.
Good Luck!
Coupon Cutting Mom received one or more of the products mentioned above free for evaluation purposes. Regardless, all opinions expressed are still 100% my own.