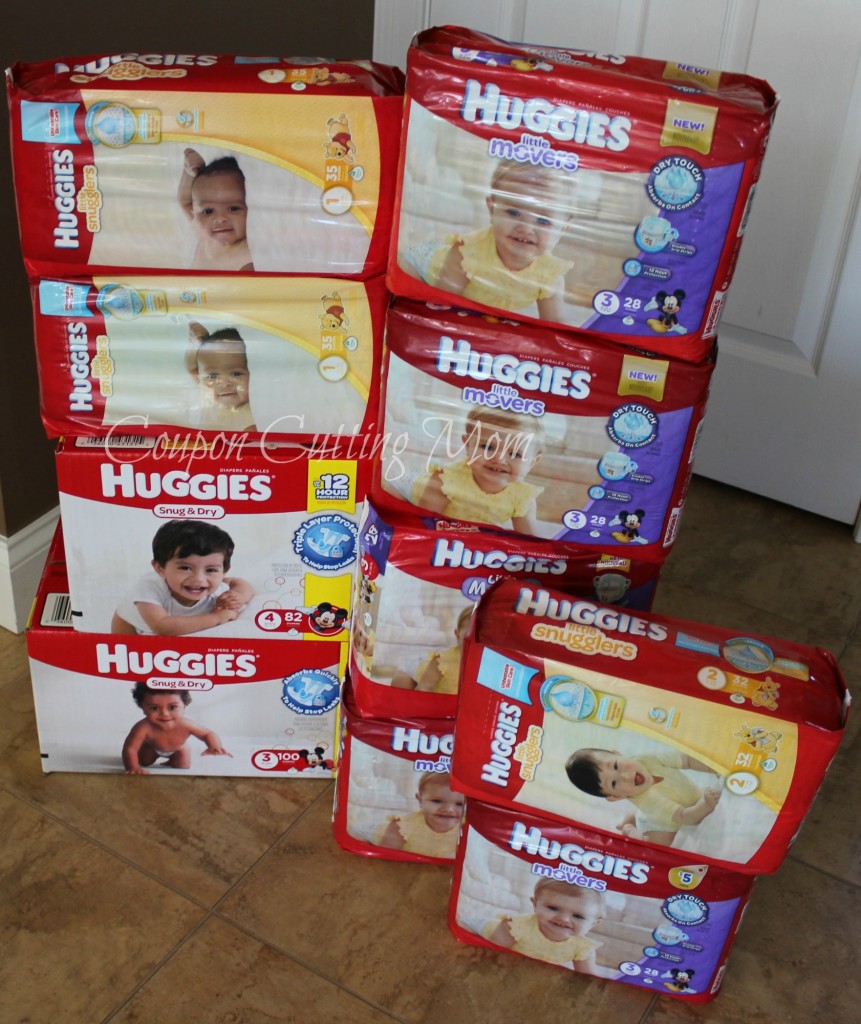 *HOT* Huggies Coupon Reset and How I Scored $109.00 of Huggies Diapers for ONLY $28.00
Woohoo! The high value $2 Huggies coupon just reset, and that means even if you printed it earlier this week, that you can print again today!
See this post for information about the Huggies Catalina that is printing right now. This Catalina combined with coupons and sales makes for the best time to be stocking up on diapers. If you are looking for a MONEYMAKING deal on diapers, be sure to check out this Rite Aid deal.
The Huggies diapers pictured above have a shelf price of $109.90 at Giant but after coupons, sales, Instant Savings, and Catalinas, I paid ONLY $28.90! This made for a saving of 73% off the regular shelf price. There are 444 diapers in these packages, and this means I paid only $0.065 per diaper which is well below stock up prices especially considering that some of these packages are sizes 3 and 4. I know that my sister and sister in law will be tickled with this stash of diapers I'm bringing the next time we get together. And since I just discovered the coupon reset I just might go some more diapers because these kinds of prices are rare and are the time to stock up on as many diapers as possible.
Print your $2 Huggies coupon here and get saving on your next diaper purchase. Remember you may print two like coupons per computer. If you need additional coupons be sure to ask friends or family members to print out additional coupons for you.
Following is a breakdown of my Huggies purchases at Giant (prices good through 1/14). Just be sure to break your purchases into amounts of either four jumbo packs or two boxes so that you hit the $30 required in each transaction for the $7 Instant Savings and the $10 Catalina to print. You could do all the following combinations of deals, or you could do only one of them, or you could do one of them as many times as you like. If your are planning to do the deals more than once, I recommend that you use the Catalina that prints from your first transaction to pay for your second transaction and so forth as this will keep your out of pocket costs lower. I "rolled" my Catalina from transaction to transaction but for an easier deal breakdown, I didn't show it that way.
Transaction #1
Bought 2 Huggies Snug & Dry Diapers, 25-100ct: $17.99 each
Use 2 $2/1 Huggies Diaper Printable
– $7 Instant Savings
Pay $24.98
Receive $10 Huggies Catalina when you buy $30 of select products
Final price $7.49 each!
Transaction #2
Bought 1 Huggies Little Movers Jumbo Packs: $8.49 each
Bought 3 Huggies Little Snugglers Jumbo Packs: $8.49 each
Used 4 $2/1 Huggies Diaper Printable
Used $2 Huggies Little Movers Giant e-coupon
Used $2 Huggies Little Snugglers Giant e-coupon
– $7 Instant Savings
Pay $14.96
Receive $10.00 Huggies Catalina
Final price $4.96 or $1.24 per pack!
Transaction #3
Bought 4 Huggies Little Movers Jumbo Packs $8.49 each
Used 4 $2/1 Huggies Diaper Printable
– $7 Instant Savings
Pay $18.96
Receive $10.00 Huggies Catalina
Final price $8.96 or $2.24 each!
Be sure to check all this week's Giant deals here before planning your shopping trip. Also, check this post for how to score a small moneymaker on Glade items at Giant.