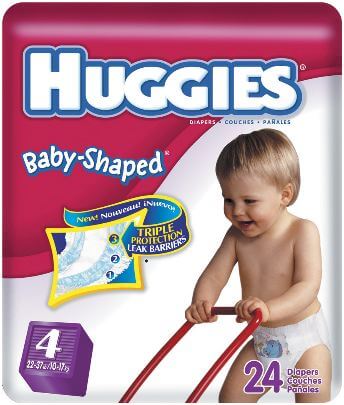 Rite Aid: $2 Moneymaker on 4 Packs of Huggies Diapers
Parents will be loving this awesome deal that will result in a MONEYMAKER on Huggies diapers! Seriously this is an awesome deal. How often is it that you can even get diapers for free much less for a moneymaker?! This Huggies deal doesn't start until 1/10, but you will want to print your Huggies coupons now as they may no longer be available for printing the week of the sale.
Print your Huggies coupons here. This deal will take four coupons, so this means you will need 2 separate computers as you may print 2 like coupons per device. Be sure to ask your mom or a friend to print two coupons for you if needed.
Here is the Rite Aid Huggies deal: (sale starts 1/10/16)
Buy 4 Huggies Diapers Jumbo Packs $7.99 each
Use 4 $2/1 Huggies printable coupon
Pay $23.96
Receive 2 sets of 300 Plenti Points ($3.00) when you buy 2 Huggies Diapers (limit 2)
Receive 1000 Plenti Points ($10.00) when you buy $30 in participating products (limit 2)
Receive $10.00 Catalina when you buy $30.00 worth of Huggies products
Final price FREE + $2.04 moneymaker!