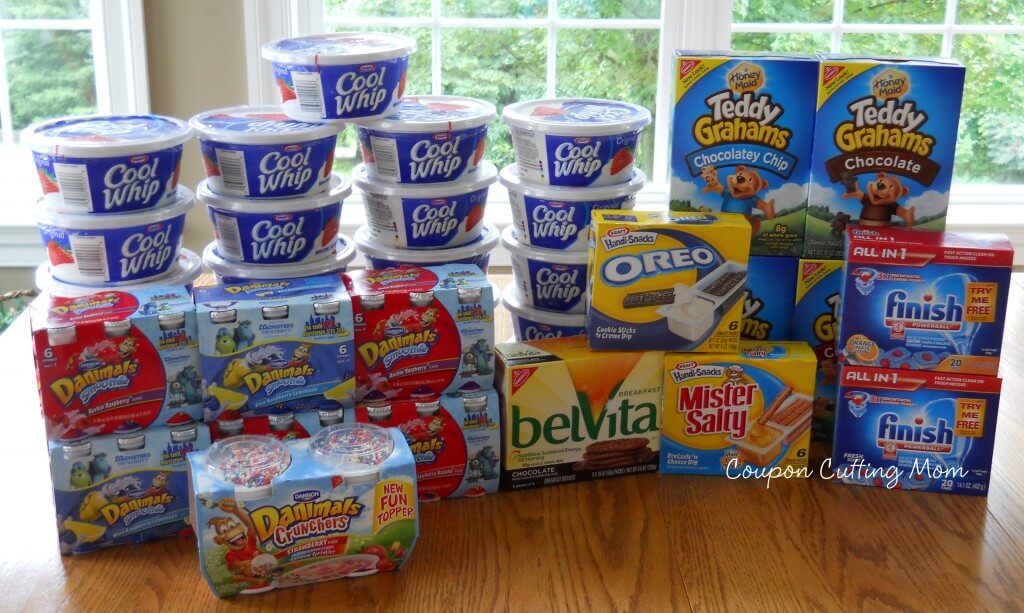 Today I'm excited to share with you my shopping trip at Giant. The items in the picture have a shelf price of $90.77 but after sales and coupons I paid $56.37. I then earned $69 worth of fuel and will be getting $3.50 back from Finish mail in rebate found on the package. That means this shopping trip ended up being a $16.13 moneymaker!! I love buying my groceries and then getting FREE fuel. The best part of this deal was I used only 4 different coupons, and even without any coupons you could head to Giant this week and still have a moneymaking shopping trip.
Here are the deals I scored:
Remember the gas deal items are in amounts of 7 and can be mixed and matched as long as you are buying in amounts of 7.
Bought 21 Cool Whip Toppings 8 oz. $1.25 each
Bought 7 Danimals Crunchers/Smooties $2.00 each
Bought 1 Belvita Biscuits $2.99
Bought 6 Nabisco Teddy Grahams/Handi-Snacks $2.50 each
Bough 2 Finish Powerball Tabs $3.50 each
Used 1 coupon for a FREE box of Belvita Biscuits (no longer available)
Used 1 $1.00/2 Nabisco Honey Maid Teddy Grahams
Used 1 $1/2 Nabisco Honey Maid Teddy Grahams coupon from the 6/16 SS
Used 2 $2.15 Finish coupons from the 6/16 SS
Used 1 Spend $50 Earn 300 Additional Gas Points
Pay $56.37 with tax
Earned 2300 gas points which equals $69 on 30 gallons of fuel
Submit for $3.50 mail in Finish rebate
Final price FREE + $16.13 moneymaker!!
Who doesn't want to get $90 of groceries and 30 gallons of fuel for $16 moneymaker??!!