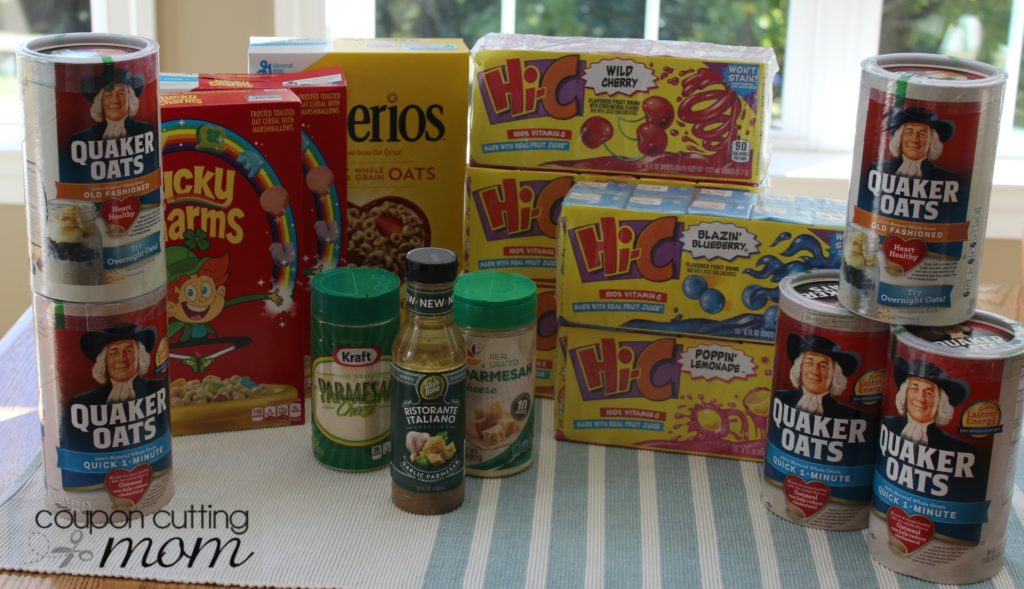 My Giant Food Shopping Trip: $2 for $42 Worth of Quaker Oats, GM Cereal and More
You don't want to miss taking advantage of this week's Giant deals. Pictured are the deals I purchased this week. I was especially excited to see that the Quaker oats were a moneymaker this week as we were almost out of granola and I needed oats so I could mix up another batch. My purchases have a shelf price of $42.44, and after sales, coupons, and SavingStar I paid $22.05*. This purchase then earned me 800 Gas Reward Points which equal $20 on my next fuel fill-up. The way I figure this means I paid $2.05 for all these groceries.
Here is a breakdown of my Giant purchases: (prices good through 10/13)
Buy 5 Quaker Oats, 18 oz – $2.00 each
Use 2 $1.10/2 Quaker Instant, Old Fashioned or Quick Oats Printable
Pay $7.80
Receive $10.00 in gas rewards on a 25-gallon fill up
Final price FREE + $2.20 moneymaker!
Buy 5 Hi-C Drink Box, 10 pk – $1.99 each
Pay $9.95
Receive $10.00 in gas rewards on a 25-gallon fill up
Final price FREE + $0.05 moneymaker!
Cheerios 12 oz, Lucky Charms, 11.5 oz – $1.77/ea wyb 3
Other quantities are $2.50 each
$0.50/1 Lucky Charms Cereal Printable
$0.50/1 Cheerios Original Box, exp. 10/22/16 (SS 09/11/16) [Yellow box]
Pay $2.31
Recieve $1/2 General Mills SavingStar offer
Final Price: $0.44 each wyb 3
Kraft Grated Cheese, 8 oz – $3.99
Buy (1), get (1) Giant Grated Cheese, 8 oz, FREE.
$0.75/1 Kraft Grated Parmesan Cheese Printable [8-oz.+]
Final Price: $2.99
Wish-Bone E.V.O.O. or Ristorante Italiano Dressing, 12 0z – $2.99
Use the Giant e-coupon for a free dressing
Pay $0.00!
Be sure to check all this week's Giant deals HERE before planning your shopping list.
*Please note, I also bought a bakery item that my husband was hungry for as well to bring my total to over $25 otherwise the gas reward points would not have added to my account.