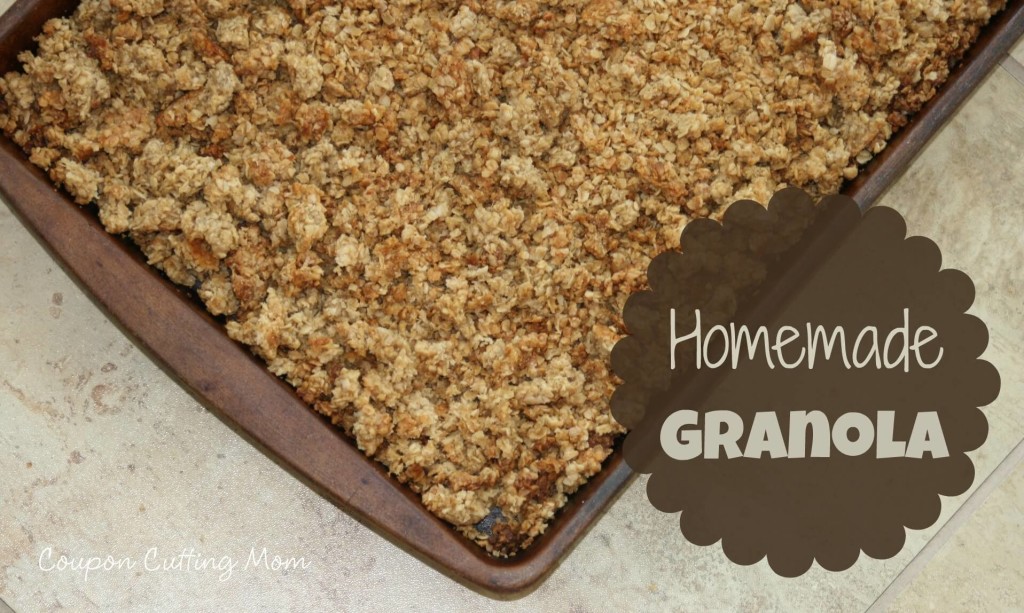 Around here homemade granola is a favorite. This recipe is one from my mom that she has been making for years. It is delicious and so easy to make. All you need to is mix a few ingredients together and then toast it in the oven-it's that simple!
Granola is great to eat as a cereal, top it with some milk, yogurt and fruit and you have a great breakfast in no time, or use at as an ice cream topping. My daughter loves to mix applesauce and granola together and top with cinnamon for breakfast or a snack.
The other great thing about granola is that you can use any combination of nuts, berries, spices, or dried fruits you like. The options of add-ins really are endless. As you will see my recipe is super basic as some people at my household don't appreciate any "extras" in their granola. Here are a few items that would be perfect to add to this recipe – peanuts, pumpkin seeds, raisins, almonds, craisins, sunflower seeds or anything you want.
Homemade Granola
10 cups Old Fashioned Oats
1 ½ cup Brown Sugar
1 ½ cup Oil (I use vegetable oil)
1 cup Applesauce
1 Tablespoon Vanilla Extract
Preheat the oven to 325°. In a large mixing bowl, combine all listed ingredients plus any add-ins you choose. Using a large spoon or spatula, mix well until thoroughly combined. Spread on baking sheets and bake for 40 – 50 minutes, stirring every 15 minutes to make sure all pieces bake evenly. Remove from the oven when golden brown. Let cool and place in air tight containers or bags.
This makes a good 12 cups and it stays fresh and delicious for at least two weeks if kept in a sealed jar/container. This granola also freezes well. Simply place in a Ziploc freezer bag and keep in the freezer until you are ready to use.