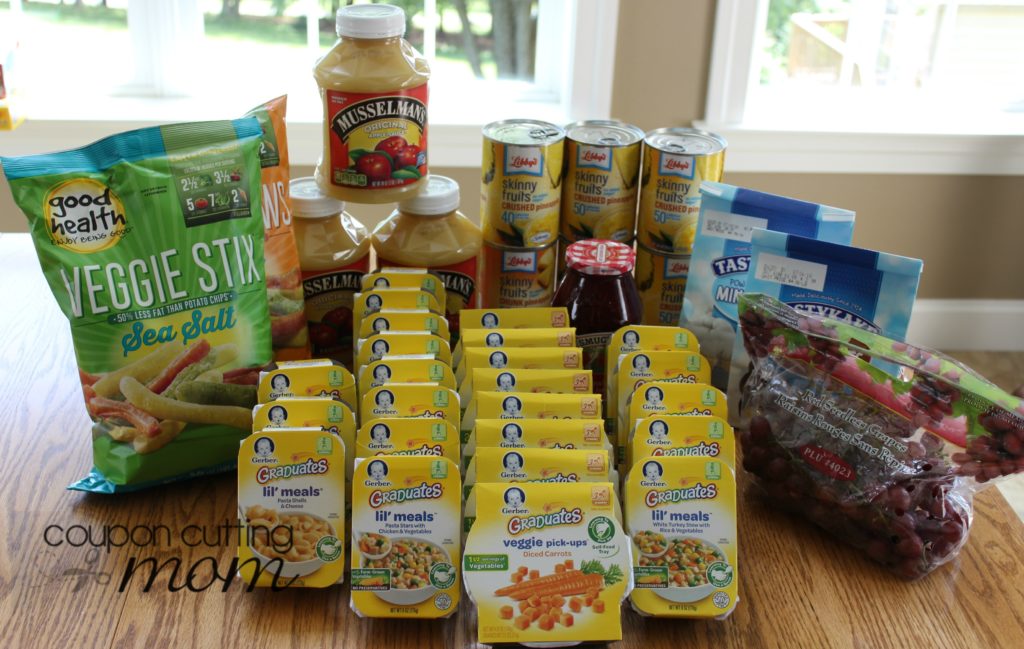 Giant Food Shopping Trip: $3 Moneymaker on Veggie Stix, Fresh Grapes, Tastykakes and More
In case I have not mentioned it recently, I love to shop at Giant Food Stores. Nothing beats buying grocery items and in turn receiving Gas Reward Points that make for FREE tanks of fuel at the gas pump!
You will notice that the picture above includes baby food and my "baby" is seven years old so this most certainly isn't an item we use or need any more. The reason I bought these items is that they were a moneymaker of $ and in turn that money helped cover the cost of grapes, applesauce, and other items on my shopping list. There is a food bank in my local town that appreciates donations, and the Gerber items will be a perfect donation item.
The items pictured above have a shelf price of $82.42, but after sales and coupons, I paid $49.45. I then earned 2100 Gas Reward Points which equal $52.50 worth of fuel. I figure I would be paying for gas if I wasn't shopping the Gas Reward Points, so I figure my savings off my groceries and in this case it means these items were FREE plus a moneymaker of $3.05! I don't know about you, but I love being able to score grapes, "healthy" snacks, canned fruit and even a splurge like the donuts for free plus a small moneymaker!
If you would like to score these same deals check out the following breakdown. (prices good at Giant through 6/16)
Bought 3 Musselman's Apple Sauce, 46-48 oz – $2.99 each
Bought 2 Veggie Straws/Stix, 4-6.75 oz – $2.50 each
Bought 1 Buy 6 Smucker's Strawberry Jam, 32 oz – $2.50 
Pay $16.47
Receive $12.50 in gas rewards on a 25-gallon fill up
Final price $0.66 each!
Buy 2 Tastykake Donuts, 10-11.5 oz – $2.00 each
Bought 6 Libby's Skinny Fruits, 20 oz – $1.50 each
Use 2 $1/3 Libby's Fruit Products printable
Pay $11.00
Receive $10.00 in gas rewards on a 25-gallon fill up
Final price $0.13 each!
I'm hungry for Pineapple Upside Down Cake and these free pineapples will be perfect for this dessert.
Buy 8 Gerber Pasta Pick-Ups, Dices, Breakfast Buddies, or Lil' Meals, 4.5-6 oz – $1.33 each*
Use 4 $1/2 Gerber Regular or Graduates Food, exp. 6/30/16 (RP 05/08/16) [Excludes formula]
Pay $6.64
Receive $10.00 in gas rewards on a 25-gallon fill up
Final price FREE + $3.36 moneymaker!
* I did this transaction three times for a moneymaker of $10.08. I purchased my coupons from here.
Fresh Red Seedless Grapes, per lb – $0.97 with in-ad coupon
I paid $1.98 for my 4.06 pounds of grapes!
Be sure to check this week's complete Giant matchup before planning your shopping list.