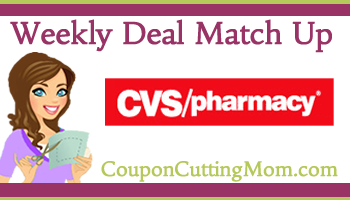 Here is your CVS Matchup June 8 – 14, 2014.
A couple things to note about shopping at CVS:
Use your CVS ExtraCare card to get the best deals. If you don't already have one, a card can be picked up at your local store or online. This card can then be scan at the red in-store coupon machine on every visit to receive additional coupons.
Once you have your card be sure to enroll your card online and opt-in to receive promotional information and offers from CVS Pharmacy via e-mail. This is how you will receive extra coupons and sometimes FREE Extra Care Bucks
Also sign up for the free CVS Beauty Club. Once you're enrolled, you will receive $5 ExtraBucks for every $50 spent on qualifying purchases.
View the official CVS Coupon Policy here.
Use the Coupon Database to find any additional coupons you need. Want your own customizable shopping list? Use the PrintFriendly button at the bottom of the post.
CVS Matchup June 8 – 14, 2014
Tena Pads or Liners $3.50
Use the $1/1 Tena printable coupon (zip 62946)
Pay $2.50
Receive $2.50 ECB
Final price FREE!
Ban Refresh Cooling Wipes $3.79 
Buy 2
Use 2 $2/1 Ban coupon from the 6/1 SS
Pay $3.58
Receive $4 ECB
FREE + $0.42 moneymaker!
Post Honey Bunches of Oats, Cocoa or Fruity Pebbles $2.49
Use $1/1 Post Honey Bunches of Oats from the June All You magazine
Pay $1.49
Receive $1 ECB
Pay $0.49!
Speed Stick Gear Deodorant 2/$8.00
Use 2 $2/1 Speed Stick Gear Deodorant Printable coupon
Pay $4.00
Receive $2 ECB
Final price $1.00 each!
Playtex Gentle Glide or Sport 36-40 ct $7.99
Use $3/1 Playtex coupon from the 5/18 SS
Pay $4.99
Receive $3 ECB
Final price $1.99 each!
Bengay $5.49
Use $1/1 Bengay coupon from the 6/8 SS
Pay $4.49
Receive $3 ECB
Final price $1.49!
Participating Products, Get a $10 Gas Card wyb $30
Deal Ideas:
Buy 3 Huggies Diapers $9.00 each
Buy 1 Coke 12pk Cans $3.50
Use 3 $2.50/1 Huggies Diapers Printable coupon
Pay $23.00
Receive $10 gift card
Final price $13 0r only $3.25 each!
Buy 4 Coke 12pk cans $3.50 each
Buy 2 Cheerios $2.49 each
Buy 3 Xtra Laundry Detergent $1.49 each
Buy 2 Chex Mix $1.50 each
Buy 2 Pop Tarts $1.99 each
Use the $1/2 GM Cereals Printable coupon
Use the 0.50/2 Chex Mix or Gardetto's Printable coupon
Use 2 0.40/1 Pop Tarts Printable coupons
Pay $28.13
Receive $10 gift card
Final price $18.13 or $1.39 each!
Thanks, The Shoppers Apprentice!