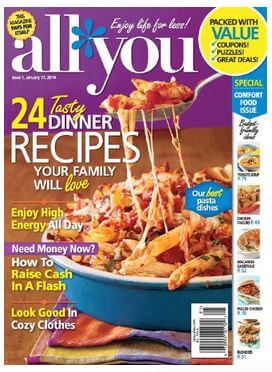 All You Magazine Only $0.45 Per Issue 
Get exclusive coupons, easy recipes, money saving tips and more with a subscription to ALL YOU! For a limited time, get a 1-year subscription to the ALL YOU magazine for ONLY $5! Compare this to the regular subscription price, and you will quickly see this is a super hot deal that you don't want to miss.
This is the magazine that pays for itself as each issue comes packed with lots of great coupons, articles, recipes, and money saving tips all geared towards helping you spend less. If you are new to this magazine now would be a great time to subscribe and check it out.
Start your 
All You magazine subscription
here.