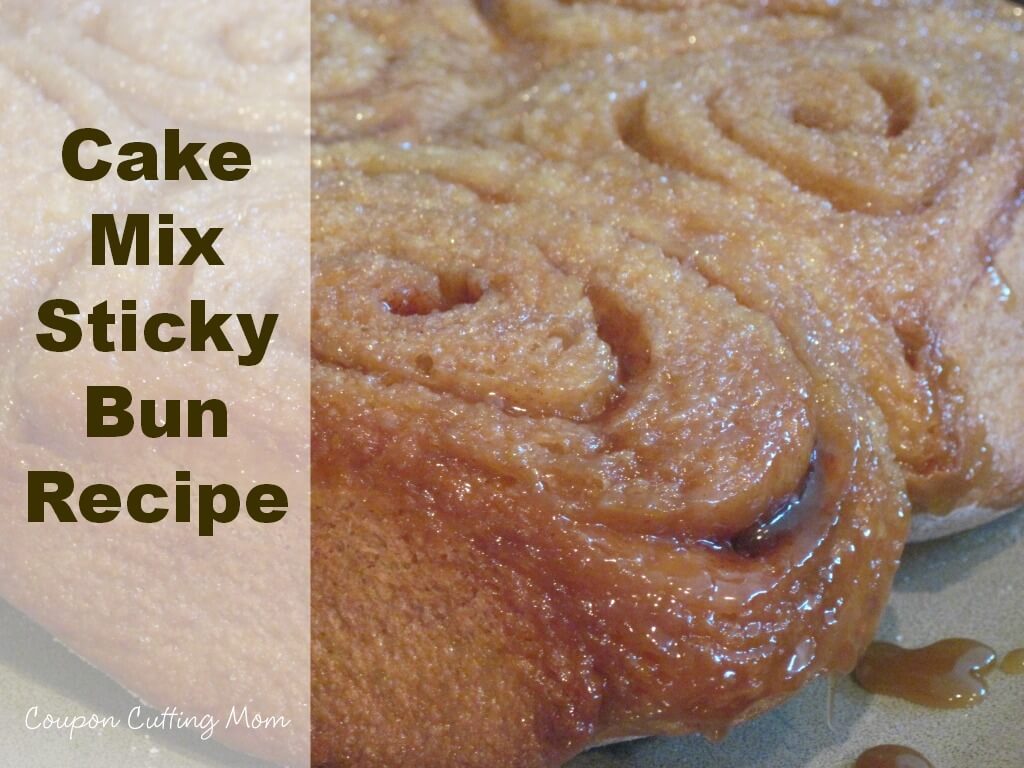 I recently have gotten a bunch of FREE cake mixes and decided to try to make these Cake Mix Sticky Buns.
I found these sticky buns to be very good but not quite the same as the ones I usually make. This recipe seemed to make buns that were more heavy not as light and airy as my other recipe.
These buns make the perfect breakfast sweet along wiht a cup of coffee. Would you like to enjoy these Cake Mix Sticky Buns? Here is the recipe.
 Cake Mix Sticky Buns
Ingredients:
2 Tablespoon  Fleischmann's Yeast
2 1/2 cups Warm Water
1 teaspoon Sugar
1 package (18.25 oz) White Cake Mix
1 Egg
1/3 cup Vegetable Oil
1/2 teaspoon salt
3 Tablespoon Baking Powder
6 cup All Purpose Flour
1 stick softened butter, for spreading on dough
1 Tablespoon brown sugar
1 teaspoon ground cinnamon
Sauce:
1/2 cup packed Brown Sugar
1/4 cup Butter
1/4 cup Karo Corn Syrup
Preparation Instructions
In a large mixing bowl (I used my kitchen aid with the dough hook and it worked perfect), stir yeast into warm water. Add 1 teaspoon sugar and let stand for 5 minutes or until foamy. Add cake mix, egg, oil, salt, baking powder, and 1 cup flour. Beat until mixed well. Gradually add remaining flour, mixing to form a soft dough(this was a very sticky dough). Cover and let rise about 1 hour or until doubled. Punch down; cover and let rise again until doubled. Punch down again.
Divide dough into 2-3 balls. Turn each dough ball separately unto floured surface and roll out. Brush with softened butter. Cover with brown sugar and cinnamon mixture. I needed to mix the sugar & cinnamon mixture several times as I layered it on thick. Roll up like a jelly roll and cut into 1″ slices (an electric knife works great for this). Mix sauce ingredients in a saucepan, cook over medium heat until sugar is dissolved. Pour into a greased 9×13 pan. Place buns with cut side down over sauce. Cover and let rise until doubled, about 1 hour. Bake at 350° for 20-25 minutes or until golden brown. Invert onto serving platter. You may want to double the sauce ingredients as I found this can easily make 2 9×13 pans of rolls.
As soon as mine are cut, I freeze them on wax lined cookie sheets. After they are frozen solid I put them in zip-lock freezer bags. I then get out a few and make some sauce and then let them rise before baking. Nothing beats fresh out of the oven sticky buns. If you do the freezer method it takes at least 4-5 hours after you pull them out of the freezer until they are ready to bake.