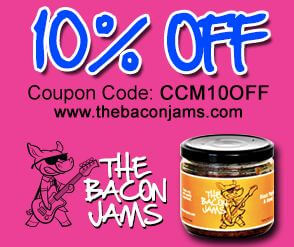 Use This Bacon Jams Coupon and Save On Your Next Purchase!
If you have never tasted any of The Bacon Jams products you really are missing out. One bite of this sweet, salty, bacony spread you will be hooked. At our house we have eat this bacon jam right out of the jar, on mashed potatoes, on steak, in burgers and the list goes on and on. Really the ways to use this bacon jam are endless.
Each jar of bacon jam spreadable bacon from The Bacon Jams contains a delicious blend of bacon, brown sugar, onions, garlic, and apple cider vinegar cooked together to create the perfect tangy, savory and slightly sweet taste. Every 8 oz. jar contains a half pound of bacon giving you lots of crispy bacon in every bite. Read this Bacon Jams review for some recipes and to find out how much my family and I loved this product.
If you are looking for the perfect Father's Day gift or even if you just want to buy some of this yummy jam for yourself, don't miss this sale. Through June 19, when you use code CCM10OFF you will save 10% off your total order from The Bacon Jams.