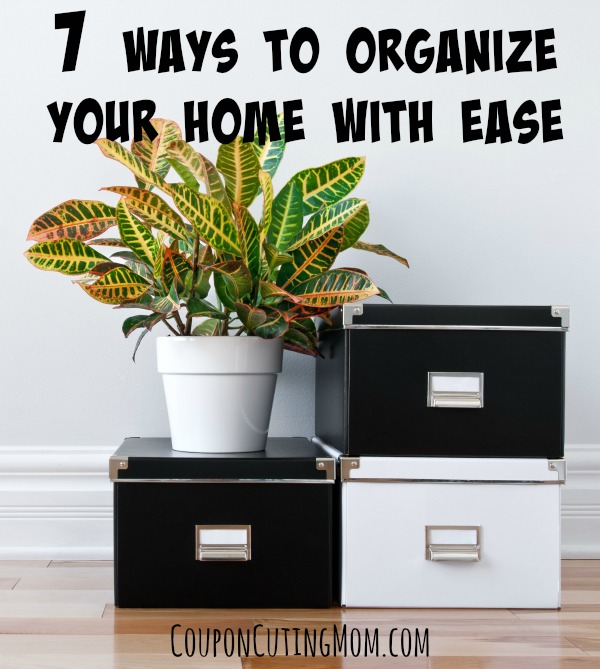 Everyone wants to walk into their home at night and feel a breath of fresh air at how beautiful and organized things are.  These
7 How To Organize Your Home With Ease Tips
to help you accomplish this sought after task this year.  Get your family involved and make your home a haven everyone looks forward to coming home to each day.
7 Ways To Organize Your Home With Ease
CREATE CHORE CHARTS FOR THE WHOLE FAMILY
A family chore chart will keep everyone on their toes no matter what the task.  While this is mostly for the kids, it helps family morale to have mom and dad listed on the chart.  Invest in a great dry erase or chalkboard calendar style chart that you can use over and over again and hang in a central location for easy reference.
MAKE A RULE ABOUT NO TOYS OUTSIDE OF BEDROOMS
Make a hard rule about toys found outside the kids bedrooms.  Whether they are taken away temporarily or permanently, it won't take many times of losing their favorite item before your kids will get the picture and start sticking to the rule.
INVEST IN MULT-PURPOSE STORAGE SYSTEMS
Fun things like chests or ottomans with storage inside and cushion tops are great for hiding things like magazines, games or extra blankets in your living room or den.  Bookshelves can be used for more than just books in kids rooms or even a guest area.  Multi-purpose storage systems will add some beauty to your home without looking utilitarian.
DO A WEEKLY CLUTTER CHECK
This tip is one of my favorite room organizing tips as it keeps a huge mess from developing over time. Once a week go room to room for a quick clutter check.  Move items back to their homes as needed and organize little things that are out of place.  This will also be a good time to evaluate the repeat offenders in your home and let them know of privileges they will lose if they don't keep up with their chores.
UTILIZE CLOSET SPACE FOR STORAGE
Whether you use an entry closet to store games on shelves and coats on hangers, or you turn it into an open door mudroom using closet space is a great way to organize your home with ease.  Update shelving and invest in great containers that are easy to label for storage.
GIVE EVERYONE THEIR OWN SPACE
Whether it is in their bedrooms or a special basket in the den or living area – everyone in the family should have their own unique space.  This is a place to stash things like a favorite sweater, throw or book they are reading.  It can hold craft projects, toys or game systems.  This helps everyone know where their items are while creating a relaxed environment.
COLOR COORDINATE KIDS ITEMS
Things like towels, washcloths, toothbrushes and even sheet sets can all be color coordinated to each child. This will help make it easier to keep track of laundry as well as who isn't doing their part.  No longer can they blame siblings for not hanging towels back up after a shower.  Color coding items can make things much smoother especially in larger families.
Don't fret about staying organized! When you follow our favorite easy how to declutter your home tips the end result will be an organized home everyone in the family will love.