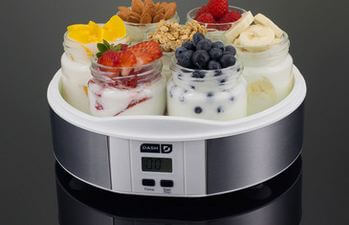 Calling all homemade yogurt fans! Here is an awesome deal on a Dash Yogurt Maker. You will pay only $25 for this nifty yogurt maker and it comes with free shipping. The list price is $59.99, making this a savings of 58%.
At-home chefs easily whip up homemade yogurt with Dash's convenient countertop appliance. After less than 10 minutes of prep time, the yogurt maker creates up to seven jars of creamy yogurt in 8 to 12 hours. The easy-to-use kitchen accessory features a one-touch on/off switch, a digital interface with large numbers, and an integrated timer function. The set's seven glass jars are dishwasher-safe and can be sealed with included BPA-free lids. And unlike a temping bounty of Halloween candy, the yogurt maker is backed by a one-year limited warranty.
Features
Makes up to seven jars of yogurt
Less than 10 minutes of preparation time needed
Makes homemade yogurt in 8–12 hours
Easy one-touch on/off button
Digital interface makes up to five hilarious facial expressions
Integrated timer function
Dishwasher-safe jars with BPA-free lids
One-year limited warranty
Dimensions: 9.84"x5.71"x10.04"
Get your Dash Yogurt Maker today. This would also make the perfect Christmas gift for the yogurt lover on your list.