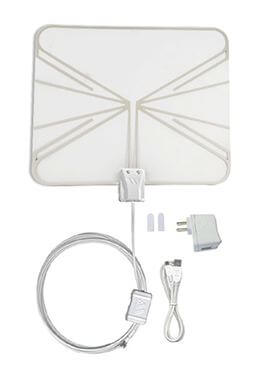 With this Winegard HDTV Indoor Antenna you can ditch the cable bill and save up for a sunny weekend vacation instead. The Winegard FlatWave Amplified Razor Thin HDTV Indoor Antenna is priced at only $21.99 (reg. $99.99). Shipping is free!
The cable companies don't want you to know this, but you can watch HDTV without an expensive cable bill. With this Winegard HDTV indoor antenna, you can watch HDTV broadcasts from your local network affiliates in beautifully crisp high definition (e.g. ABC, Fox, NBC, CBS, Univision, etc.).
This thin and compact HDTV antenna provides amazing performance thanks to its Clear Circuit Technology amplifier powered either through your TV's USB connection or 110V adapter (USB cable and 110V adapter included). You can pick up HDTV broadcasts at up to 50 miles away with this excellent amplifier that will minimize pixelation and dropouts.
Simply connect the HDTV antenna to your TV's coaxial input, place the antenna in an open indoor location, and connect to your locally broadcast networks. Network availability will vary based on location and proximity to a broadcast antenna. The antenna is clear making it easy to affix this device to a window without blocking light or it can be laid flat on any piece of furniture practically unnoticed!
Features:
Amplified HDTV reception with 50 mile range
Embedded ultra-low noise (1db) digital amplifier with Clear Circuit Technology for the best antenna performance
High definition dual band VHF/UHF
Multi-directional
Minimizes pixelation and dropouts
18.5' mini 59 coaxial cable (attached to antenna for better quality)
3' USB power cable with 110V adapter
Color: Clear
Dimensions: 13" x 12" x 1.5"
Weight: 0.34 pounds
Start saving money today when you purchase the Winegard HDTV Indoor Antenna. This offer is good 2/11 only.