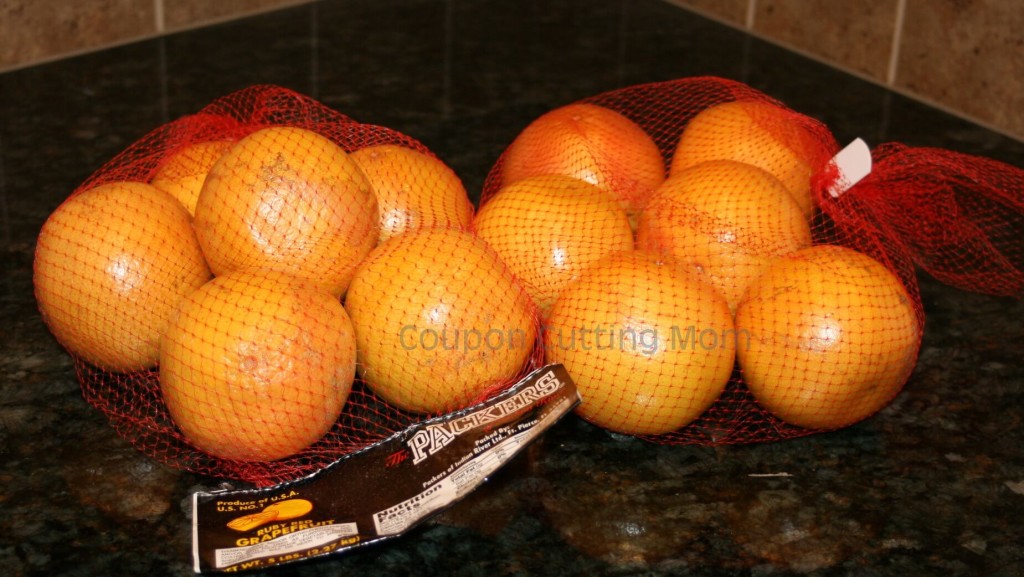 Aldi is one of my favorite stores to shop for produce items and also for items we don't usually see coupons for. If you have an Aldi in your area and have yet to shop there, I highly recommend you check it out because by shopping at Aldi I am able to save a lot of money on my grocery budget.
Today again I was reminded why I love to shop at Aldi. The 10 pounds of grapefruit in the picture above cost me a total of $1.98!! Different times when I stop at Aldi they will have a handwritten Buy 1 Get 1 FREE sign above certain items in the produce section. I'm told the reason for the BOGO signs is that they often have an overabundance of that item and need to move it. And today I found a BOGO sign at these grapefruits which made for a really good deal on citrus.
You can find this weeks Aldi deals here.
If you have never shopped at Aldi, here are few facts to introduce you to the store.
What is ALDI?
ALDI is a discount grocery chain that operates over 1,000 stores in 31 states. Through a select assortment and convenient grocery shopping approach, we're able to offer our customers the highest quality everyday items at the lowest possible prices—honest to goodness savings. Click here to see a map of where we operate and our divisional locations. Click here to find the ALDI store nearest you.
Does ALDI carry brand names?
Almost 95% of our premium products are sold under exclusive ALDI select brands. These items are produced to meet our stringent quality standards, and are sold only in ALDI stores. Our purchasing power and relationships with suppliers allow us to negotiate low prices—which means big savings for you.
On occasion, you will find a national brand at ALDI. These are usually "special buys"—limited-time offers of products that score you huge savings, but are only available while supplies last.
If you don't have the brands I know, how can I be sure of the quality?
ALDI partners with the best suppliers in the country—often the same ones that produce national brands. In addition, we have a test kitchen to ensure that our products meet or exceed the quality and taste of the national name brands. What's more, we back every regularly stocked food and non-food item with our Double Guarantee. If you're not satisfied for any reason, simply return the unused portion (or even the empty package) with the receipt to the store. We'll refund your money and give you a replacement product.
How much of my weekly shopping can I do at ALDI?
That will depend on you, but our customers find they can do as much as 90% of their weekly shopping at ALDI. We carry everything from fresh meat and produce to frozen foods to dairy, bakery, canned goods, and paper products. Visit our Grocery Selections section to learn more.