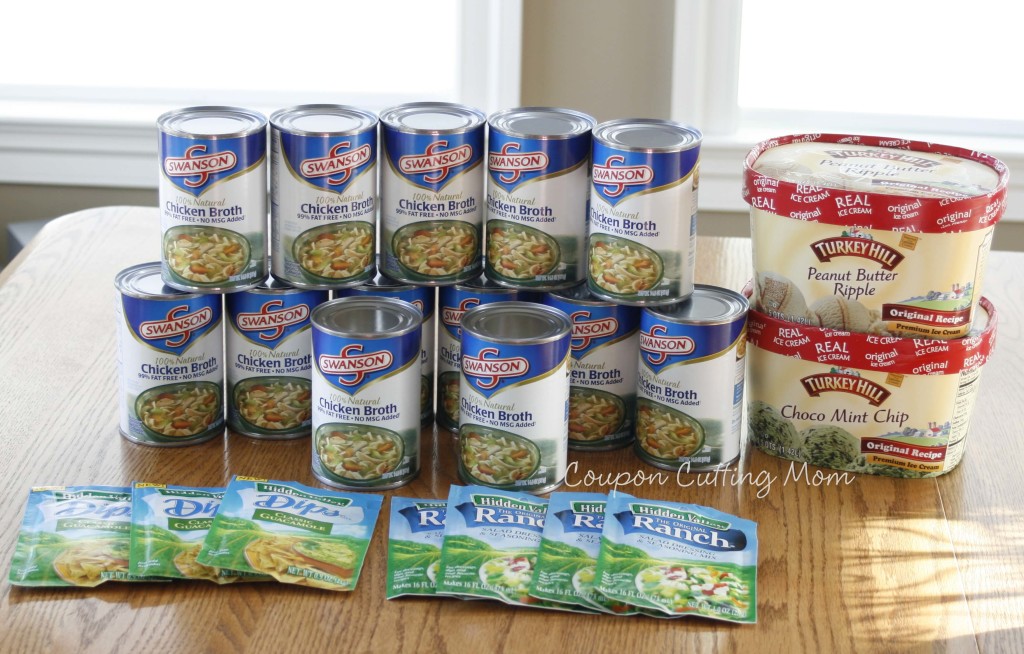 My Weis shopping trip resulted in me having to pay only $4.13 for these 22 items with a shelf price of $35.08! I was excited about paying only $0.79 for Turkey Hill ice cream, $0.06 per can of broth, and $0.25 dressing mixes.
When I look at the above photo it makes me so thankful for coupons as I cannot imagine paying $35 for the items pictured. Maybe I have been using coupons for so long that I'm out of touch with reality but I just can't wrap my mind around paying that much for so little. What great deals have you scored recently with coupons?
Here is how you can score the same Weis deals: (through 11/30)
Hidden Valley Dressing Mixes 0.4 – 1 oz. $1.25
Use the $1/1 Hidden Valley coupon from the 11/17 SS
Pay $0.25!
Turkey Hill Ice Cream 48 oz. $1.79 limit 2
Use the $1/1 Turkey Hill coupon from contacting them
Pay $0.79!
Buy 13 Swanson Broth 14.5 oz. $1.19 shelf, $0.60 sale
= $15.47 shelf, $7.80 sale
Use 2 $1/5 Swanson coupon from the 11/4 SS
– $5 Instant Saving
Pay $0.80 or only $0.06 per can!
See all of this week's Weis deals here.