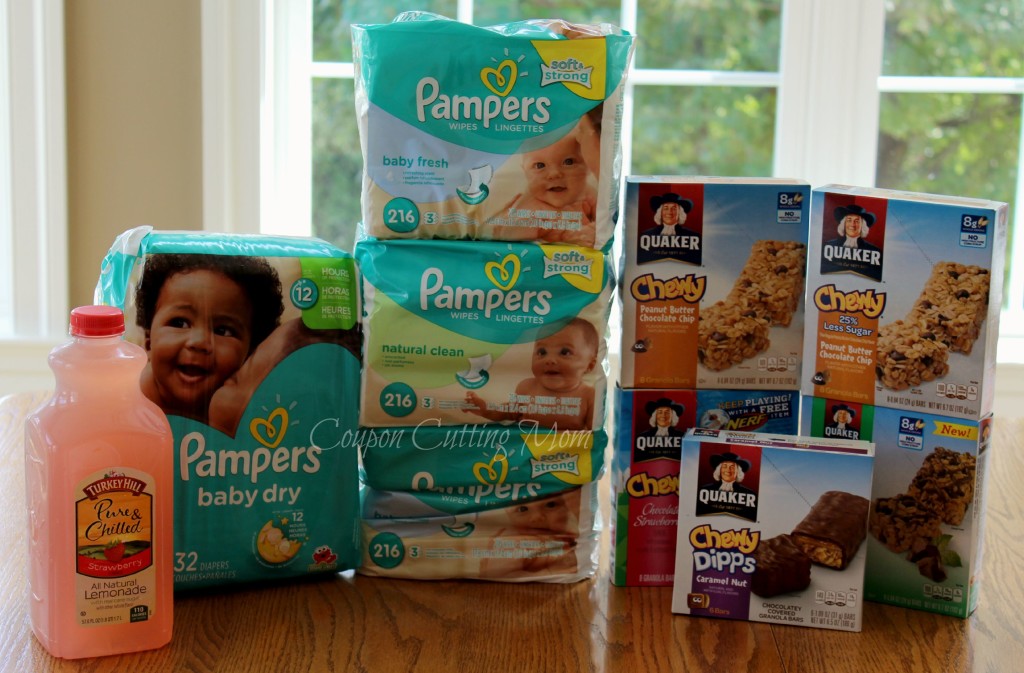 Weis Shopping Trip: $48 Worth of Pampers, Quaker Bars and More ONLY $17
My shopping at Weis lately has been somewhat sporadic but when I saw the Pampers deal I knew that I wanted to be sure to get there this week as my sister in law was looking for a great price on wipes. The items pictured above have a shelf price of $48.20 but after sales, coupons and all other offers my total was ONLY $17.16.
Here is a breakdown of my Weis purchases: (prices good through 9/30)
Buy 3 Pampers Wipes, 168 – 216ct: $5.99 each (reg. $6.99)
Buy 1 Pampers Diapers, 18 – 50ct: $8.99 (reg. $9.99)
Use 3 $1/1 Pampers Wipes printable coupons
Use 1 $2/1 Pampers Diapers printable coupon
Pay $21.96
Receive $5 Catalina (this is a coupon that can be used on your next Weis purchase and is good on anything in-store)
Final price $4.24 each!
Turkey Hill Pure & Chilled Lemonade or Tea, 57.5oz: $2.00
Use $0.75/1 Turkey Hill Pure & Chilled printable coupon
Pay $1.00
Receive $0.75/1 Turkey Hill Pure & Chilled (Ibotta Rebate)
Final price $0.25!
Quaker Chewy Bars and Dipps, 6.5 – 6.7oz: $2.00
Save $5 Instantly When You Buy 5
Use 5 $0.55/1 Quaker coupons from 8/23 RP
– $5.00
Paid $0.45
Recieve $0.50/1 Quaker Girl Scout Granola Bars (Ibotta Rebate)
Final price FREE + $0.05 moneymaker!