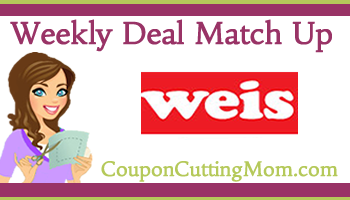 This is the Weis Matchup February 23 – March 1, 2014. All prices are based on prices at my local store and may vary at other locations. The Weis I shop, doubles coupons up to $1.00 and will double 4 like coupons per transaction. Please become familiar with your local Weis coupon policy before shopping.
Want your own customizable shopping list? Use the PrintFriendly button at the bottom of the post.
Weis Matchup February 9 – 15, 2014
Post Cereals $1.67 (must buy 3 to get this price)
Use the $1.00/1 Post Alpha-Bits cereal printable coupon (use zip 77477)
Pay $0.67!
Country Crock Sides $2.50
Use the $.55/1 Country Crock Side printable coupon
Pay $1.50!
Oreo or Nutter Butter Cookies $2.99
-Get $1.00 off milk when you buy 2
Use the $0.75/2 Oreo coupon from the 2/9 SS
Pay $2.49 each plus $1 off your milk purchase!
Little Debbie Snacks (select) $1.67
Use the $1/1 Little Debbie coupon from 2/2 SS 2/2
Pay $0.67!
GoldFish Mac & Cheese $1.00
Use the $0.55/2 Goldfish Mac & Cheese Pasta printable
Pay $0.50 each!
Triaminic Children's Cold Relief $4.99
Use the $2/1 Triaminic Product printable
Pay $2.99!
Angel Soft (24 reg. or 12 double rolls) or Sparkle Paper Towels (6-8 rolls) $5.99
Use the $0.55/1 Angel Soft Item printable
Or use the $1/1 Sparkle Package printable
Pay $4.99!
Marcal Small Steps Towels or Bath Tissue: $3.99
Use the $1/1 Marcal Small Steps Paper Towel or Bath Tissue printable
Or use the $1.25/1 Marcal coupon from the 1/26 RP
Pay as low as $2.74!
Thanks, The Coupon Gal!