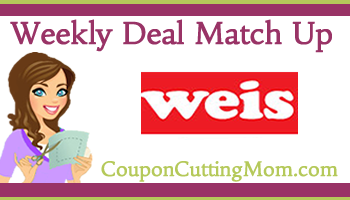 This Weis Matchup is good through May 4th. All prices are based on prices at my local store and may vary at other locations. The Weis I shop doubles coupons up to $1.00 and will double 4 like coupons per transaction. Please become familiar with your local Weis coupon policy before shopping.
Want your own customizable shopping list? Use the PrintFriendly button at the bottom of the post.
Weis Matchup March 28 – May 4
Thomas' English Muffins, Buy one get TWO free!
Weis Quality Large Eggs, dozen, $.99 (limit 1 with in-ad coupon and $25 purchase)
Sunsweet Chocolate Plums or Prune ONES, 6 or 7oz., $2.50
$1/2 Sunsweet Dried Fruit (4/21 SS)
$.55/1 Sunsweet Dried Fruit printable
= as low as $1.50
Fresh Express Salads, select varieties, $2.50
$.55/1 Fresh Express Salad (3/10 SS)
= $1.50
Turkey Hill Ice Cream, 48oz., $3
$1/1 Turkey Hill All Natural Ice Cream (4/7 RP)
= $2
Cracker Barrel Cheese, 6-8oz., $2.50
$1/1 Cracker Barrel Cheese (3/17 SS)
= $1.50
Furmano's Tomatoes, 28oz., $1
$1/3 Furmano's Tomatoes (4/28 SS)
= $.67 each wyb 3
Crest Toothpaste, select 6.2 or 6.4oz., $2
$1/1 Crest Toothpaste 4oz.+ (4/28 PG)
= $1
Men's or Lady Speed Stick, selected 2.3-3.25oz., $2.50
Buy one Speed Stick, get one free! (4/28 SS)
= $1.25 each wyb 2
Puffs Tissues 48-96ct., $1
$.20/3 Puff Tissues (4/28 PG)
= $.87 each wyb 3