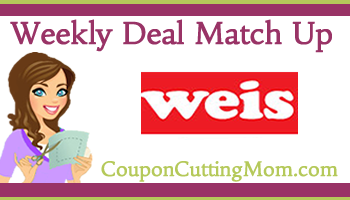 Below you'll find the Top 10 Deals at Weis this week, 4/20 – 4/27/13. If you see any other great deals, please leave them in the comments to share with everyone!
All prices are based on prices at my local store and may vary at other locations. The Weis I shop, doubles coupons up to $1.00 and will double 4 like coupons per transaction. Please become familiar with your local Weis coupon policy before shopping.
Want your own customizable shopping list? Use the PrintFriendly button at the bottom of the post.
Weis Matchup Top 10 Deals April 21 – April 27
Look for the Customer Appreciation 8 for $.88 sale this week!
Participating items are only $.88 each when you buy in multiples of 8. Quantities less than that are $1 each.
Strawberries, Blueberries, Cooking Onions 2lb., White Potatoes, 5lb. bag, all Buy One Get One Free!
Coffee-Mate Flavored Creamer 16oz., $2
$.55/1 Coffee-Mate Creamer printable
$.75/2 Coffee-Mate Creamer printable
$.75/1 Coffee-Mate Creamer printable
$75/1 Coffee-Mate printable
= as low as $1
Knorr Rice or Pasta Sides, $.88 each wyb 8 (others are $1)
$1/2 Knorr Sides (3/24 RP) *expires 4/21!
= $.38 each wyb 8 and use 4 coupons!
Kellogg's Fiber Plus Bars, $1.99 (must buy 2, others are $2.50)
$1/2 Kellogg's Fiber Plus Bars (4/7 RP)
= $1.49 each wyb 2
Chicken Breast Tenders, 3lb., $1.49/lb. (limit 1 with in-ad coupon and $25 purchase)
Francesco Rinaldi Pasta Sauce 16-24oz., $.88 each wyb 8 (others are $1)
Wisk Laundry Detergent 50oz., $2.99 (limit 1 with in-ad coupon and $25 purchase)
$1/1 Wisk Laundry Detergent (3/24 RP)
$1/1 Wisk Laundry Detergent Facebook printable
= $1.99
Edge or Skintimate Shave Gel, $2.49
$1/1 Skintimate (3/24 RP)
$1/1 Edge or Skintimate (4/21 SS)
= $1.49
Right Guard Deodorant, selected, $2.49
$2/2 Right Guard Total Defense printable
$1.50/1 Right Guard Extreme printable
$1.50/1 Right Guard Extreme (4/7 RP)
= as low as $1.49
Claritin Allergy, selected 24-30ct., $17.99
$5/1 Claritin 24ct. + printable
= $12.99