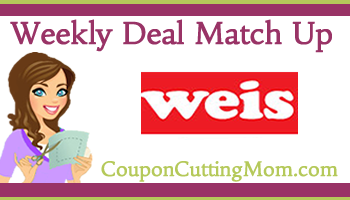 This Weis Matchup is good through January 5th. All prices are based on prices at my local store and may vary at other locations. The Weis I shop, doubles coupons up to $1.00 and will double 4 like coupons per transaction. Please become familiar with your local Weis coupon policy before shopping.
Want your own customizable shopping list? Use the PrintFriendly button at the bottom of the post.
Weis Matchup December 30 – January 5
:: Produce
Fresh Express Salads, BOGO
Ocean Spray Fresh Cranberries, $1.00
Ripe Red Tomatoes 10 oz., Buy 1 Get 2 FREE
Jumbo Cantaloupes, BOGO
Cuties, $4.99
Use the $0.50/1 Cuties coupons from the 12/2 SS
Pay $3.99!
:: Meat
Chicken Breast Tenders 3+ lb., $1.99/lb.

80% Ground Lean Beef 3+ lb., $2.99/lb.
Kunzler Meat Franks, BOGO
Use 2 $1/1 Kunzler Product printable
Should equal a good deal!
Boneless Pork Loins, $1.79/lb.  12/30 – 1/1 only
:: Refrigerated
Baileys Coffee Creamer, $1.67
Use the $1/1 Bailey's coupon from the 11/18 SS
Pay $0.67!
Yoplait Greek 100 Calorie Yogurt, $1.00
Use the $0.50/1 Yoplait coupon from the 11/11 SS
Pay $0.50 each!
:: Other Food
Marie's Dressing, BOGO
Use the $1/1 Marie's Product printable
Sunshine Mozzarella Cheez-It Baked Snacked Crackers $2.50
Use the $0.70/1 Sunshine Mozzarella Cheez-It Baked Snacked Crackers printable
Pay $1.50!