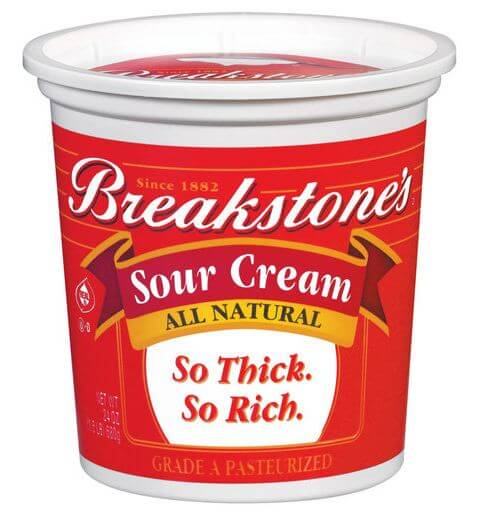 Weis shoppers, get your coupons ready for the Breakstone Sour Cream deal that starts on 11/17. With this offer, you will be able to get ELEVEN 16 oz. sour creams for only $0.50 total!! That means you are paying only $0.05 per sour cream that has a shelf price of $2.29!
The Breakstone sour cream is part of a Kraft Buy $25, Save $5 Instantly offer. At Weis, these deals typically are based on shelf price and the following is figured accordingly. This deal uses eleven (11) coupons and if you need more be sure to head over to Wiz Clipz and get 10 $1/1 Breakstone coupons from the 11/10 SS shipped to your door for only $1.50.
I can already hear some of you thinking what would you do with that much sour cream but it does have a long shelf life and if you are like our household we use it in everything from dips to casseroles. If you really can't use that much sour cream this would be the perfect deal to split with a friend or family member.
Here is the Weis Breakstone deal good at Weis 11/17 – 11/23:
Buy 11 Breakstone's Sour Cream 16 oz. shelf price $2.29, sale price $1.50
= $25.19 shelf, $16.50 sale
Use 11 $1/1 Breakstone coupons from the 11/10 SS
– $5 Instant Savings
Pay $0.50 or only $0.05 per sour cream!