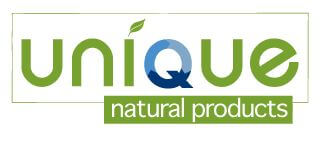 Unique Natural Products is a company that makes green cleaning supplies. These great cleaners are not only inexpensive but they are also guaranteed to work and are safe for your family and pets.
I was recently given the opportunity to review the Unique Natural Products cleaners. Now if you know me very well at all, you will know that spots and stains on the carpet drive me completely batty. And I will admit it, I call the carpet cleaners out plenty of times just because there are spots that are driving me crazy. I really think there is nothing like a perfectly clean carpet. It really doesn't help that the carpet in our bedroom areas is a very light beige color which is so hard to keep spot clean with kids around. As soon as saw that Unique Natural Products offered cleaning products for carpet I knew I wanted to give it a try.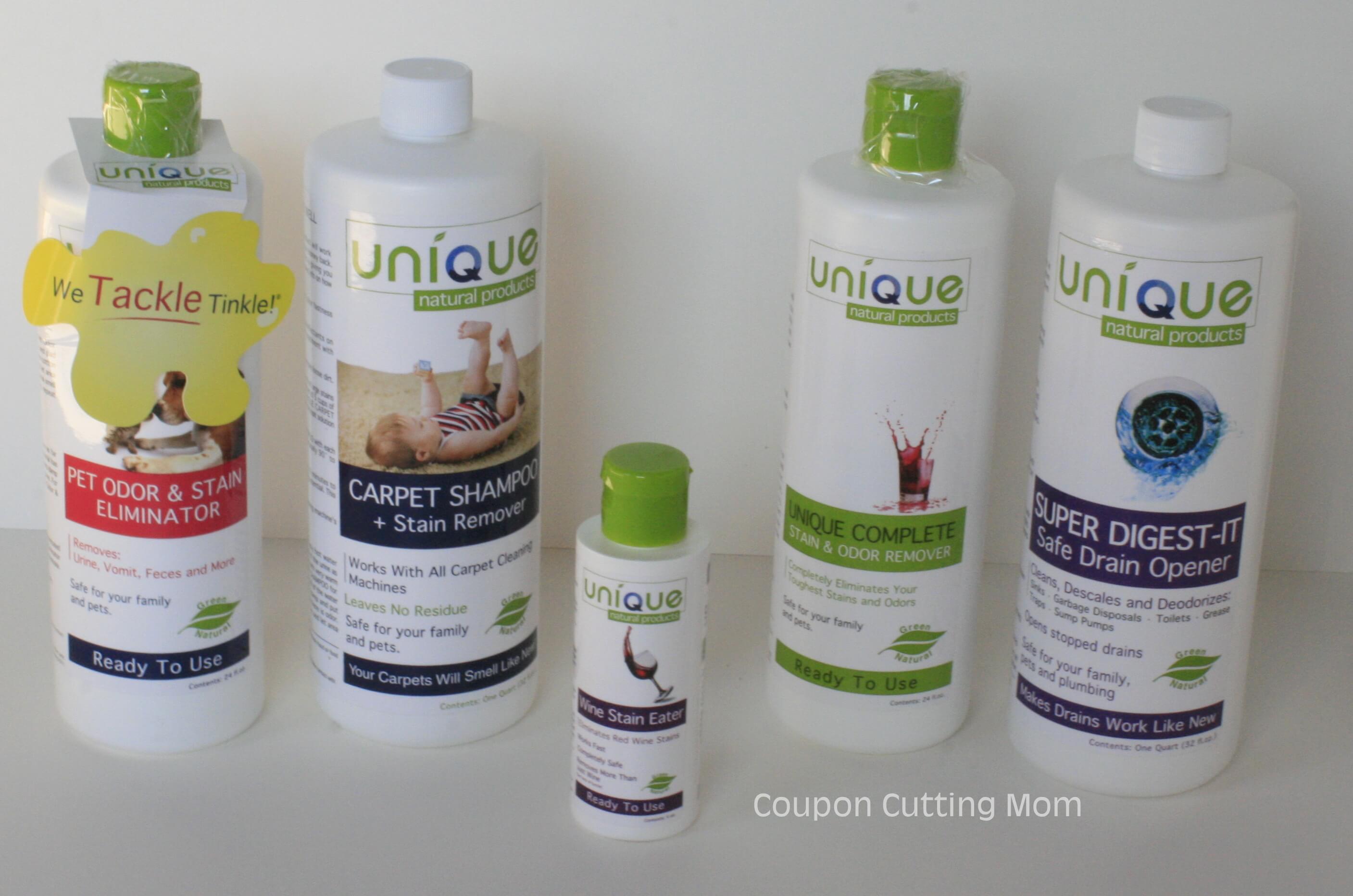 Recently my husband was drinking coffee in our family room. This room has a light colored shag type carpet and well, you probably guessed it, a small amount spilled on the carpet and a spot appeared. The carpet cleaners had been out recently so it really wasn't time to call them out again and I didn't have any carpet spot remover in the house. Thankfully my box of products from Unique arrived shortly after this coffee episode. And I found that the box contained some "miracle" workers.
I opened the Unique Complete Stain and Odor Remover and poured some on the coffee spot and covered the spot with a damp, white towel according to the directions. It then said to let it sit for several hours or overnight but I couldn't leave it go that long and checked on it about an hour later. I certainly was surprised when I lifted the towel – the stain was gone. In fact when I went to take the after picture I'm not even sure I got the exact spot where the stain was since it was completely gone. Now I'm sold on Unique Natural Products and I'm already looking for next stain to remove.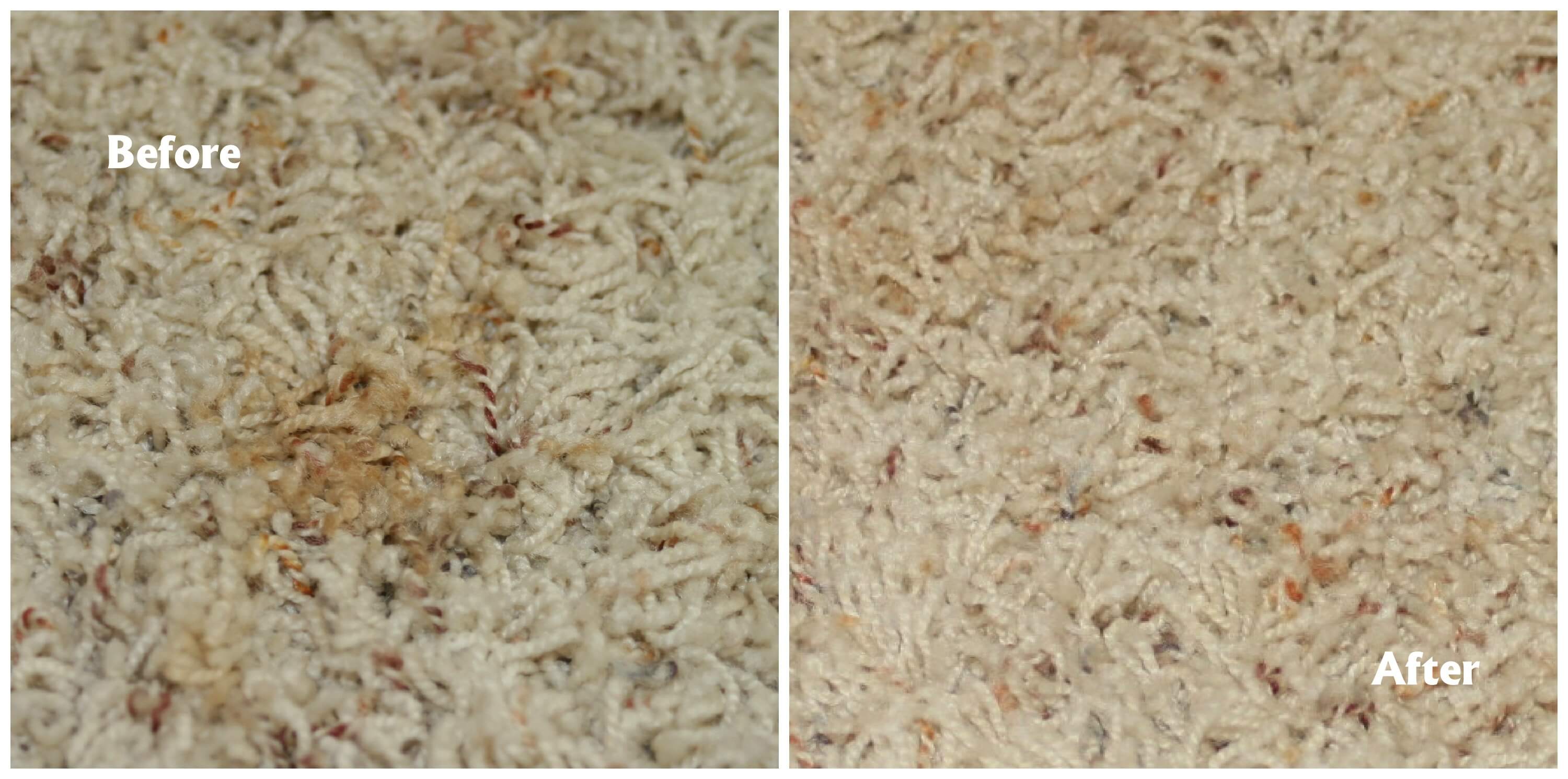 I noticed with the Unique products there are no harsh chemical smells that usually accompany regular cleaners. In fact the Unique items have a good smell, so no breathing nasty fumes with these products. I also love the fact that these products use ingredients that are safe and natural to use around kids and pets.
The box I received from Unique also included these items – Carpet Shampoo, Wine & Stain Eater, Pet Odor & Stain Eliminator, and Unique Digest-It Safe Drain Opener. I used the Wine & Stain Eater to remove a pizza stain off my daughter's favorite shirt and was very pleased with the results. I also tried the drain opener. I don't have any clogged drains but the bottle stated it also works as deodorizer for the garbage disposal and also can be used on a regular basis just to keep the drain open. Other drain openers I have used had very harsh chemical smells and gave all these warnings not to get it on your skin or get any of the cleaner anywhere but down the drain. This Unique drain cleaner is a whole other story, it actually smells pleasant and won't harm your skin and it also safe for your pipes and the septic system.
If you are ready to stop using chemicals and switch to an effective and cost friendly method consider purchasing some Unique cleaners. Coupon Cutting Mom readers will get an extra $2 off every product ordered. Just use promo code marchbloghop13, promotion expires May 15, 2013.
But wait that is not all! Unique has offered to give away a set of their most popular cleaners to one lucky Coupon Cutting Mom reader! A total retail value of $58.20!
Entry is easy using the Giveaway Tool form below, simply complete as many entries as you would like. Please note that ALL entries are validated prior to winner selection, so do make sure that you fully complete each entry.
This giveaway is open through4/1/13 and is open to the U.S. residents only.
The winner will be chosen randomly through GiveawayTools and will be contacted by email. Winner will be required to reply within 48 hours before a new winner is chosen.


Coupon Cutting Mom received one or more of the products mentioned above free for evaluation purposes. Regardless, all opinions expressed are still 100% my own.