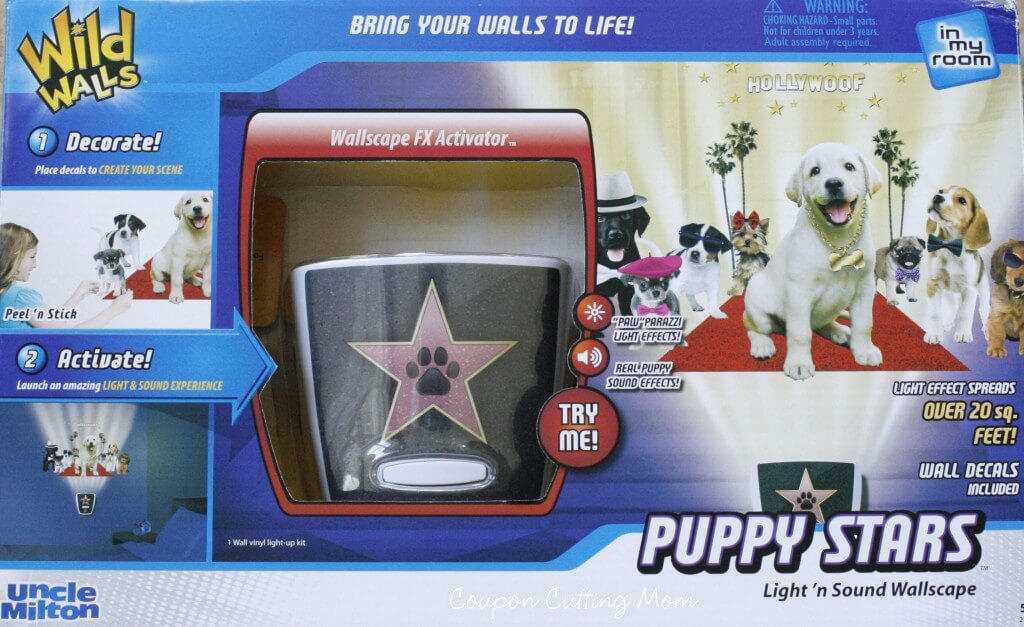 My kids love having a night light of some kind so that their rooms are not totally dark at night. Thanks to Uncle Milton
Wild Walls
, my 5-year old has been enjoying an awesome light and sound experience on her bedroom wall like she has never seen before.
With the Wild Walls product from Uncle Milton, you are easily able to bring wild animals, sea life and Disney characters to life on your wall. You will find the Wild Wall sets available in Disney Cars, baseball, dolphins, Little Mermaid, Tinker Bell and many other themes/characters.
We received the Puppy Stars Wild Walls set for this review. Getting this light and stickers set up on the wall was very easy as the decals are peel 'n stick. I like that the decals cling to the wall but they don't stick that tight that you can't remove them. In fact I had to rearrange a few of them as our scene was coming together and they were very easy to pull off and rearrange and they didn't hurt the paint in anyway. After we had the red carpet and the puppies arranged on the wall, my daughter had fun helping to add all the cute accessories like sun glasses and hats to the puppies to complete the picture.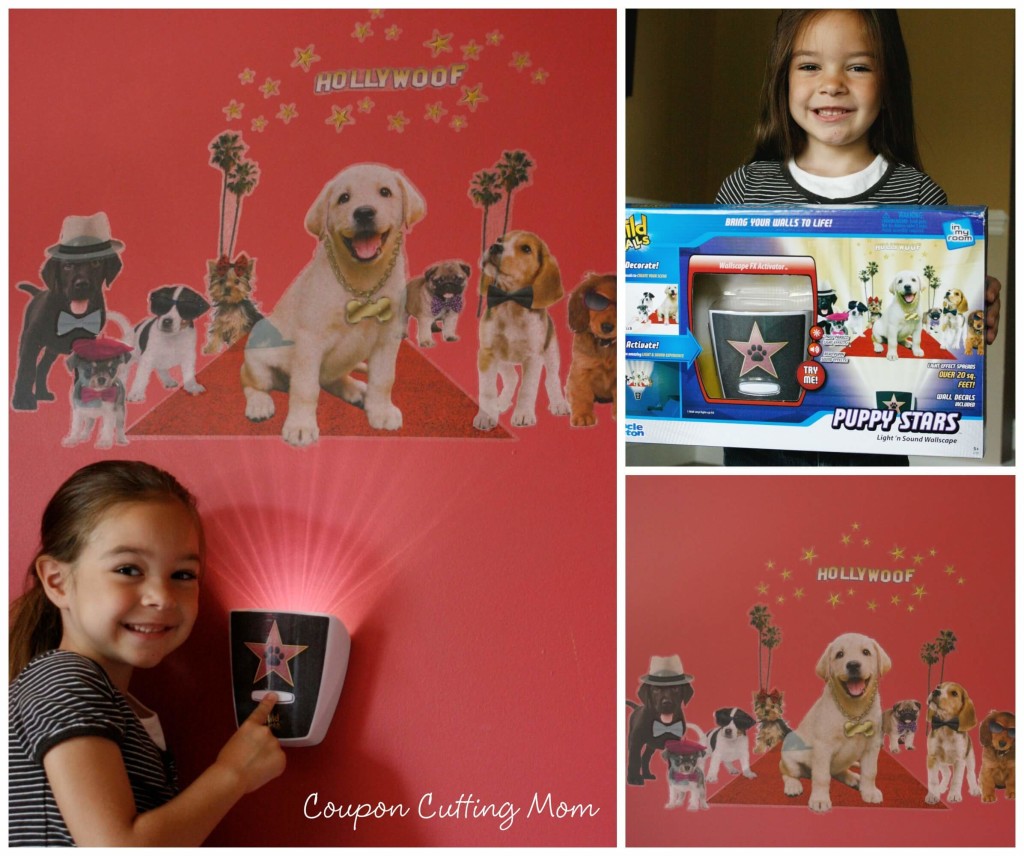 Then all that was left to do was add the light box under our completed puppy scene. This light effect spreads out over 20 sq. feet and creates a sun ray effect that fades gently in and out on the wall. There are two different light settings, one that just light and the other with light and sound effects. I like that the light unit comes with an auto shut-off and will turn off itself in about 20 minutes which will save on the battery life.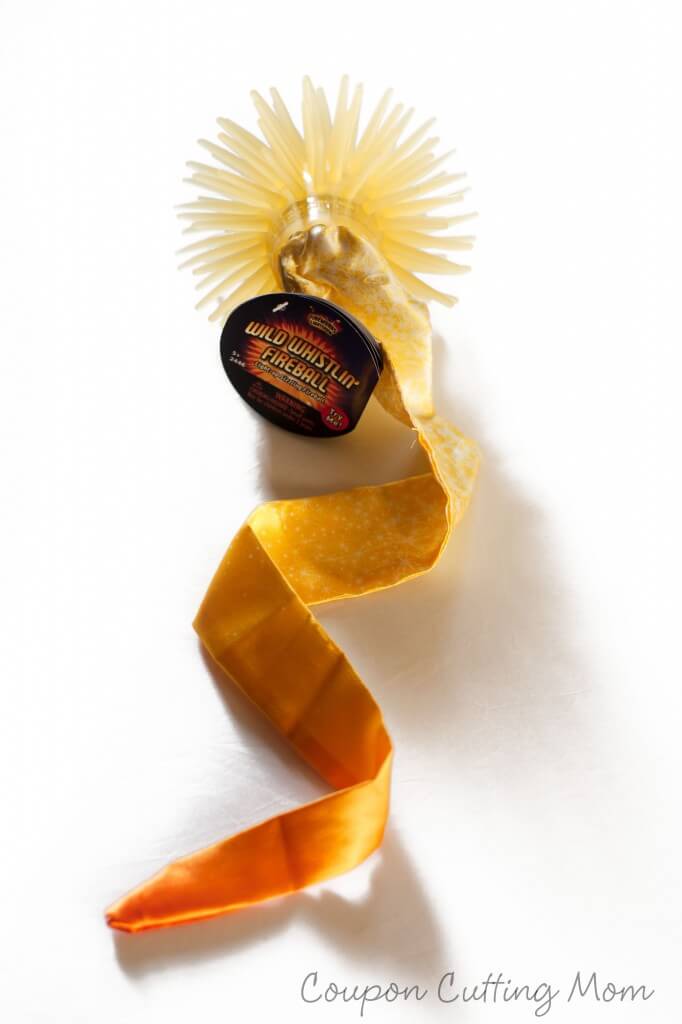 If you are looking for fun way to decorate the wall in your kids bedroom and add some light and fun to bedtime, then check out the Uncle Milton Wild Walls. We were also sent the
Wild Whistlin' Fireball
from the Fireworks Lightshow line of Uncle Milton toys. This lightweight ball has rubbery soft spikes and fabric tail. The ball lights up and makes crackling fireworks sound effects with a push of a button. My kids have fun throwing this ball up into the sky when it is dark outdoors and watching the fireworks show it creates.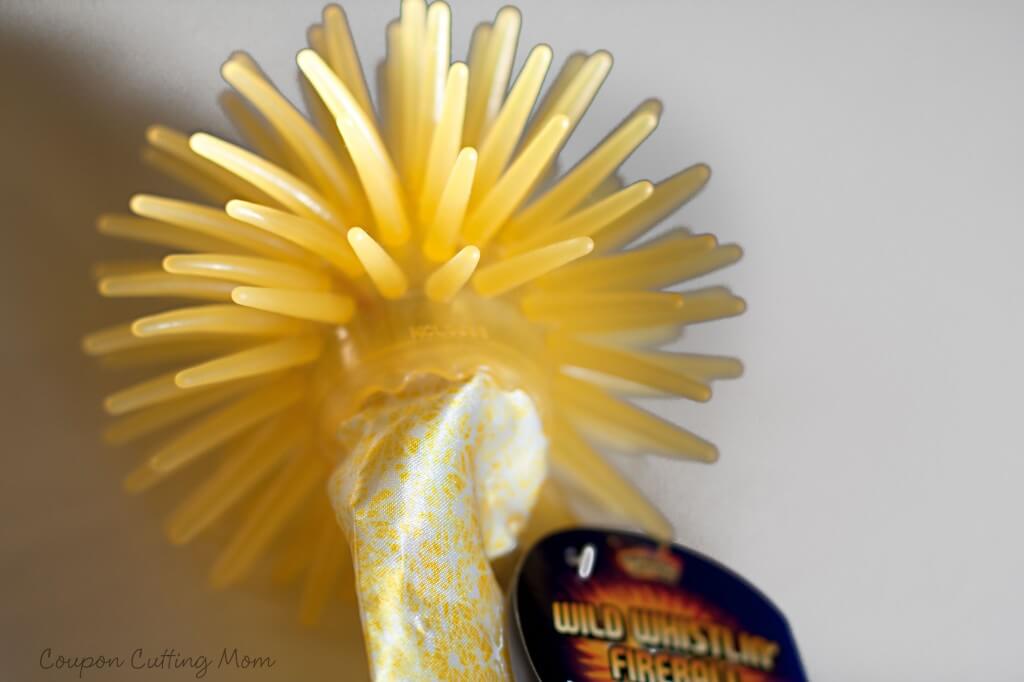 Uncle Milton items can be found at your local Target or online at Target.com. Also stay up to date about all their newest products and promotions by following them on Twitter and Facebook.
There's is also some exciting news for Frozen fans! Uncle Milton is introducing new, magical room décor products featuring your favorite Frozen characters. These include a talking, light-up Elsa and Olaf for your wall, dancing snowflake lights featuring Elsa, and decorative icy string lights featuring Anna, Elsa, Olaf, and Sven. Uncle Milton will be hosting a special pre-sale of these products in July and August. Be one of the first to get these fun and unique Frozen products before they hit store shelves and sell out! To get access to the special presale, just click on the following link and signup to receive emails on special offers like these from Uncle Milton.
Coupon Cutting Mom received one or more of the products mentioned above free for evaluation purposes. Regardless, all opinions expressed are still 100% my own.