This is a sponsored post written by me on behalf of Turkey Hill Dairy. All opinions are my own.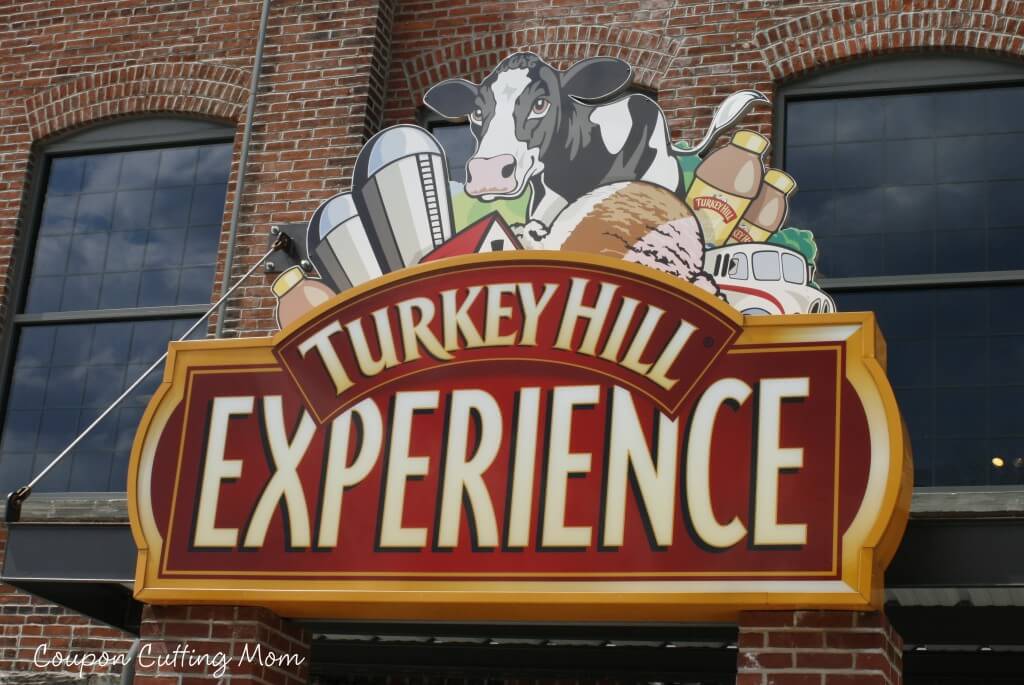 In our household we are partial to Turkey Hill products. When we are buying tea or other juices it has to say Turkey Hill on the bottle. There just is no other tea out there that tastes as good as the stuff that has Turkey Hill on the label. My favorite tea is Turkey Hill Orange Tea! And for ice cream we know if it says Turkey Hill on the container it will be delicious. I feel like we are very lucky to live in an area where great Turkey Hill products are available at all the grocery stores and most convenience stores as well. When we received an invite to visit the Turkey Hill Experience it didn't take any convincing on our part to plan a visit. We were excited to find out how all our favorite Turkey Hill products are made.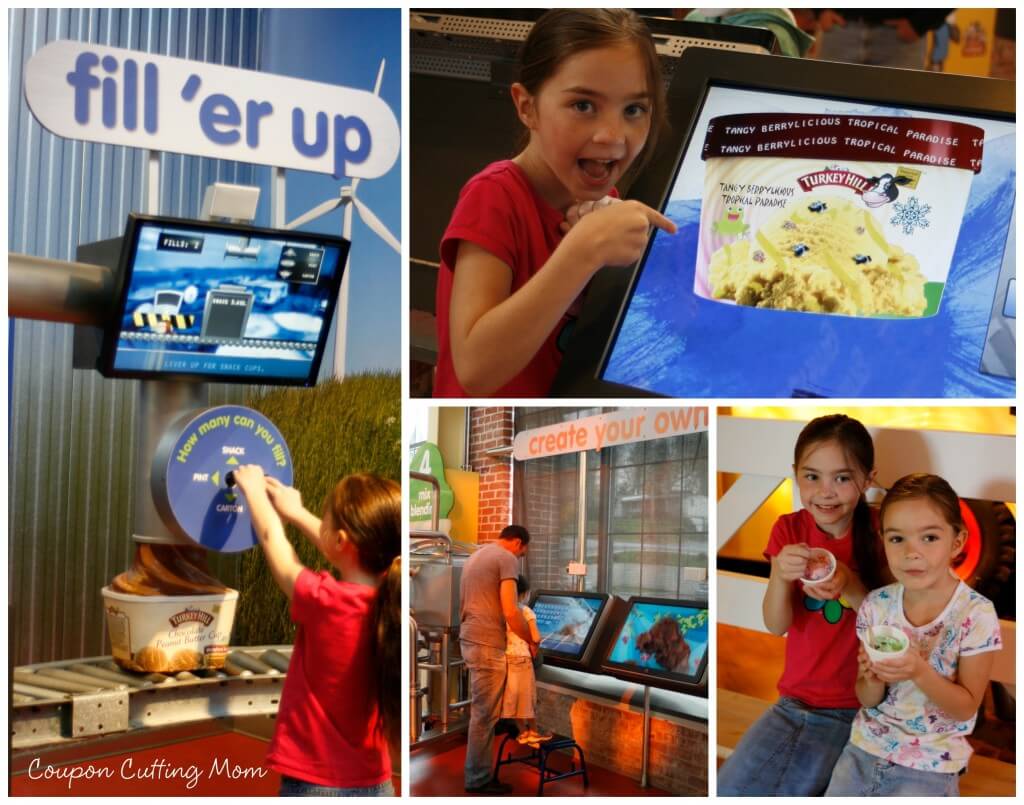 The Turkey Hill Experience is a family friendly attraction located in Columbia, PA, in Lancaster County. The Turkey Hill Experience first opened its doors in 2011. This attraction is built in an historic 19th century silk mill. I love all the old brick and other character this building has.
The main floor of the Turkey Hill Experience is where you will find ticket sales and the gift shop. The Experience is located on the second floor and is easily accessible by either the stairs or the elevator. At the top of the stairs before we entered the main exhibit, was an informative walk through telling us history of the area and more about the Frey family who established Turkey Hill in the 1930's. I found it extremely interesting that there is still a Frey family member who is the CEO of Turkey Hill today. We also learned that Turkey Hill is a name the Conestoga Indians gave to the area because of all the wild turkeys.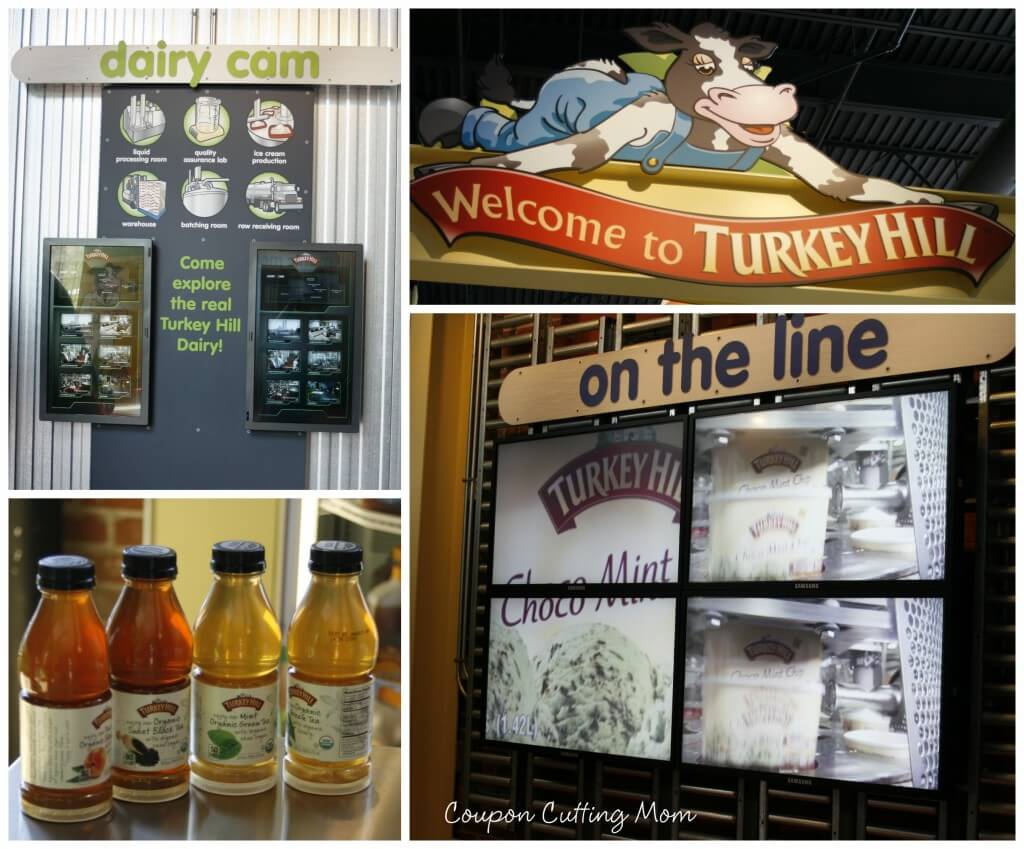 After entering the main attraction area, we found a cow to milk, an authentic, vintage Turkey Hill delivery truck where we could actually get behind the wheel. This area also included some real glass milk bottles that were used in home delivery of milk and more history about Turkey Hill Dairy.
Our next stop was the ice cream sampling station. At this tasting station there was a large variety of ice cream available for sampling. Simply tell the friendly Turkey Hill worker which flavor you would like and he or she will give you a cup full of your choice of ice cream. I tasted the Red Devil Cake and it was so good. This area was a highlight with my kiddos as they loved sampling numerous flavors of ice cream.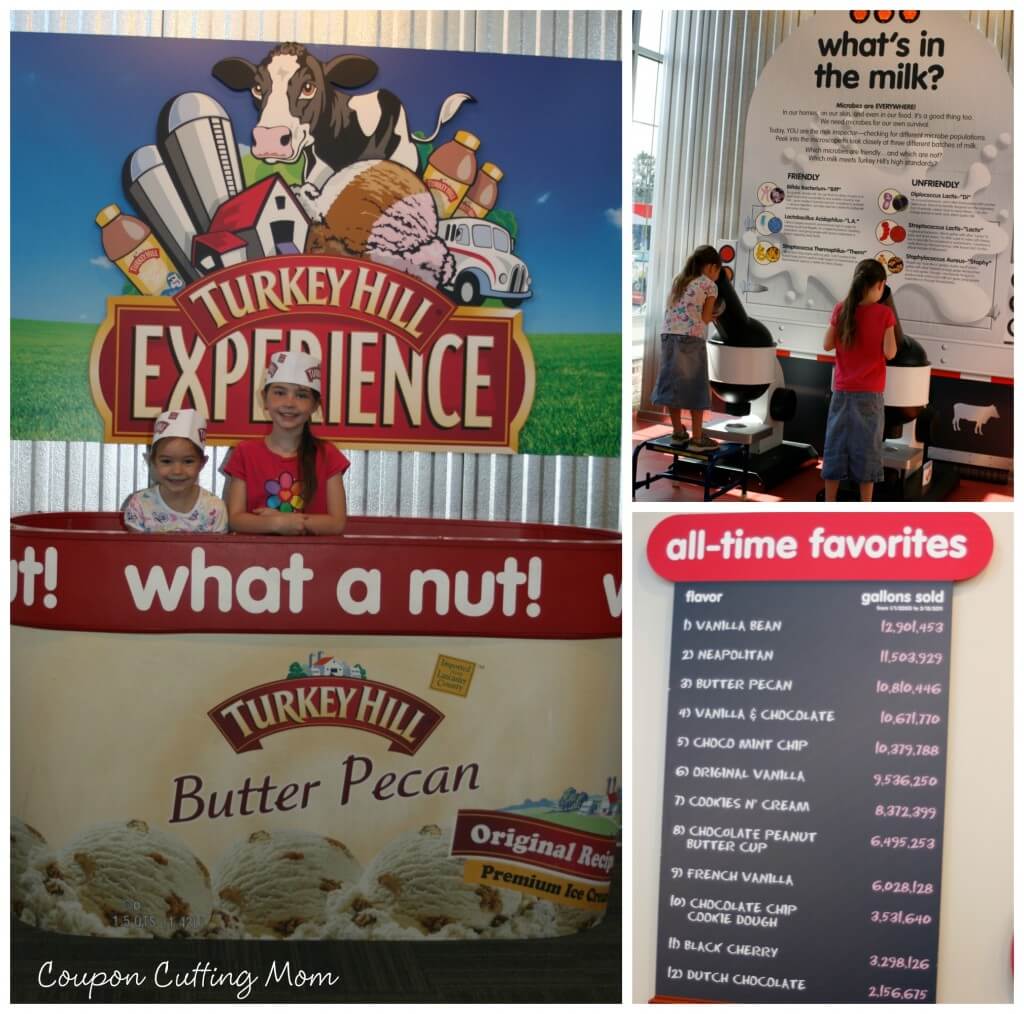 After we visited the Tea Room and tasted different kinds of Turkey Hill tea and learned about the different type of tea leaves and how tea is made, we moved on to the area where we could make our own virtual ice cream flavor. The kids loved designing and mixing their own exotic flavors complete with toppings and add ins on the large touch screens. They were then able to design a carton for their ice cream and star in their own Turkey Hill TV commercial. Use your own special CYO# and you can view you ice cream flavor, packaging and commercial when you get home.
Our last stop was at The Taste Lab and this was a total hit. Designing our own virtual flavor was fun but getting to create our own REAL ice cream flavor was just so much more fun. During this 40-minute taste lab experience we were given a cup of vanilla ice cream base and got to create our own personalized pint of ice cream. We were able to select from apple, teaberry, cotton candy, mango and other flavors. The wall of mix-ins included more than 25 different items such as almonds, gummy bears, sprinkles, blueberries, strawberries and much more. Eating our own unique ice cream was the highlight of visit at Turkey Hill Experience.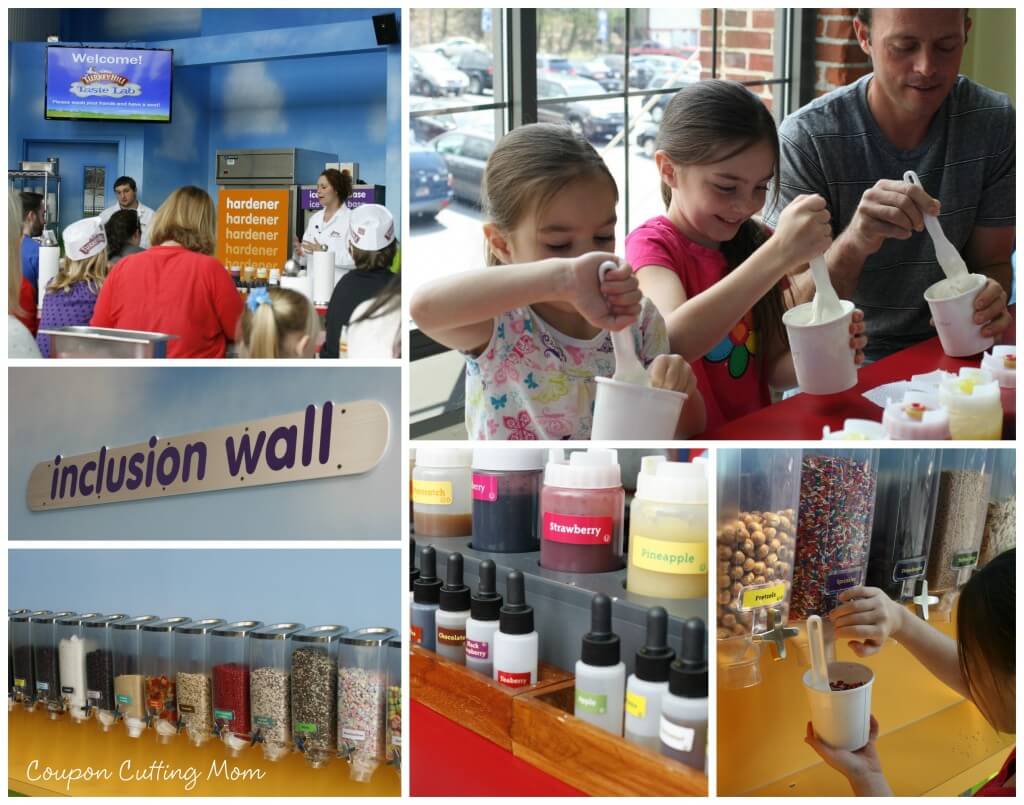 If you are in the Lancaster area and are looking for a fun family outing consider a visit to Turkey Hill Experience where you will eat all the ice cream you want and learn about how Turkey Hill products are made. Admission prices start at only $7.95 and kids 4 and under are free! Visit the Turkey Hill Experience page for the complete details to plan your visit. Be sure to follow Turkey Hill Experience on Facebook and Twitter to stay up to date on all promotions, offers and new products.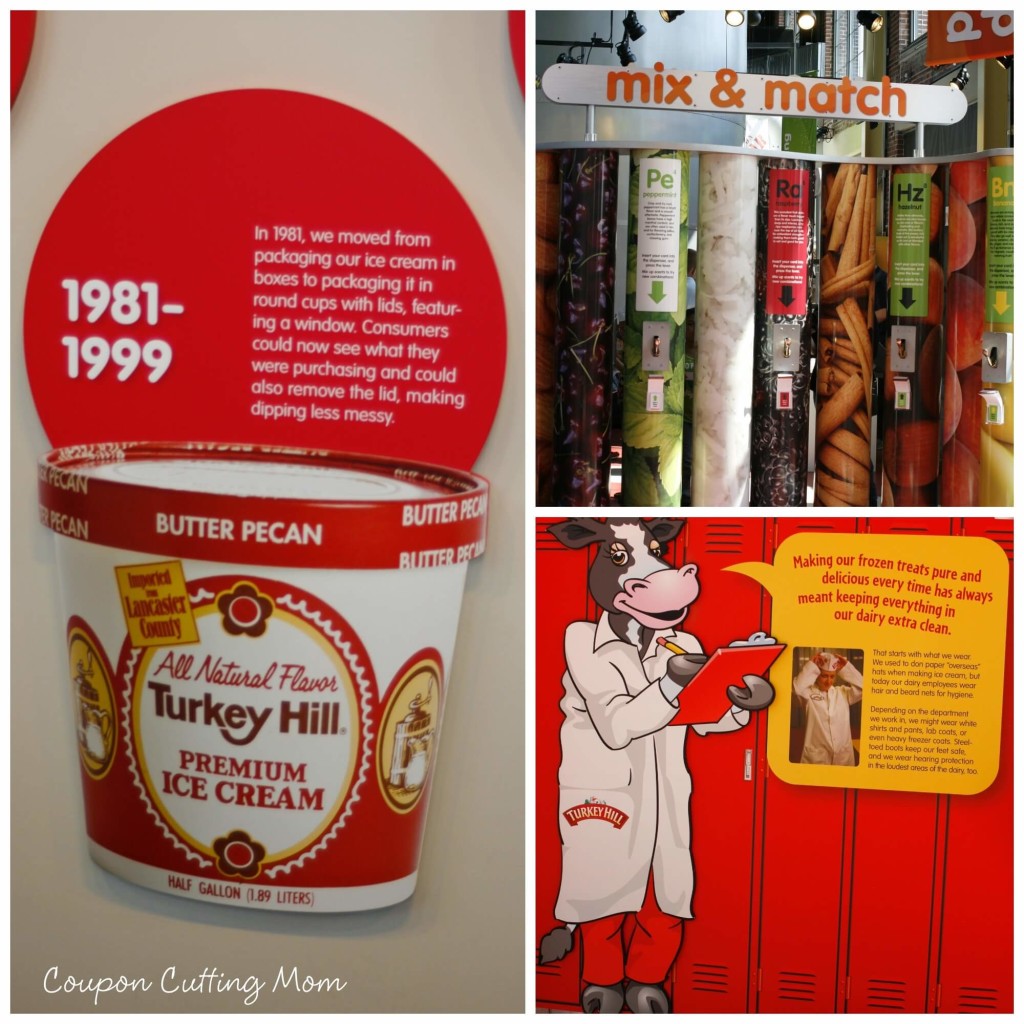 And now for the best part! Who would like to win FREE admission to The Turkey Hill Experience? I've teamed up with my good friend, Lindsay over at Pandora's Deals and we have TWO (2) family 4-packs of tickets we are giving away. This giveaway is open to US residents ages 18+ and ends at 12 midnight ET on May 16, 2014.
On the Giveaway Tool form below, simply complete as many entries as you would like. Please note that ALL entries are validated prior to winner selection.
Good Luck!