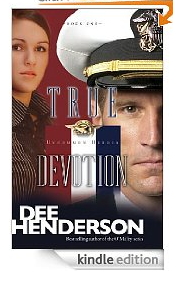 Thanks to reader Karen for letting me know about this interesting read available for FREE on Amazon.
True Devotion by Dee Henderson
This book has a 4.8 star rating out of 5 stars, so I'm sure it won't disappoint. I can't wait to read this book as several of my friends speak highly of Dee Henderson books and I have yet to read one.
This is a Kindle book download but if you don't have to have a Kindle, there is a free app here so you can read this on your computer or other electronic devices.