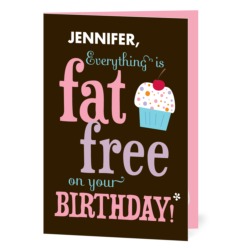 Know anyone with a birthday coming up? Want to get them an extra special, personalized birthday card? Then Treat.com has you covered. New customers at Treat can get a FREE birthday card by using the promo code TREATSEPTBDAY today, 9/10 only.
The cards can be personalized with pictures, hundreds of fonts, your own text and more. They will make the birthday person's day.
This sale ends tonight at 11:59pm PT, so act fast! Visit Treat today and get a free birthday card.